Kadena airman gets life without parole for killing girlfriend's husband
by
Travis J. Tritten
February 8, 2012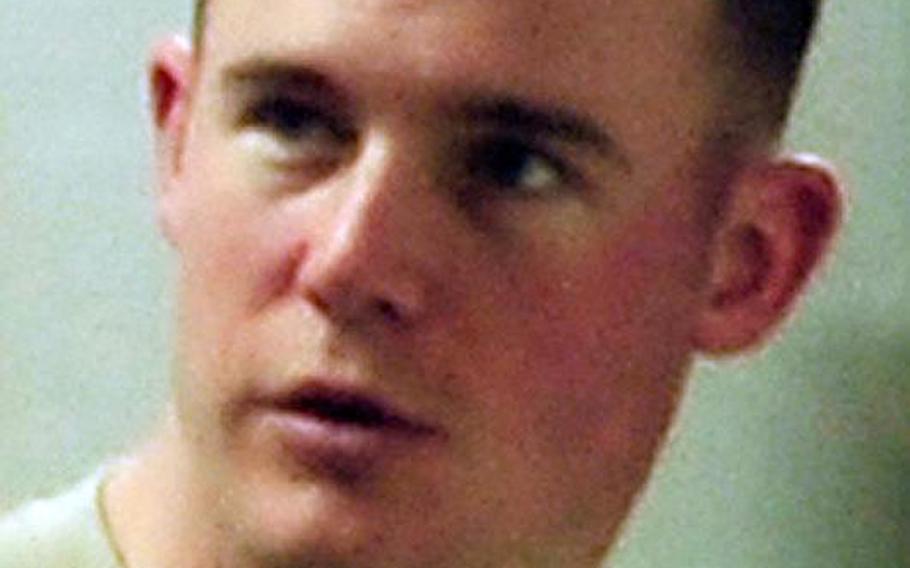 KADENA AIR BASE, Okinawa — A military judge on Thursday handed down the maximum penalty — life in prison without the possibility of parole — to a Kadena staff sergeant who murdered a fellow airman with a box cutter and a hunting knife last year.
Staff Sgt. Nicholas Cron, 26, of the 733rd Air Mobility Squadron, had earlier avoided the death penalty by pleading guilty to conspiracy to commit murder, premeditated murder and obstruction of justice in the death of Tech. Sgt. Curtis Eccleston.
Cron's defense attorneys had asked that a parole board have the opportunity to review the case in the coming decades. But the presiding judge, Col. Vance Spath, sided with the prosecution, which portrayed the tall, blond airman as an unrepentant, calculating liar who fantasized for months about killing Eccleston and who does not deserve any chance at freedom.
Eccleston's mother, who had sat through the two-week court-martial, left the courtroom sobbing following the reading of the sentence.
"Obviously, the family is very happy with the outcome," said Douglas Hefter, Eccleston's uncle.
Throughout the trial, friends and co-workers testified that Eccleston was well liked and an outstanding airman who was chosen as the top noncommissioned officer in his squadron.
Now, the focus of the case will shift to the slain airman's wife, Barbara Keiko Eccleston, 32, a Brazilian national who will be tried for the murder in a Japanese court. No court date has been set.
Barbara Eccleston was having affairs with Cron and several other men, and she and Cron discussed various ways to kill her husband for about four months before the stabbing, according to evidence presented at the court-martial.
On the night of the murder, Cron spoke with Barbara Eccleston multiple times. After slashing her husband's neck in his Mihama apartment, Cron called her so she could listen to him die, according to evidence and testimony.
Before handing down his verdict, Spath said the military court has no authority over her case but that Japanese authorities should charge her as a co-conspirator in the murder.
"She is not believable and it is clear she was involved from the onset," Spath said.
During her video testimony to the court-martial, Barbara Eccleston said she had discussed her husband's murder with Cron but had not actually wanted him dead.
Instead, the discussions were part of magical spells suggested by a Brazilian fortune-teller she had met on the Internet, Eccleston said.
She testified that the spells were meant to make her husband treat her better and would only work if she spoke about his death or injury. According to her, Cron did not know about the spells.
Barbara Eccleston testified that she only partially listened to the call from Cron during the murder and put the phone down because she was playing the online video game World of Warcraft.