Ruck walk at US Army base in Japan adds weight to suicide prevention
By
Stars and Stripes
September 22, 2022
---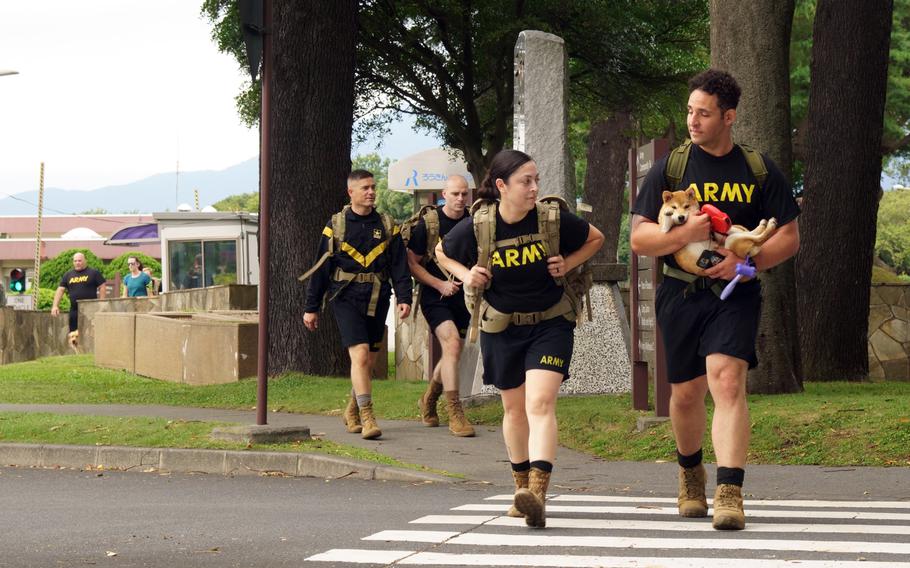 CAMP ZAMA, Japan — Troops of the Army Aviation Battalion at the headquarters of U.S. Army Japan walked nearly 5 miles Thursday carrying weight on their backs to remember 174 soldiers throughout the Army who took their own lives in the past year.
The ruck walk by about 25 battalion soldiers, spouses and some energetic canines marked an opportunity to remember and reflect as Suicide Prevention and Awareness Month comes to a close.
The group gathered in the cool air at 6 a.m. on Kastner Army Airfield for a briefing before hoisting rucksacks holding a minimum of 35 pounds and set out on the course. Company commander and event organizer Capt. Savannah Baker went over the numbers before the walk.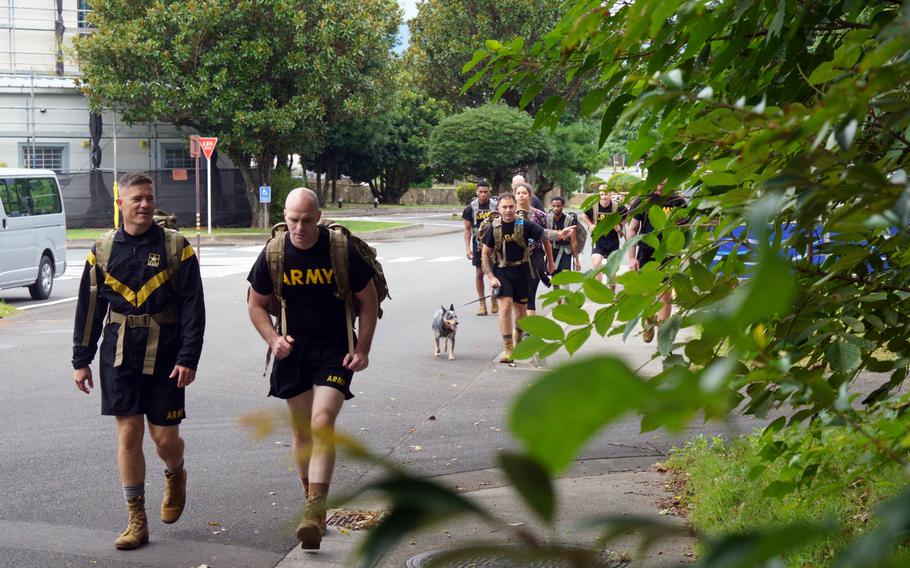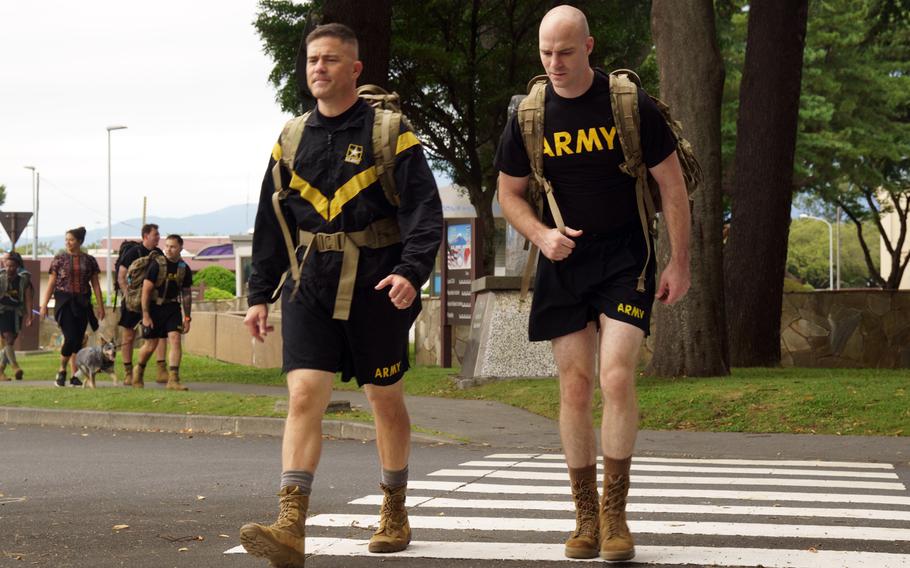 The number of Army suicides over the past year nearly equaled the number of soldiers who have succumbed to COVID-19, Baker said.
The Army counted 176 confirmed or pending suicide deaths last year, according to a report released in April by the Defense Suicide Prevention Office. That's up from 174 suicides in 2020 and 145 in 2019.
The battalion commander encouraged the group as the event got underway.
"It's OK not to be OK," said Lt. Col. Courtney Kiluk. "We want you guys to thrive, we want your spouses to thrive, we want your kids to thrive, we are a safe space, we are here for you, and we know how to get the resources you need."
"It's OK Not to be OK" is a worldwide theme for suicide awareness month. Baker added her own touch, adding a name that carried dual purpose for the event.
"I coined the 'Ruck for Resilience' name to incorporate an Army training event to continue to develop our basic warrior tasks and drills while also giving us an opportunity to reflect with family and friends," Baker told Stars and Stripes in an email Wednesday. "The reason we carry the weight is to simulate the heavy invisible weight people often carry when they are dealing with suicidal thoughts."
Members of the group walked their own pace over hilly terrain on the perimeter of the installation.
The Army's model for suicide prevention and awareness, using the acronym ACE, which means to act, care and escort, Baker explained.
ACE is the Army's approved suicide prevention and awareness training model. Its purpose is to help soldiers and junior leaders become more aware of steps that they can take to prevent suicides and be confident in their ability to do so, she said.
A soldier from Seattle said he understood the importance of team building events like this one.
"I think it's really good that we do events like this, just to show that we're not pretending it doesn't exist or we're aware that it's a problem throughout the Army," Sgt. Michael Karpstein, 31, told Stars and Stripes at the event Thursday. "You know everyone gets sick physically, people get sick mentally, as well, and it's important that we bring awareness to that so that people feel safe and feel comfortable to go get help when they need it."
---
---
---
---