Army leaders from US, Japan meet on 'front line' of likely Japanese defense
By
Stars and Stripes
September 9, 2022
---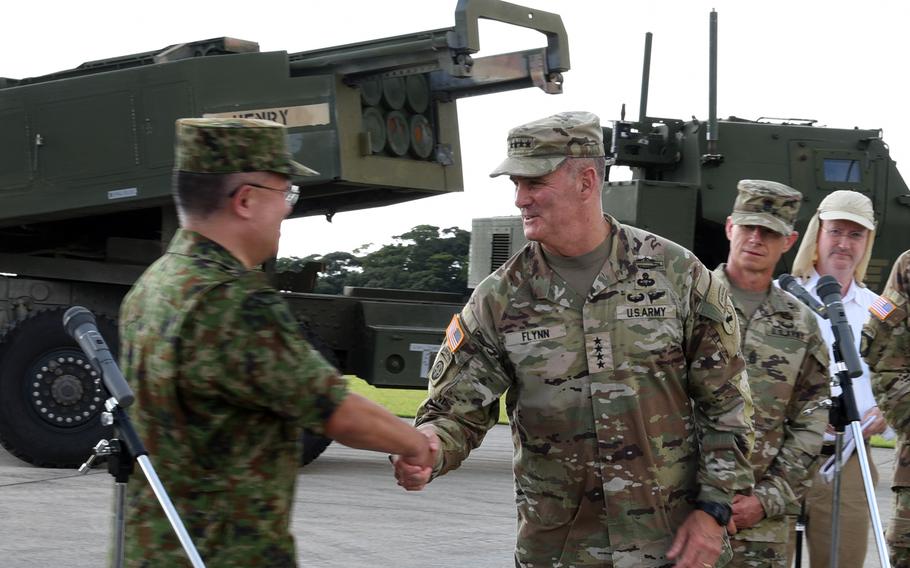 AMAMI OSHIMA, Japan – A "very severe security environment" surrounding Japan means the country's Self-Defense Force must tighten up its defensive capability and its alliance with the United States, top brass from both countries said Thursday.
The commander of U.S. Army Pacific, Gen. Charles Flynn, and the head of the Japan Ground Self-Defense Force staged a news conference on Amami Oshima days after the largest military exercise the two nations' armies regularly undertake had concluded.
"Now I look at the current situation surrounding Japan, we are enabled by countries such as China, North Korea and Russia across the sea, so I recognize that Japan is located at the forward edge of a very severe security environment," said Gen. Yoshihide Yoshida, chief of staff of the Japan Ground Self-Defense Force.
"It is imperative for Japan to fundamentally reinforce its defense capability and strengthen the ability of the Japan alliance to deter and respond," he said.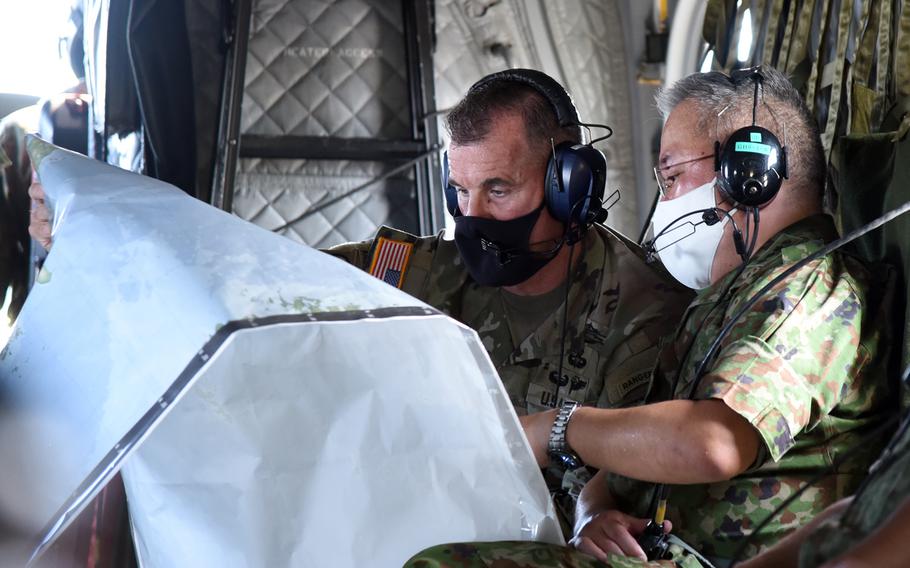 The Japanese garrison on Amami, about 200 miles south of Kyushu, the southernmost of Japan's four main islands, was reinforced in 2019 as a hedge against "natural disasters or any emergencies," authorities said at the time.
Plans called for positioning about 800 troops on the island, which is part of the Ryukyu, or Nansei, chain, the "front line of our defense," former Defense Minister Takeshi Iwaya said in 2019.
Flynn is the first U.S. Army Pacific commander to visit Amami. His tour highlighted the combined drills by U.S. and Japanese forces that simulated island defense there. Orient Shield began Aug. 27, took place at locations around Japan and concluded Sept. 3, according to the Army.
U.S. Army Japan, the 11th Airborne Division, 1st Multi-domain Task Force, 17th Field Artillery Brigade, 38th Air Defense Artillery Brigade and 5th Security Force Assistance Brigade took part, according to an Army news release Aug. 27.
Infantry units from the airborne division out of Fort Wainwright, Alaska, for example, took part in live-fire training with Japan's Western Army, focusing on the Javelin portable antitank missile, and sniper-, infantry-combat and air-assault operations, according to the Army.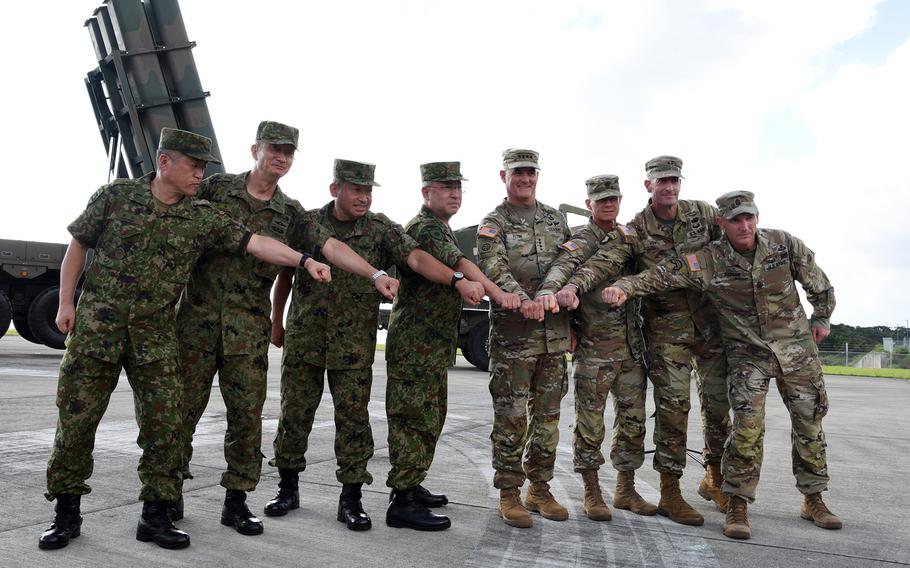 "I can tell you the Orient Shield that we're doing now, in 2022, is very different from just a few years ago, much more complex, much more challenging, much more rigorous, and demands a lot more from the soldiers in both the Japanese Ground Self-Defense Force in the U.S. Army," Flynn said. "And in my view, that's exactly the kind of environment and exactly the kind of training rigor that we want to do together."
Orient Shield training, now in its 37th year, crosses between and incorporates several military "domains," including ground, air, maritime, space and cyber. It is also intended to enhance interoperability, the ability of one country's military to use the equipment and training methods of another country's military.
The U.S. and Japan alliance has deepened through ties between the Self-Defense Forces and the U.S. military as China has heightened tensions in the Taiwan Strait, Yoshida said.
Flynn said the allied force is part of a multinational response to challenges across the Indo-Pacific region that need joint and multinational solutions.
"That's exactly what we're doing here," he said. "And that's exactly the message that I think that the region and all of the partners in it need to need to take from it."
---
---
---
---