US military on Okinawa buckles up as Typhoon Hinnamnor bears down
By
Matthew M. Burke and Frank Andrews
Stars and Stripes
September 2, 2022
---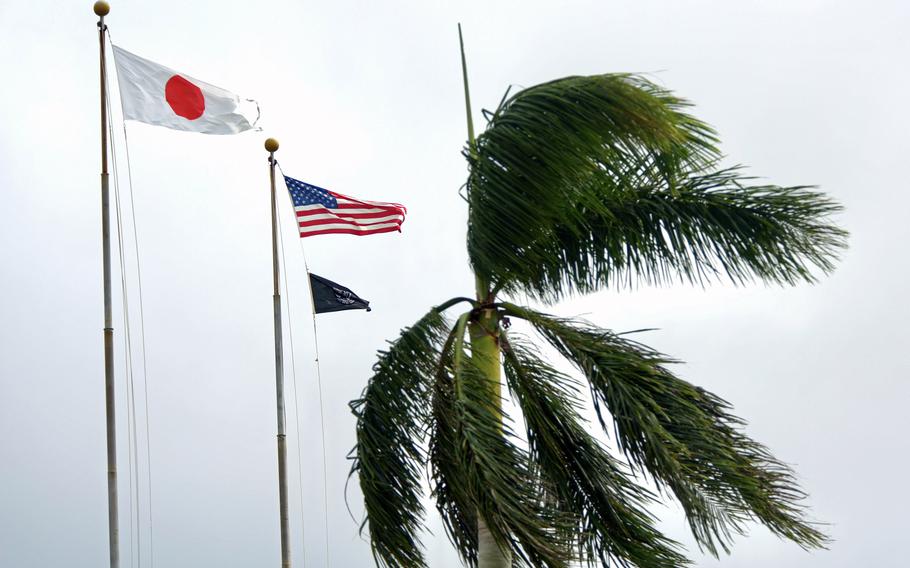 CAMP FOSTER, Okinawa — U.S. military bases on Okinawa were preparing Friday ahead of Typhoon Hinnamnor, which is forecast to lash the island with 75-mph winds over the weekend and dump 7 to 8 inches of rain.
The most powerful storm in any hemisphere so far this year is projected to be a Category 2-equivalent typhoon when it passes 216 miles west of Kadena Air Base at approximately 11 a.m. Sunday, the 18th Wing Weather Flight said by email Friday.
U.S. military planners said they were keeping a sharp eye on the storm but weren't anticipating the need to relocate aircraft or send ships to sea.
"We're expecting some severe winds and that definitely has ramifications for safety, including your downed trees, branches, flying objects, possibly even broken windows, so you'll want to stay inside and make sure to prepare accordingly," Air Force Capt. William Hanson, weather flight commander, said by phone Friday.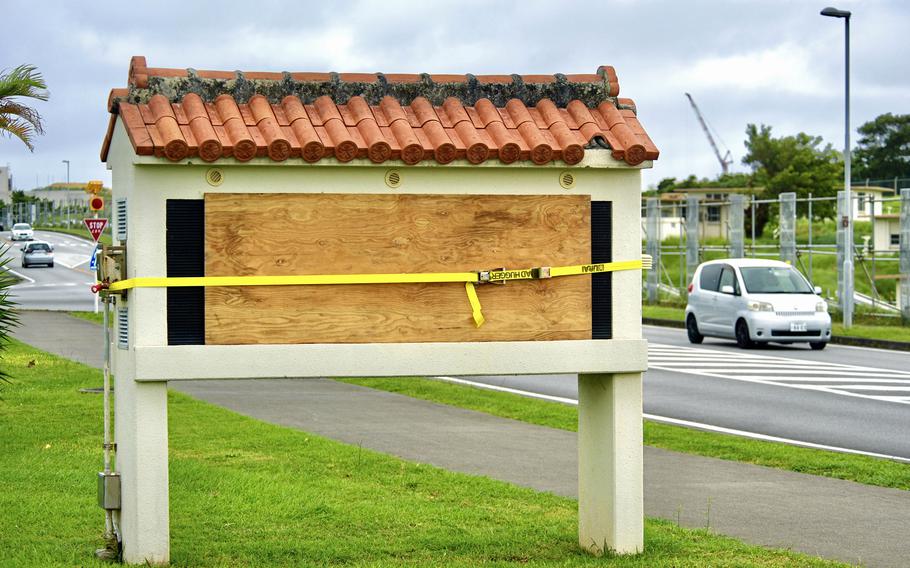 Hinnamnor is projected to be as powerful as last year's Typhoon In-fa, which brought strong winds and rough seas, but it is unlikely to reach super typhoon strength as it approaches Okinawa, Hanson said.
In addition to cleaning up yards and securing their homes this week, service members and others stocked up Friday on food and water at the Camp Foster commissary.
Marine Gunnery Sgt. John Pierce, 35, said he wasn't concerned. He is assigned to Marine Heavy Helicopter Squadron 361 at Marine Corps Air Station Futenma.
"If it was something to be stressing over the weather would be telling you so, right now, as we are two days away," the Raeford, N.C., native said Friday. "Things can change but two days ago it was more windy than it is today."
At 3 p.m. Friday, Hinnamnor was 354 miles south-southwest of Kadena, according to the weather flight. The typhoon was moving northwest at 5 mph, packing 100 mph sustained winds and 120 mph gusts at center.
U.S. bases on Okinawa entered Tropical Cyclone Condition of Readiness 1 at 6 p.m., meaning destructive winds were anticipated within 12 hours. Condition of Readiness 1-C, or sustained winds of 35-49 knots, was expected by around noon Saturday.
As Hinnamnor bore down Friday, the III Marine Expeditionary Force moved its aircraft into hangars and prepared tactical vehicles, spokesman 1st Lt. Zachary Voss wrote in an email Thursday. Nonessential activities were canceled.
Marines at Futenma conducted a general cleanup in and around base facilities, 1st Marine Aircraft Wing spokesman 1st Lt. Jude Hydrick wrote in an email Thursday. There was no plan to send aircraft away from Okinawa.
Kadena's 18th Wing may relocate aircraft, but an unnamed spokesman provided no further details in an email Thursday evening to Stars and Stripes.
The U.S. Navy's amphibious strike group in the region, Task Force 76, after consulting with experts decided against sending additional ships from Okinawa or from Sasebo Naval Base on Kyushu island out to sea, spokesman Lt. Cmdr. Andrew DeGarmo said in an email Friday.
Stars and Stripes reporters Dave Ornauer and Keishi Koja contributed to this report.
---
---
---
---