COVID-19 concerns wane as DOD students worldwide go back to class
By
Stars and Stripes
August 22, 2022
---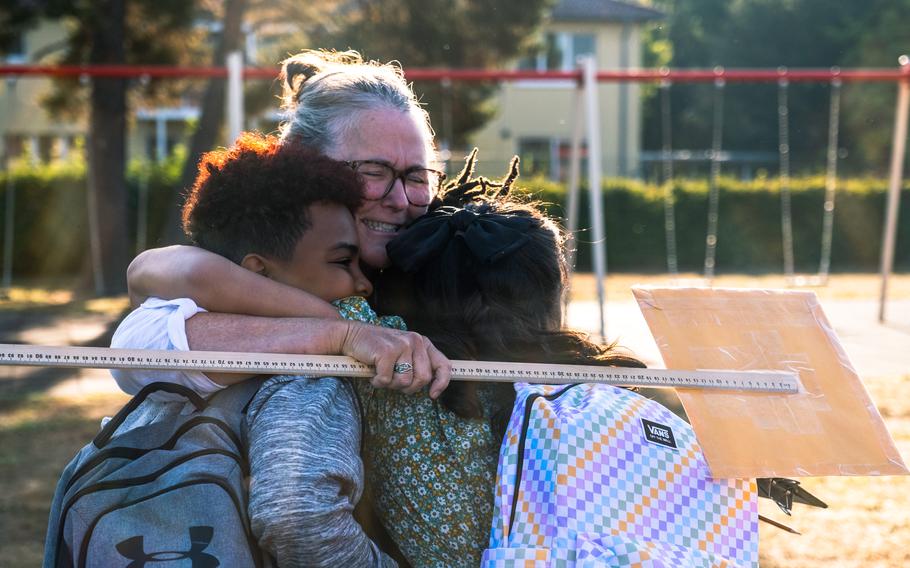 Stars and Stripes is making stories on the coronavirus pandemic available free of charge. See more stories here. Sign up for our daily coronavirus newsletter here. Please support our journalism with a subscription.
Students at Department of Defense Education Activity schools around the world started a new school year Monday as the COVID-19 pandemic faded into the scholastic background.
Across Asia and Europe, 45,000 students enrolled at 109 schools were scheduled to resume classes, DODEA spokesman Will Griffin told Stars and Stripes by email Thursday.
DODEA plans a full calendar of sports and extracurricular activities this year, he said. Many restrictions were relaxed in the previous school year, before another wave of COVID-19, this time the omicron variant, which set records for new infections worldwide.
"COVID-19 is still in our focus, but it is not THE focus," Griffin wrote. "We will continue to partner with military commands across our regions to systematically implement an integrated package of infection prevention and control measures while keeping the focus on students' academic and social-emotional well-being."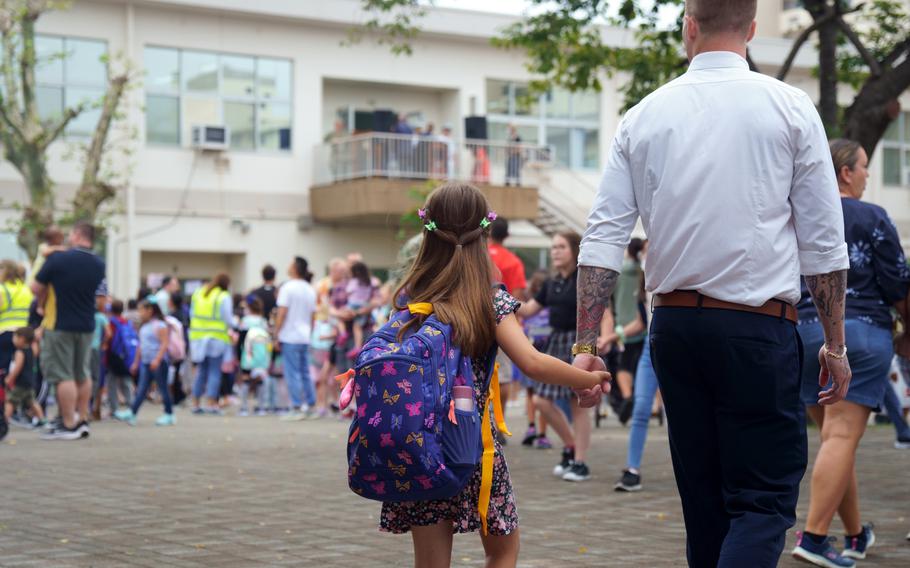 Cara Ikert, 9, started the fourth grade Monday at Kadena Elementary School on Okinawa and said she is looking forward to making new friends and seeing her friends from last year.
"This school year will be different from last year because in fourth grade you get more serious," she said. "Last year they had us wearing masks in school until COVID started fading away."
This school year, masks are optional for students and staff, a DODEA Pacific spokeswoman told Stars and Stripes.
Masks are also optional at schools in Europe, DODEA-Europe director Michelle Howard-Brahaney told families gathered outside Kaiserslautern Elementary School in Germany on a bright Monday morning.
"I hope that you have just the best school year ever," she said, during a brief ceremony attended by Ramstein's 86th Airlift Wing commander, Brig. Gen. Otis Jones. "We're certainly starting it on a very beautiful day, and I cannot wait to hear about everything you learn this school year and all the fun activities that you do."
Air Force Master Sgt. Kassandra Maxcy danced with her fourth-grade daughter, Emily, in the school's courtyard while U.S. Army musicians played. It was Emily's first day at the school after the family moved from Travis Air Force Base, Calif., Maxcy said.
"She's very excited. She didn't sleep well," Maxcy said. "She has all this energy."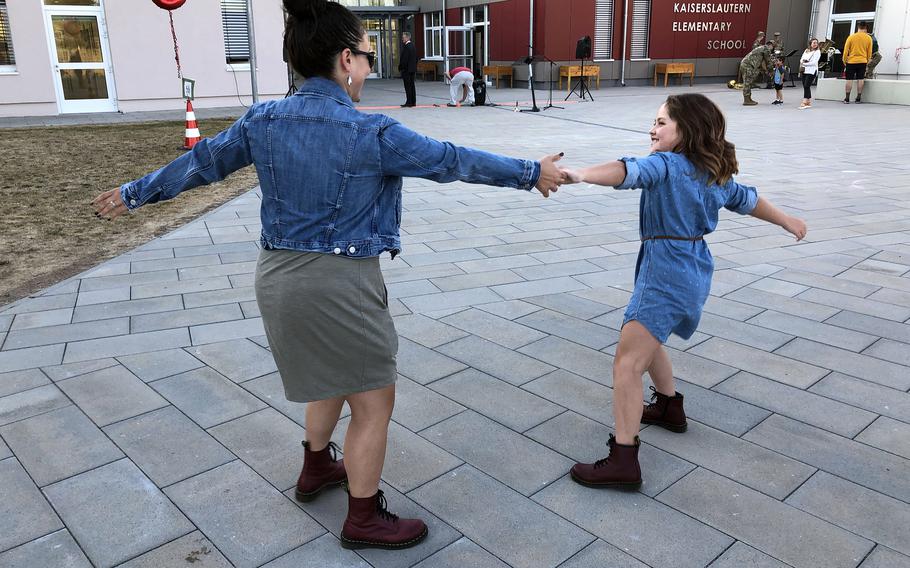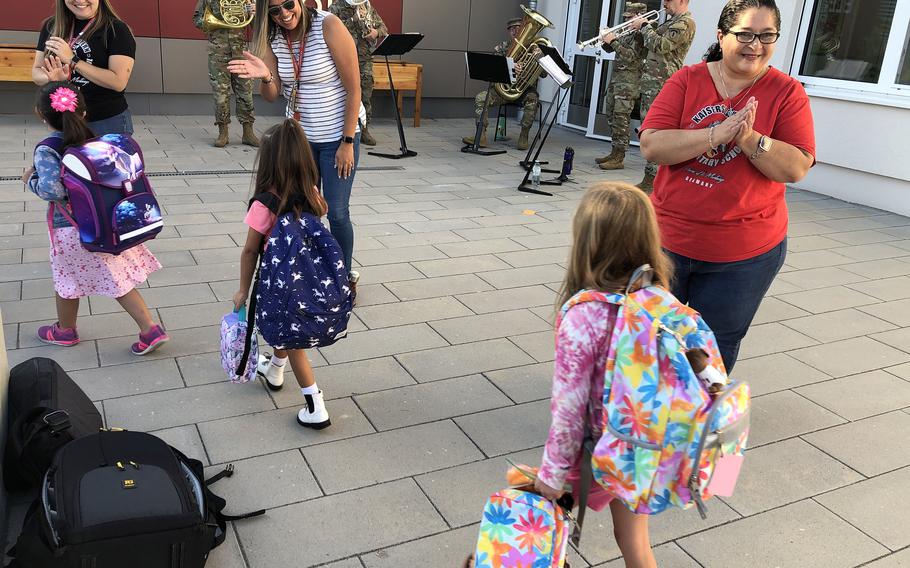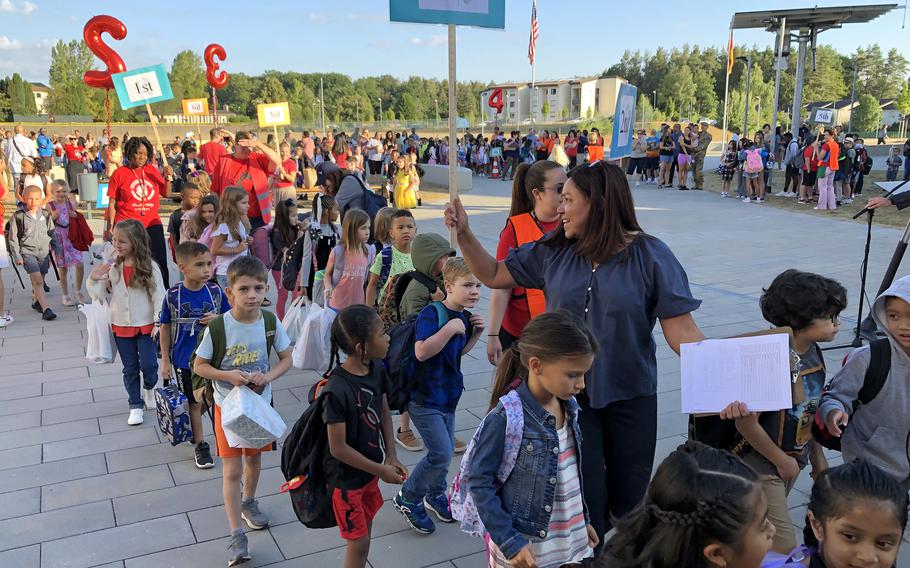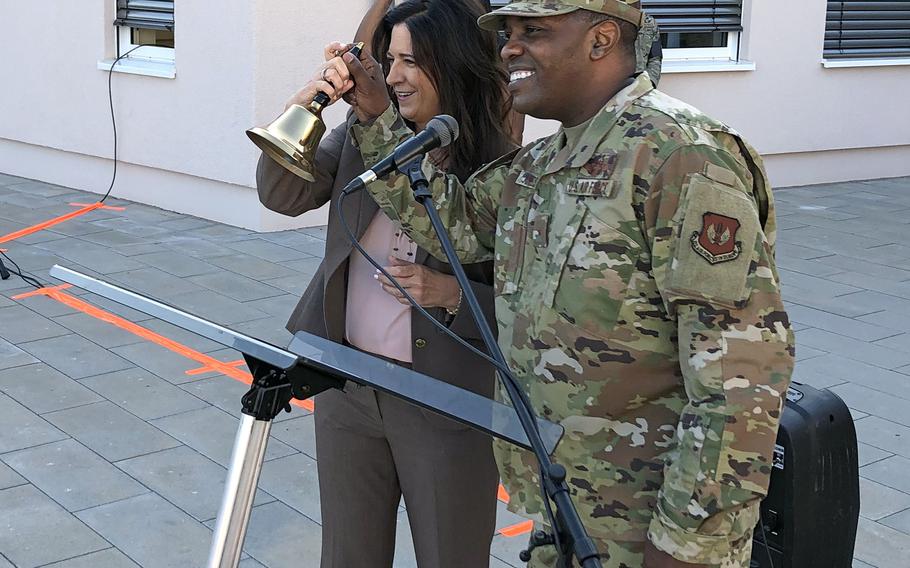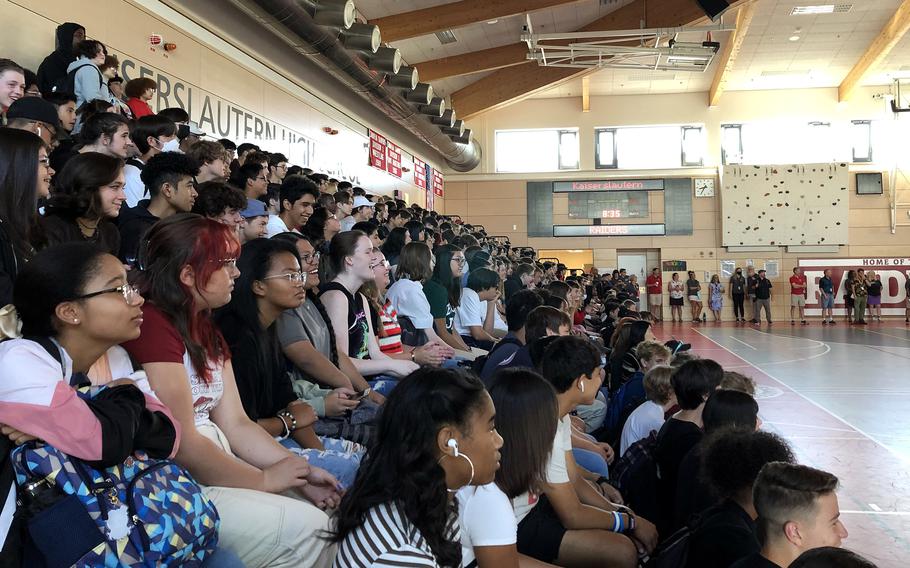 Air Force Senior Master Sgt. Davisha Ware appreciated the band and the overall warm welcome from the school while dropping off her fifth-grade daughter, Alanna.
"We're new to the country," she said, after moving to Germany from South Carolina this summer.
Jeff Brown, meanwhile, gave his son Samuel, a third grader, a quick pep talk.
"I told him have a good day, make lots of friends," he said. "He's always nervous on the first day. It's his second year here."
Community and school leaders also welcomed students at Grafenwoehr Elementary School in Bavaria, noting it was the first time in two years that parents could accompany their children to the first day of school.
"We figured we would have a ceremony so they can see their kids, they can feel welcome and that this is a place they feel comfortable leaving their kids in our care," said principal Sonya Gates.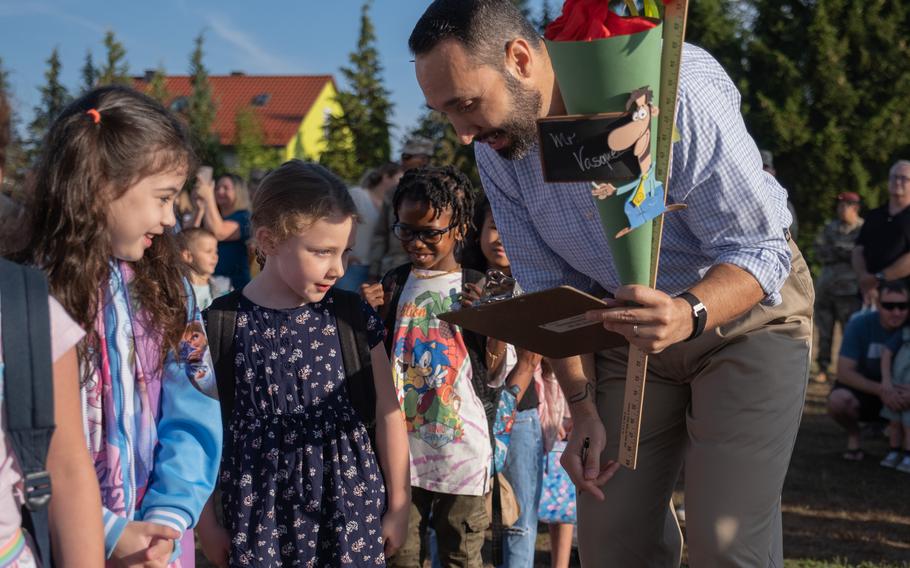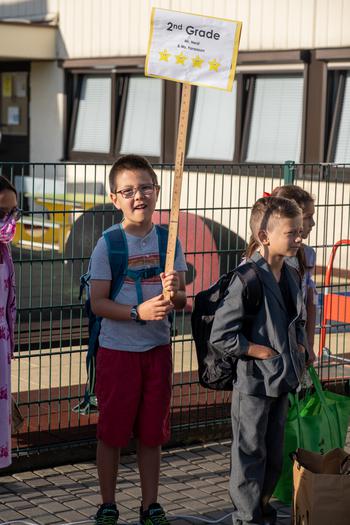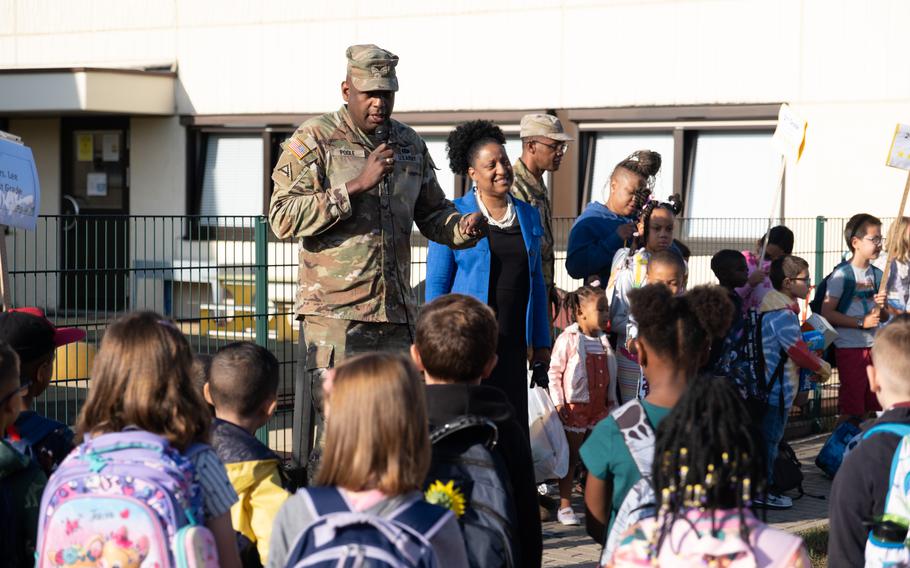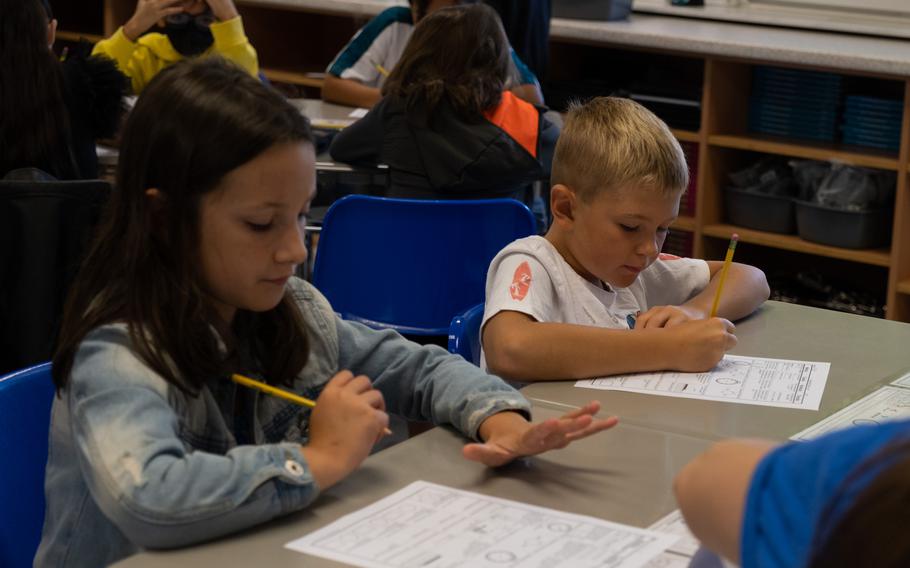 Principal James Strait of Kubasaki High School at Camp Foster, Okinawa, said this year feels more like pre-pandemic normal.
"The last couple of years we tried to be innovative when we did things, but everything is back," he said. "We have the best job in the world in being able to educate students. We're always excited just to get the year started."
Noah Etterer, 17, arrived for his senior year at Kubasaki optimistic.
"I'm kind of happy that I get to graduate with a little bit of resemblance to a more normal school year," he said.
At Marine Corps Air Station Iwakuni, Japan, math teacher Frank Macias at Matthew C. Perry High School expressed relief at shedding most of the pandemic burden.
"I'm excited, things are opening up and we are getting beyond COVID," he said. "It's a great school with great kids and I see a lot of new faces and it's going to be a great year."
M.C. Perry senior Raven Rayls, 17, said she, too, has a good feeling about the new school year.
"I know a lot of people have some fears of how drastic the changes are compared to our freshman year, because our freshman year was when COVID hit, so hopefully everything goes well as planned and everything goes back to normal completely," she said Monday.
In South Korea, Army Sgt. 1st Class Corey Smith, a technical engineer with the 11th Engineer Battalion, said he and his family arrived Friday at Camp Humphreys. Their two children, a 15-year-old boy and an 11-year-old girl, were just in time to start the year at Humphreys High and Middle schools.
"I'm glad that they can do more educationally," Smith said. "I hope they learn more Korean while they're here."
Some schools marked the first day with ritual.
At Yokota High School at Yokota Air Base in western Tokyo, parents, teachers and the base commander lined up outside the school to "clap in" arriving students.
"Make yourself better, the school better and the community better and have a great school year," Col. Andrew Roddan, the 374th Airlift Wing commander, said at an assembly.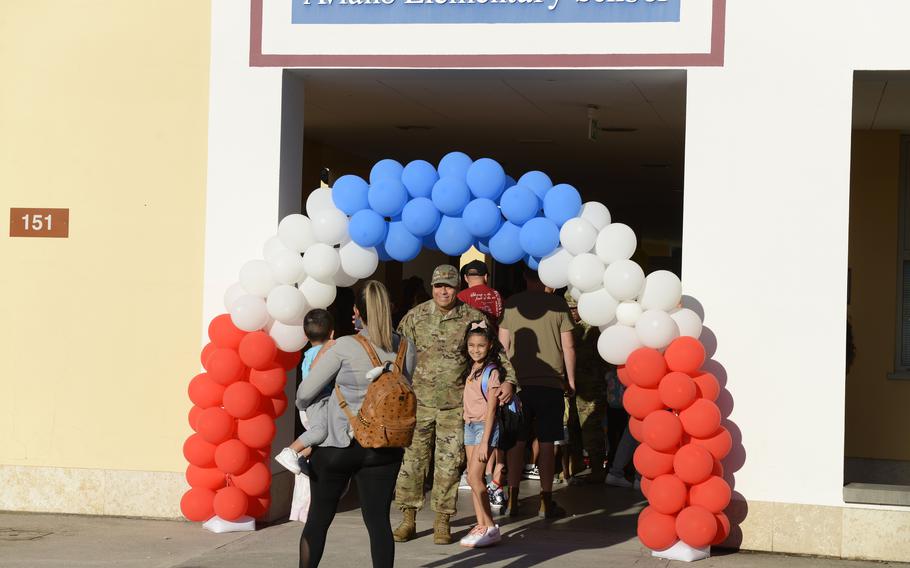 Yokota senior Matthew Tomas, 17, is the football team captain this year. His mother, Debbie Tomas, 54, is the Yokota cheerleading coach and an alumnus.
"This year I am going to be more vocal and lead by example," Matthew Tomas said. "We have a lot of younger players this year and I want to lead them as I step up into a bigger role."
Students at Kubasaki High entered the building through an inflatable tunnel as the "Welcome Back, Kotter" theme blared over the public address system. An ROTC honor guard carried the flag through two rows of state flags that lined the sidewalk.
At Yokosuka Naval Base, the U.S. 7th Fleet's homeport south of Tokyo, Principal Joseph Gullekson of Sullivans Elementary School and base commander Capt. Les Sobol "rang in" the students, calling out each class and ringing the school bell, much as a bell is rung as Navy commanders arrive aboard their ships.
"Every day starts with chances and choices," Sobol said before the ceremony. "Remember, it's all about the chances that we take and the choices that we make — and those will lead to other chances and other choices."
Cmdr. Marcus Seeger said his sons Ethan and Marcus started first and fourth grades, respectively, at Sullivans Elementary. The boys were as "excited as kids can be," and the whole family is looking forward to "hopefully having COVID in the rearview mirror," he said.
Yokosuka chaplain Cmdr. David Kim said he and his daughter River, 10, said farewell to friends who made permanent changes of station since the last school year ended.
"There were a lot of friends who PCS'ed this past summer, so it's a new start," Kim told Stars and Stripes on Monday, "and we'll maybe see some new faces."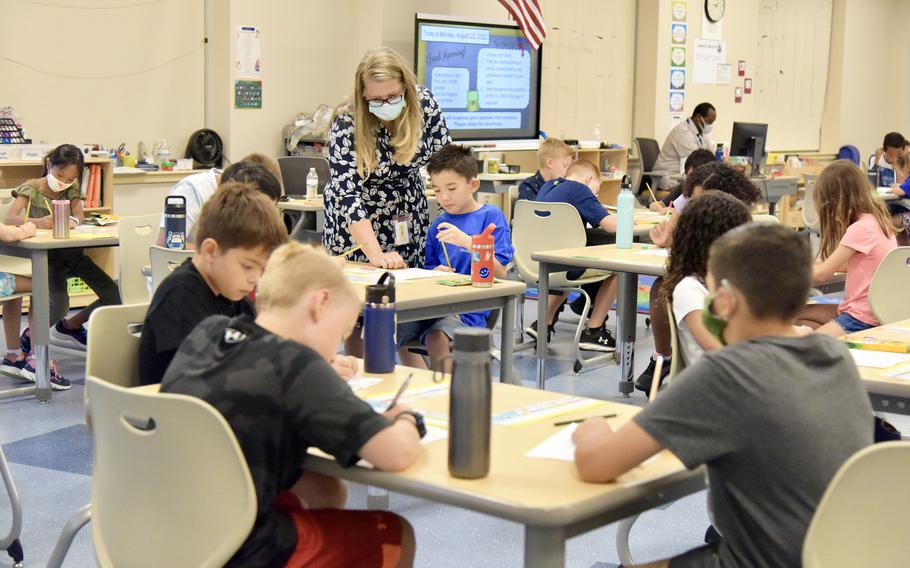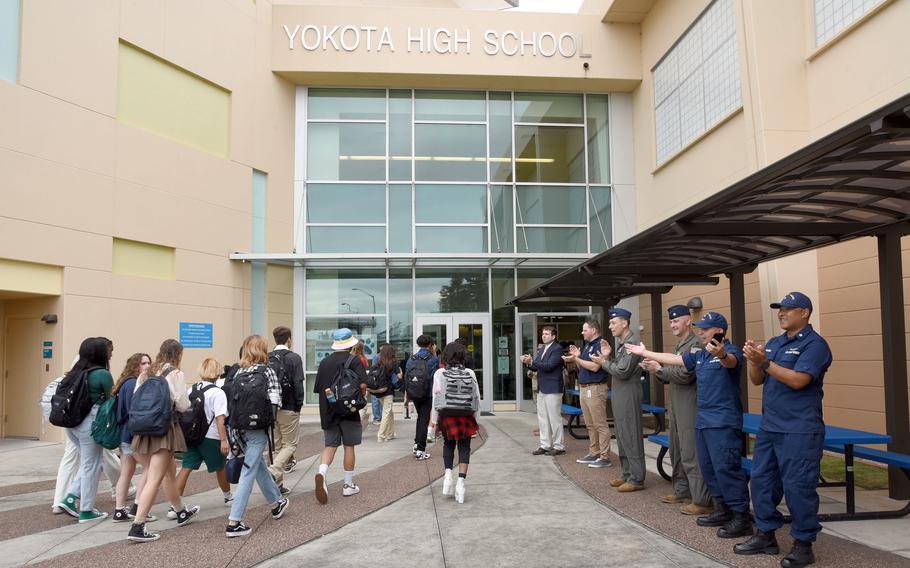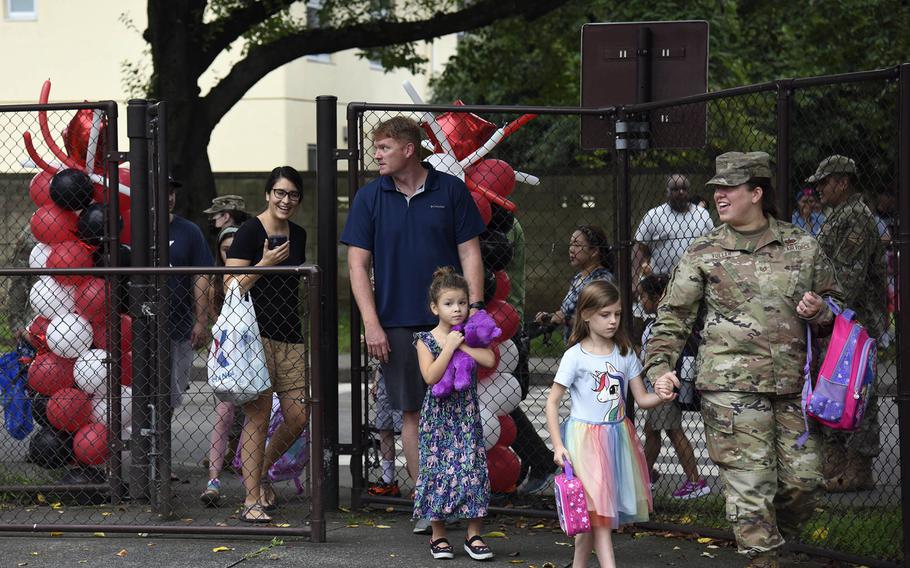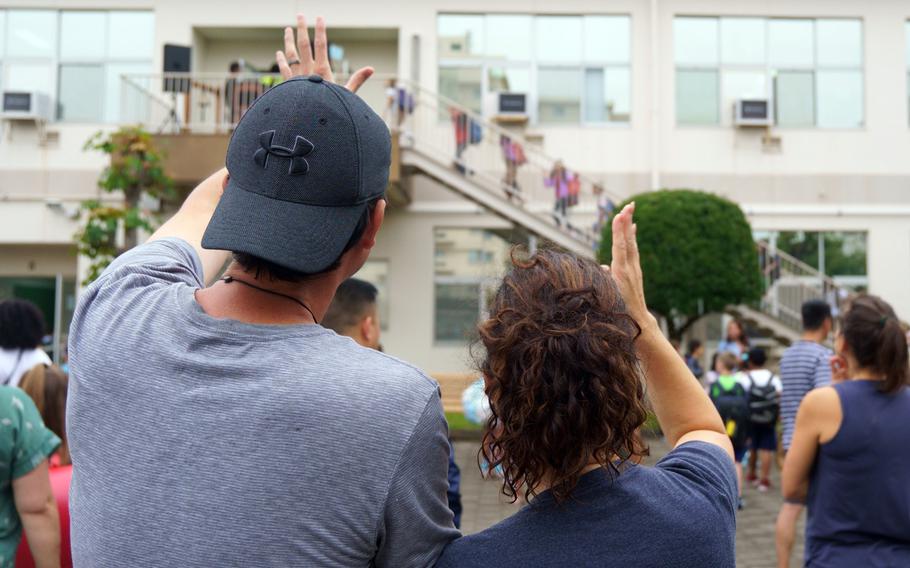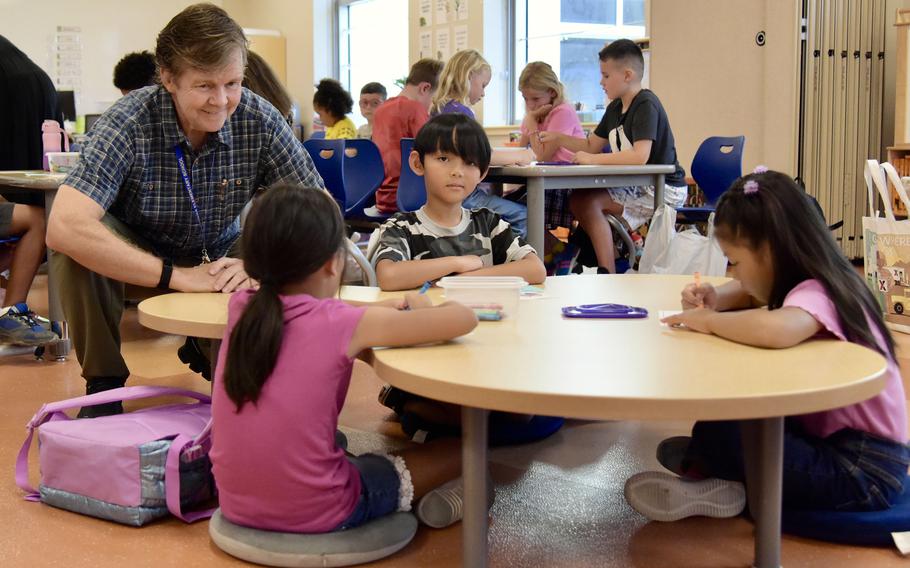 Stars and Stripes reporters Frank Andrews, Kelly Agee, David Choi, Juan King, Michael Slavin, Jonathan Snyder, Jennifer H. Svan and Alex Wilson contributed to this report.
---
---
---
---