New commander takes charge of Navy combat arm in the Indo-Pacific
By
Stars and Stripes
August 18, 2022
---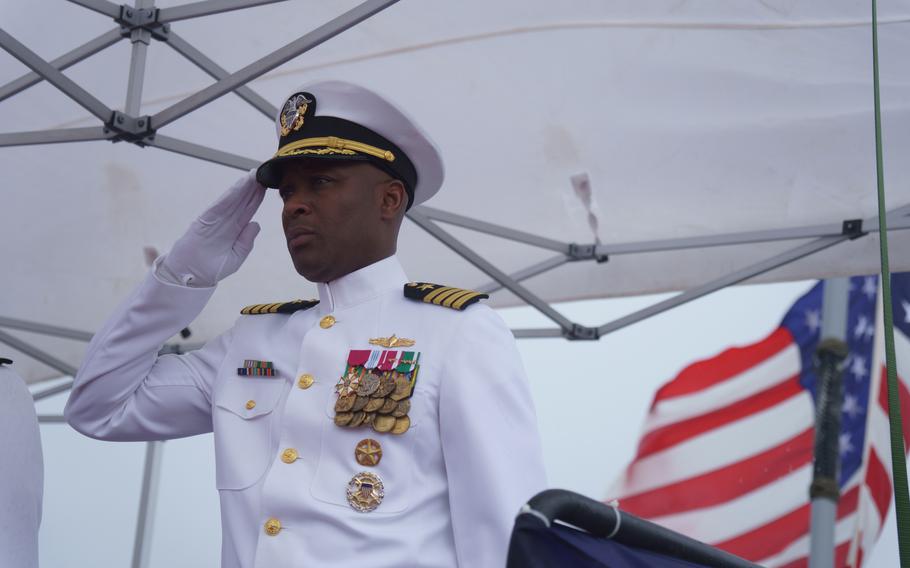 YOKOSUKA NAVAL BASE, Japan — Gusts of wind and rain lashed the aft deck of the destroyer USS Benfold as command of the Navy's largest destroyer squadron passed Thursday to its deputy commodore.
Capt. Walter Mainor relieved Capt. Chase Sargeant as commanding officer of Destroyer Squadron 15 during a ceremony aboard the Benfold. 
As Task Force 71, the squadron is the 7th Fleet's main battle arm. As part of the Ronald Reagan Carrier Strike Group, the warships provide the USS Ronald Reagan with seagoing escorts.
As squadron commander, Mainor has at his direction eight destroyers armed with the guided-missile Aegis Combat System.
The individual ships make frequent freedom-of-navigation patrols around contested island chains in the South China Sea and transits of the Taiwan Strait. Both operations show U.S. resistance to maritime claims in the area, particularly by China.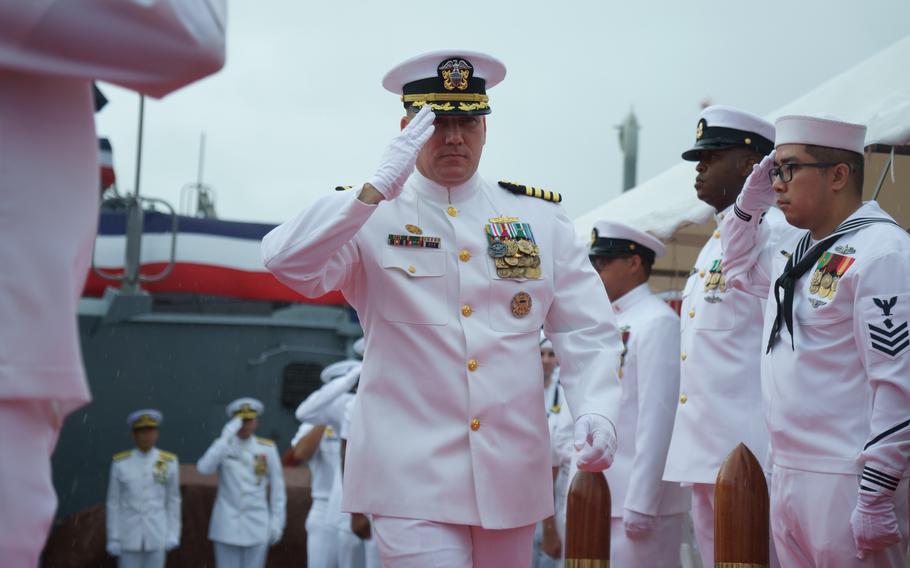 China concluded a week of naval and air force exercises around Taiwan on Aug. 11, a response to a U.S. congressional visit to Taiwan. Beijing also reasserted in an Aug. 10 white paper its willingness to reclaim Taiwan by force.
With tempers on both sides of the strait still warm, 7th Fleet commander Vice Adm. Karl Thomas laid out for Mainor his responsibility.
"I think it's safe to say that our rules-based international order is now significantly threatened," Thomas said during the ceremony. "What you do now matters, you can give our president the ability to deter the aggressors and ensure a free and open world — never forget that."
Thomas also mentioned the Russian invasion of Ukraine and its complications in the Indo-Pacific region. 
The squadron command element has 58 officers and sailors; the eight ships have approximately 300 crew members. Mainor will be responsible for all surface operations between the International Date Line and the central Indian Ocean. 
Sargeant, of Lakeland, Fla., took command in February 2021. Under his leadership, ships in the squadron made more than 20 freedom-of-navigation operations and 25 passes through the Taiwan Strait.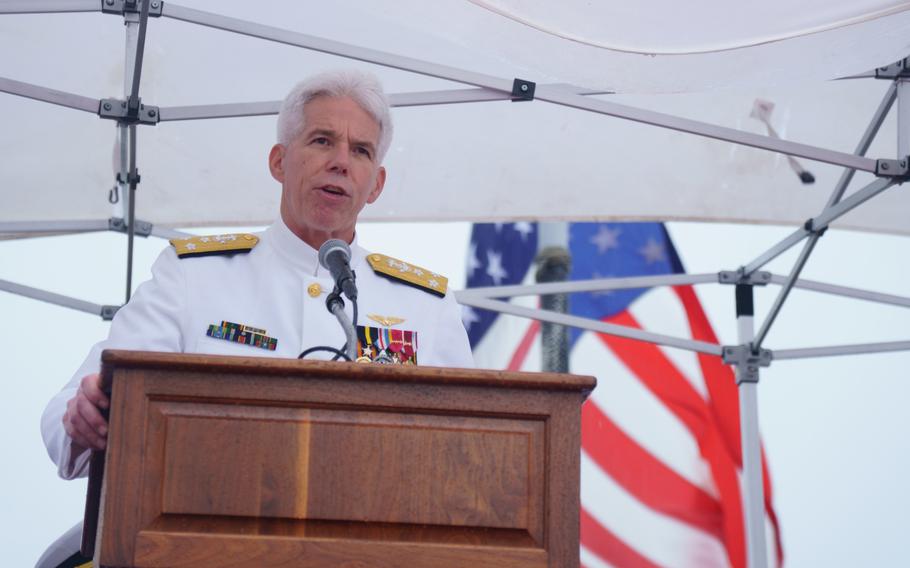 "Over the last 18 months, no staff has had more impact, conducted more high-interest missions or moved the needle of freedom in the seas more than this staff," he said during the ceremony. "I would put this small, motley crew of dedicated service warriors up against any staff, anywhere in any navy."
Mainor, a native of Alabama, was deputy commodore, the squadron second-in-command, just as Sargeant was before he took command. 
Mainor served first as an enlisted sonar technician, attended the Navy's Broadened Opportunity for Officer Selection and Training program and graduated from Morehouse College with a bachelor's degree in finance. He later graduated with a master's in business administration from the Naval Postgraduate School. 
In Japan, Mainor also commanded the mine countermeasures ship USS Patriot and the destroyer USS William P. Lawrence. 
During the ceremony, Mainor thanked Sargeant for his services as his commanding officer. 
"Chase, your leadership and passion for this [area of responsibility] is unparalleled and this theater is better for it," he said. "Not only did you further enhance the capabilities and tactics of DESRON 15, but you've also built and led a new task force. It's been a pleasure to work alongside you."
Sargeant's next assignment will take him to the Chief of Naval Operations' plans and policies office in Washington, D.C. 
---
---
---
---