Former Harrier pilot takes command of 1st Marine Aircraft Wing on Okinawa
By
Stars and Stripes
August 12, 2022
---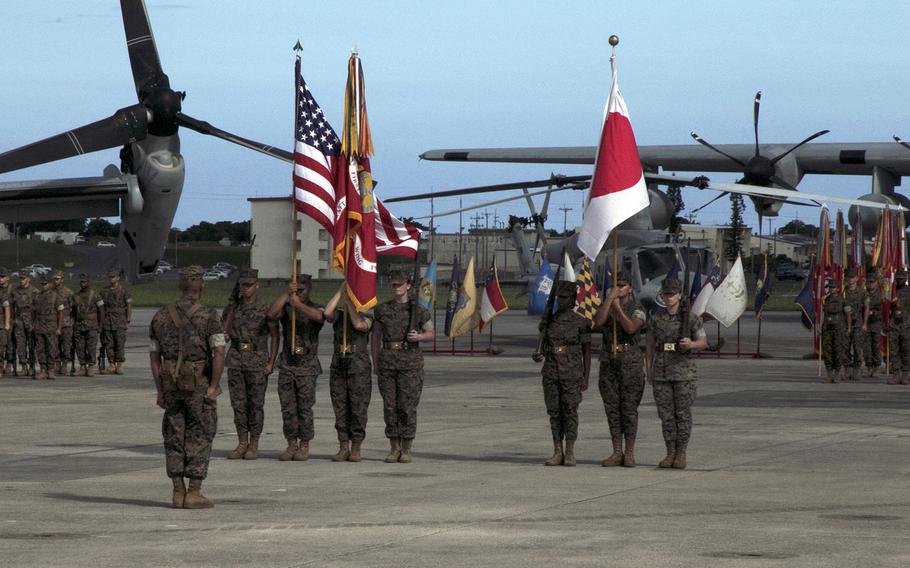 MARINE CORPS AIR STATION FUTENMA, Okinawa – A former Harrier pilot with a Harvard credential took charge Friday of the Marine Corps' only aircraft wing outside the United States.
Maj. Gen. Eric Austin assumed command of the 1st Marine Aircraft Wing from Maj. Gen. Brian Cavanaugh during a flight-line ceremony at Marine Corps Air Station Futenma.
Austin comes to wing headquarters on Okinawa with the risk of conflict with China and North Korea at a 50-year high.
"I couldn't have picked a better person to come behind me," Cavanaugh said as he addressed his replacement shortly after handing over the unit colors. "I think you'll make this wing more lethal and that's exactly what's needed out here."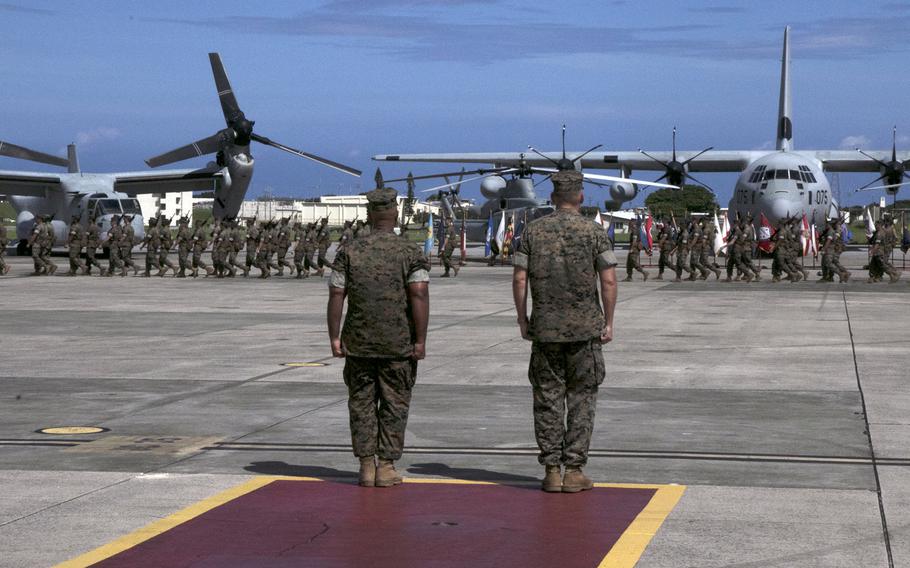 The 1st Marine Aircraft Wing is the aviation element of the III Marine Expeditionary Force and consists of approximately 7,000 Marines and sailors in three aircraft groups at Marine Corps Air Stations Futenma and Iwakuni in Japan and Kaneohe Bay in Hawaii. The wing includes an array of aircraft from F/A-18 and F-35B fighters to MV-22 Osprey tiltrotors and AH-1Z Viper attack helicopters.
The wing provides offensive air support, anti-air support, aerial reconnaissance and electronic countermeasures.
Austin attended the Defense Department's Kubasaki High School at Camp Foster, where the wing headquarters are located, while his father served as a Marine officer on the island.
Austin most recently served as director of combat development and integration at Marine Corps headquarters in Quantico, Va., his official biography states. Earlier in his career, he was the wing's assistant chief of staff for operations.
He earned a bachelor's in aeronautical engineering at the Naval Academy in 1991 and finished flight school in 1994. He flew the AV-8B Harrier, the vertical or short takeoff and landing "jump jet" being phased out as the F-35B Lightning II assumes that role.
Austin has commanded attack squadrons and aircraft groups and deployed multiple times to Kuwait and Iraq.
He completed courses at the National War College in 2010, the Marine Corps University in 2012 and the Harvard Business School Advanced Management Program in 2013.
Cavanaugh is bound for Hampton Roads, Va., to take over Marine Corps Forces Command and is already approved by Congress for promotion to lieutenant general, wing spokesman 1st Lt. Jude Hydrick said prior to Friday's ceremony.
At the flight-line ceremony beneath an unrelenting sun, III MEF commander Lt. Gen. James Bierman said he was sorry to see Cavanaugh go after only a little more than a year on the job.
"Everything that this [Marine aircraft wing] does comes back to his quiet, steady leadership, his vision and his kindness," Bierman said.
Austin said he was eager to learn about the wing's current posture and directed the crowd's attention to the Marines in formation before him.
"The world's a dangerous place and we need men and women of courage and character to defend our freedoms and you're looking at them right there," he said.
---
---
---
---