Firefighters face high winds as wildfire sweeps Army training area in Hawaii
By
Stars and Stripes
August 12, 2022
---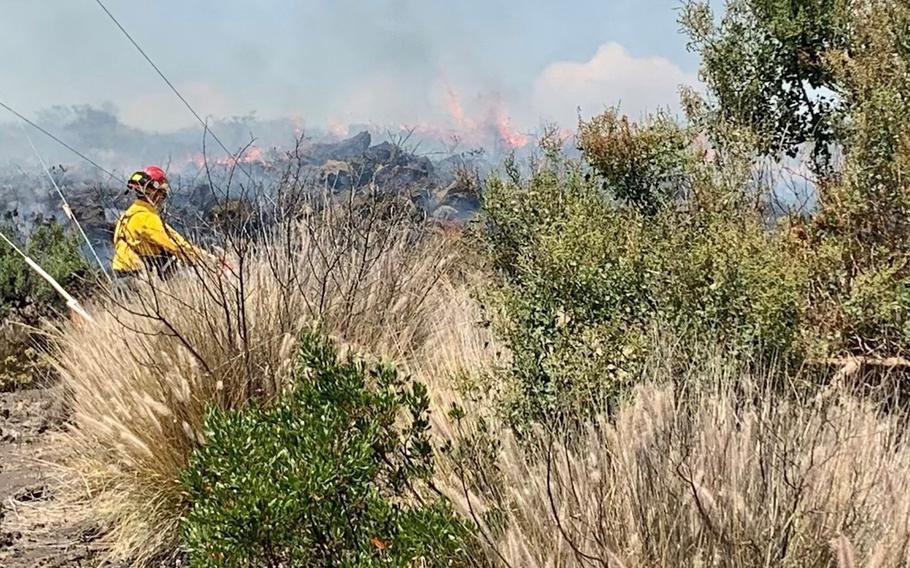 FORT SHAFTER, Hawaii — Wildfire bolstered by high winds and dry conditions has burned more than 10,000 acres of military- and state-owned land on the island of Hawaii as of Thursday, the Army said in a news release.
The wildland fire was first seen at midday Wednesday on the western portion of the Pohakuloa Training Area, a 132,000-acre site operated by the Army and used for live-fire training.
The fire also continues to sweep across state land to the west of the training area. Its cause is under investigation, the release said.
The terrain is covered primarily with tall grass and shrubs.
The Hawaiian Islands have experienced higher than normal winds in recent days with sustained gusts of more than 30 mph. The islands' leeward sides have gotten little rain in the past five months.
"This fire is very significant, and it is taking this entire team of first responders to collectively contain its advances," the commander of Pohakuloa Training Area, Lt. Col. Kevin Cronin, said in Thursday's news release.
Firefighters with the Army, Hawaii County, Hawaii Division of Forestry and Wildlife and the National Park Service joined local volunteer firefighters to begin battling the blaze Wednesday.
Efforts have focused on creating firebreaks ahead of the blaze to curb its advance, with helicopters dropping buckets of water on the flames.
More than 30 people are working to contain the wildfire with equipment that includes three Army and two county helicopters, 10 fire engines and tankers and six earth-moving bulldozers, the news release said.
"Working with the team of first responders here, our number one priority is the safety and well-being of the local community," Cronin said in the news release. "The weather conditions are making this fight difficult to slow the advance of the fire, and our combined efforts are working to prevent it from reaching or crossing Highway 190."
Highway 190 traverses the northwest portion of the island, beyond which lies a more populated area near the coastline.
This wildfire follows a smaller one at the end of April that blackened more than 600 acres at the training area.
---
---
---
---