US will not allow China to isolate Taiwan, Pelosi says in Tokyo
By
Seth Robson and Hana Kusumoto
Stars and Stripes
August 5, 2022
---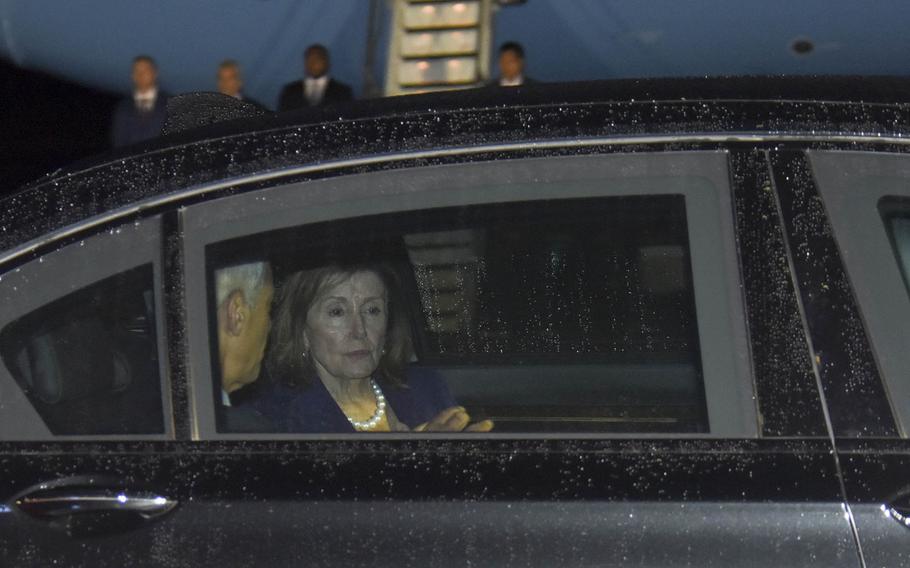 TOKYO – The United States will not allow China to isolate Taiwan, U.S. House Speaker Nancy Pelosi told reporters during a press conference in the Japanese capital on Friday.
Pelosi spoke after meeting Japanese Prime Minister Fumio Kishida that morning amid tension over her visit to Taiwan earlier in the week and China's response, which involved military drills surrounding the island and firing five missiles into Japanese waters.
The speaker, who arrived Thursday night at Yokota Air Base in western Tokyo with a five-member congressional delegation, told journalists that their visit isn't about changing the status quo in relation to Taiwan.
The Taiwan stop, which included a meeting with President Tsai Ing-wen, provoked China to conduct military exercises by its navy, air force and other departments in six zones surrounding Taiwan. Beijing claims the island as its own territory to be annexed by force if necessary.
China likely used the U.S. delegation's visit to the island as an excuse to conduct the drills, Pelosi said.
"The Chinese have tried to isolate Taiwan," she said, noting the communists' recent efforts to block Taiwanese membership in the World Health Organization.
"They may try to keep Taiwan from visiting or participating in other places, but they will not isolate Taiwan by preventing us from traveling there," she said. "We will not allow them to isolate Taiwan."
Pelosi declined to provide details of her conversation with Kishida but said the meeting was positive.
The pair spoke for just under an hour, with Pelosi offering condolences on the death of former Prime Minister Shinzo Abe, according to a Japan Foreign Ministry statement issued after the meeting. Abe was assassinated July 8 while giving a stump speech in the city of Nara.
Kishida confirmed that Japan and the U.S. will continue to work together closely to maintain peace and stability in the Taiwan Strait, the statement.
The pair discussed strengthening the U.S.-Japan alliance and a "free and open Indo-Pacific," and Kishida expressed his hopes for U.S. congressional support to realize those goals, the statement said.
They also spoke about China, North Korea, the war in Ukraine and efforts to create a world free of nuclear weapons, according to the statement.
Five of the missiles fired by China near Taiwan on Thursday descended into Japan's exclusive economic zone off Hateruma, an island far south of Japan's four main islands, according to a tweet that day by the Japanese Embassy in Washington, D.C.
Kishida condemned the launches, which he called a serious security issue. He said China's actions against Taiwan could have a severe impact on peace and stability for the region and the international community. He urged Beijing to immediately stop the military exercise, according to the ministry's statement.
China's missile tests give Kishida ammunition for his goal of significantly boosting Japan's military budget, according to Jeff Kingston, a professor of history and Asian studies at Temple University Japan.
"It was never in doubt that Beijing would react sharply to the visit, but the military drills reveal a glowering nationalism and overreaction that reinforce perceptions that China is a threat to regional peace," he said in an email Friday.
In the context of Putin's invasion of Ukraine, there are concerns that an impatient Chinese President Xi Jinping might follow suit, Kingston said.
"But Russia has demonstrated what can go wrong and thus it seems unlikely that Xi would take that risk," he said.
Over the past year, rhetorical saber-rattling over Taiwan by the U.S. and Japan has escalated, Kingston said.
The solidarity shown by Kishida and Pelosi contrasts with the snub by South Korean President Yoon Seok Youl, he said. Yoon was on vacation during Pelosi's trip to the peninsula and the pair did not meet in person. However, he reportedly spoke with the entire delegation by phone on Thursday.
The contrast is a reminder to the U.S. of the challenges of leveraging a trilateral alliance with the two countries, Kingston said.
The Japanese government has mixed views about Pelosi's visit, according to James Brown, an international affairs expert, also at Temple University Japan, said in an email Friday.
"On the one hand, they are pleased by the commitment it demonstrates to the US's allies and the determination it shows to stand up to China. This is seen as particularly welcome from a Democrat since some in Japan view the Democratic Party as insufficiently tough on China," he said in an email Friday. "Yet, on the other hand, Tokyo is worried that Pelosi's visit to Taiwan went too far. The Japanese government wants US politicians to steadily deter Chinese aggression, not to provoke a crisis."
---
---
---
---