Navy to test meat alternatives at overseas bases
By
Stars and Stripes
July 20, 2022
---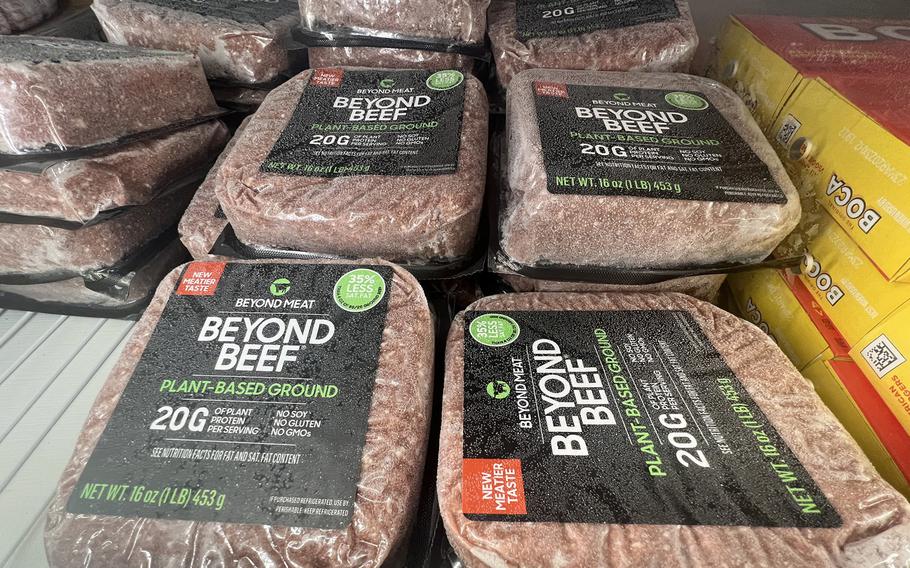 An amendment in the National Defense Authorization Act for fiscal 2023 could require the Navy to serve plant-based protein options at two overseas bases.
The amendment by Rep. Elissa Slotkin, a Michigan Democrat, singles out Joint Region Marianas on Guam, the Navy Support Facility at Diego Garcia and Sasebo Naval Base in Japan as candidates for a pilot program at commands "where livestock-based protein options may be costly to obtain or store."
After a three-year pilot period, the Navy secretary would report to the House and Senate Armed Services Committees the consumption rate of plant-based proteins by sailors at those bases, criteria that would increase vegan meat offerings at other bases and an analysis of the cost to purchase, store and serve plant-based protein versus regular meat, according to the amendment.
The Navy Times and Defense News first reported on the vegan amendment on Monday. Spokespeople at Naval Forces Japan did not respond Wednesday to requests for further information by Stars and Stripes.
Slotkin introduced a separate resolution in 2021 stating that the military members at the pilot program bases would still have access to animal products; the plant-based alternatives are just an option.
Some House Republicans denounced the proposal as an example of a "liberal agenda," according to the Navy Times report.
Chip Roy, a Texas Republican, called out the proposal in the 2021 defense bill on Twitter.
"A woke military that drafts our daughters, wastes resources on Green New Deal garbage, holds no one accountable for Afghanistan disaster, and prioritizes playing leftist politics over destroying our enemies," Roy wrote in the thread. "Rep. Roy voted no."
Vegan options are not new in U.S. military dining halls.
The Guns and Rockets Dining Facility at Fort Sill, Okla., in July 2018 became the first Army facility to offer a 100% plant-based entrée during every meal.
A study conducted by Mercy for Animals, an international nonprofit animal protection organization, reported that 81% of the 226 troops it surveyed wanted more access to plant-based foods, even though only 3.5% of respondents said they were vegan, according to Navy Times.
---
---
---
---