South Korea enters 'new phase' of COVID-19 as US base in Tokyo raises health-risk level
By
Joseph Ditzler and David Choi
Stars and Stripes
July 20, 2022
---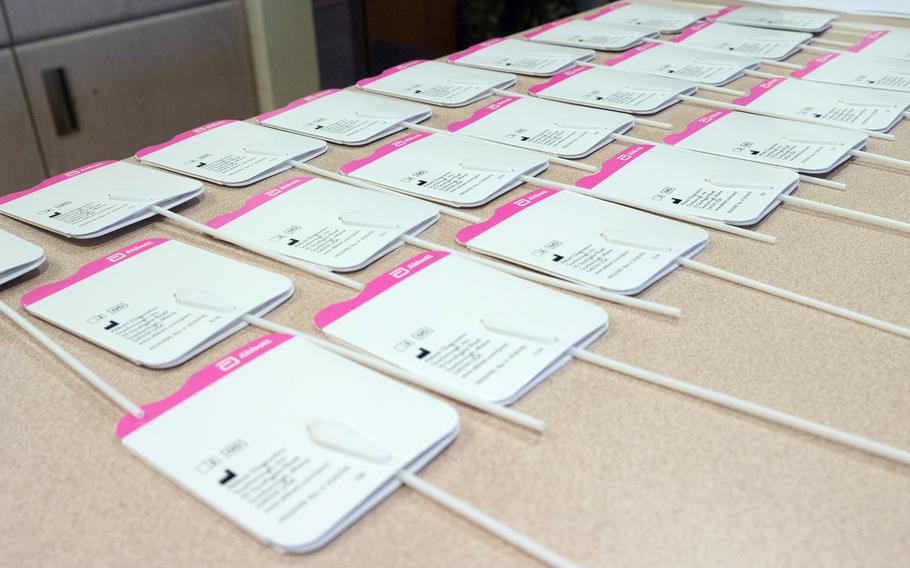 Stars and Stripes is making stories on the coronavirus pandemic available free of charge. See more stories here. Sign up for our daily coronavirus newsletter here. Please support our journalism with a subscription.
Mounting numbers of new COVID-19 cases in Tokyo prompted the Air Force's airlift hub to issue public health advice on Tuesday. Meanwhile, infections are also on the rise for U.S. forces in South Korea.
Yokota Air Base in western Tokyo also raised its health protection condition to Bravo, indicating a moderate risk of contracting the coronavirus respiratory disease and an increased spread of the virus locally.
The base changed none of its COVID-19 guidelines but reminded its people of measures that protect them from the virus, according to an official Facebook post. U.S. Forces Japan in June loosened its mask policy to allow its population to do without them off-base except indoors, in crowded areas and on public transportation.
"At this time, there is no change to current on-base mask wear or travel guidelines," Yokota's post said. "Nevertheless, the increase in COVID-19 cases necessitates some change in behavior to ensure the health and safety of our people while maintaining our ability to complete the mission."
Tokyo reported 19,059 new cases on Friday, exceeding 10,000 new cases on one day for the first time since March, according to Tokyo Metropolitan statistics online. There were 11,018 new infections recorded Tuesday.
"Please continue to stay cautious, maintain your awareness, and be proactive in exercising current [public health emergency] measures," Yokota's post said.
The base reminded people to stay home when sick, wash their hands frequently and maintain social distance when possible. The post also recommended booster shots and vaccinations for those who need them.
"Approximately 61% of uniformed personnel at Yokota have received a COVID-19 booster," the base said.
USFJ no longer posts its COVID-19 case numbers online and Yokota did not respond to a request Tuesday for information about new infection numbers.
Japan and South Korea, home to more than 75,000 U.S. service members, as well as Defense Department civilians and their families, are experiencing another wave of the coronavirus pandemic.
Japan on Sunday reported 105,538 new cases of COVID-19, exceeding the previous pandemic high of 104,345 on Feb. 3, according to the Johns Hopkins Coronavirus Resource Center. The center reported 37,114 new cases on Tuesday.
South Korea reported 76,402 new infections on Tuesday with numbers on the upswing, according to the Korea Disease Control Prevention Agency. KDCA reported 73,582 new cases on Monday and 40,266 cases on July 12.
U.S. Forces Korea, which has about 28,500 troops under its command, reported 380 new cases over seven days ending Tuesday, according to its website. Only seven cases were people who recently arrived in South Korea, according to USFK. During the previous week, the command counted 157 new cases.
South Korea reached a one-day pandemic high of 621,317 on March 16, according to Johns Hopkins.
The Ministry of Health and Welfare described the surge as "a new phase" and a "doubling phenomenon," according to a statement Wednesday.
South Korea's government is taking steps to mitigate the spread by constructing around 3,500 additional "one-stop" treatment centers by July. The centers provide in-person care as well as testing for COVID-19 and dispensing antiviral drugs.
Health authorities cite the BA.5 omicron subvariant as the cause, according to media reports in both countries. In South Korea the BA.5 subvariant has spread "much faster than expected," according to the health ministry.
The omicron variant caused the pandemic wave that started in December and while it created record numbers of new infections it caused fewer deaths and hospitalizations than previous waves.
---
---
---
---