Top US commander in Japan condemns Abe's killing as an 'affront' to democracy
By
Stars and Stripes
July 9, 2022
---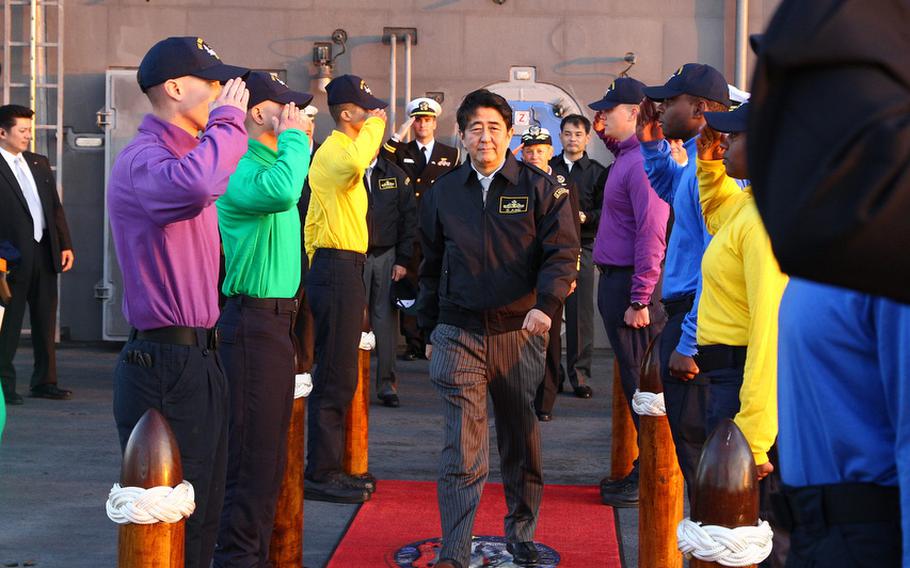 TOKYO – U.S. military commanders in Japan remembered former Prime Minister Shinzo Abe as a friend and ally in messages of condolence posted following Abe's assassination on Friday.
"Prime Minister Abe was an unwavering ally and partner to the U.S., and did so much to support our service members in Japan and strengthen the alliance we share," Vice Adm. Karl Thomas, commander of the U.S. 7th Fleet, based at Yokosuka, Japan, wrote in a message posted on his command's Facebook page Saturday.
Abe, 67, was shot from behind while delivering a campaign speech outside a train station in Nara, about 300 miles west of Tokyo. He died later in a hospital.
Abe in 2015 was the first Japanese prime minister to set foot on an American warship when he visited the aircraft carrier USS Ronald Reagan during the Japan Maritime Self-Defense Force Fleet Review. The Ronald Reagan is homeported at Yokosuka Naval Base as the flagship of a carrier strike group.
Air Force Lt. Gen. Ricky Rupp, commander of U.S. Forces Japan, condemned Abe's killing in a message posted on U.S. Forces Japan's official Facebook page.
"The men and women of United States Forces Japan are deeply saddened by the outrageous murder of former Prime Minister Shinzo Abe," Rupp wrote. "The terrible circumstances of his passing are unacceptable, an intolerable affront to the democratic principles we share. His death is a great loss for the people of Japan and for all those who value a Free and Open Indo-Pacific."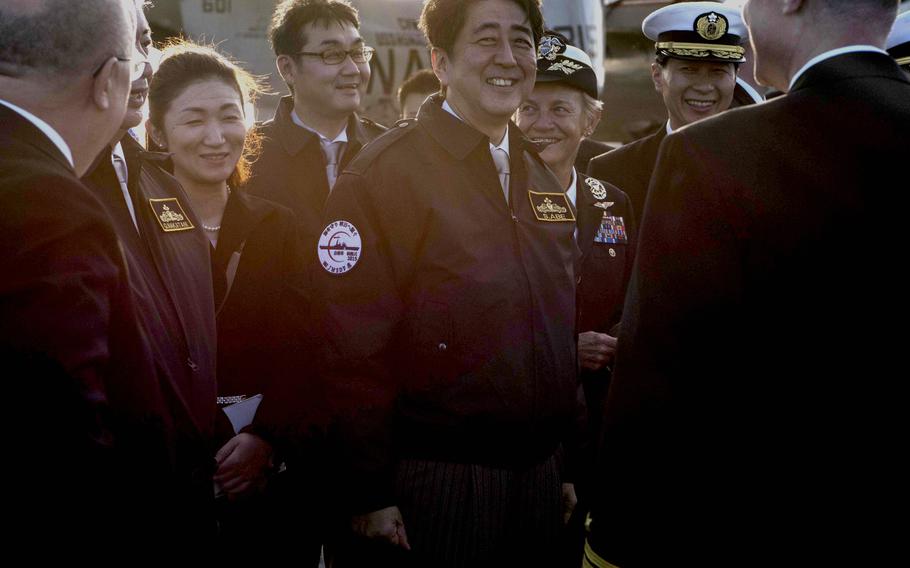 Abe, his nation's longest serving prime minister, endorsed the "free and open Indo-Pacific" policy of free navigation, free trade and rule of law in a 2016 speech in Kenya, according to Japan's Ministry of Foreign Affairs. Today it's a catchphrase employed by the U.S. military to explain its presence in areas of the South China Sea that are claimed by China.
Abe also pushed measures aimed at reinstating Japan as a military presence in the region and to revive its languid economy of the 1990s.
"As Prime Minister, Mr. Abe championed the vital and enduring alliance between our two democracies, the cornerstone of security in the Pacific," Rupp wrote. "He also paved the way for Japan to take an even larger role in the alliance. This great legacy will live on."
USFJ is headquartered at Yokota Air Base, an airlift and transit hub in western Tokyo.
Japan, where gun violence is relatively unknown, was shocked by Abe's assassination. The suspected gunman, identified in news accounts as Tetsuya Yamagami, 41, of Nara, was tackled and arrested by security personnel at the scene. News video showed what appeared to be a homemade device resembling a sawed-off shotgun dropped on the street.
Japanese police raided Yamagami's home and seized several weapons that also appeared to be homemade, NBC News reported Saturday.
"To his family, and to the people of Japan, please know that all of United States Forces Japan stand with you as allies and friends in this time of shock and sorrow," Rupp said in his message.
---
---
---
---