'Shocked' and 'saddened' world leaders react to Shinzo Abe's assassination
By
Adela Suliman, Michelle Ye Hee Lee, Julia Mio Inuma, Amar Nadhir
The Washington Post
July 8, 2022
---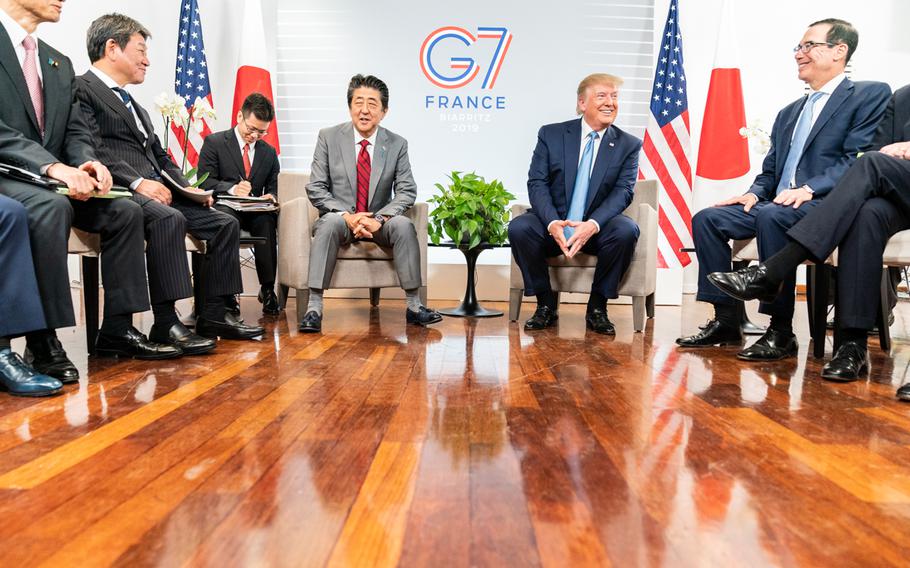 World leaders past and present expressed shock and sadness at the death of former Japanese prime minister Shinzo Abe, who was assassinated Friday campaigning at a political rally.
News of the shooting of modern Japan's longest-serving prime minister reverberated around the globe and cast a spotlight on political violence and gun culture in the country and elsewhere.
European Union leader Ursula von der Leyen called the attack a "brutal and cowardly murder," adding that a "wonderful person, great democrat and champion of the multilateral world order has passed away."
In Asia, the top Philippine diplomat, Enrique Manalo, remembered Abe and said he would be "very much missed."
South Korean President Yoon Suk-yeol called his death an act of "terrorism" during an election period, that attacked "the very foundation of democracy." He also sent a letter of condolence to Abe's wife, Akie. Seoul has historically had a tense relationship with Tokyo, which colonized Korea, but Yoon has sought to develop closer ties since taking office this year.
Indian Prime Minister Narendra Modi called Abe a "dear friend" and said his country would observe a national day of mourning on Saturday, "as a mark of our deepest respect."
Wary of an assertive China, Abe developed close ties between Japan, Asia's richest democracy, and India, the region's most populous. He was a particularly vocal proponent of the Quad, an informal network of Japan, India, Australia and the United States that is viewed as a counterweight to Beijing.
A spokesperson at the Chinese embassy in Japan said Abe had "made contributions towards improving China-Japan relations during his term," Reuters reported. "We express our condolences on his death and send our sympathies to his family."
President Joe Biden said he was "stunned, outraged, and deeply saddened by the news."
"This is a tragedy for Japan and for all who knew him," he added. "Even at the moment he was attacked, he was engaged in the work of democracy." Biden added that "gun violence always leaves a deep scar on the communities that are affected by it." The debate over guns in the United States has heightened in recent weeks following a number of mass shootings, including at a grocery store, an elementary school and a July Fourth parade.
Secretary of State Antony Blinken, speaking on the sidelines of a Group of 20 foreign ministers meeting in Indonesia, called the assassination "profoundly disturbing," and said "to the United States, Prime Minister Abe was an extraordinary partner."
Former president Barack Obama tweeted his shock at the assassination of his "friend." He recalled "moving" visits to Hiroshima and Pearl Harbor with Abe in 2016.
U.S. Ambassador to Japan Rahm Emanuel also said Friday that he was "deeply saddened" by the news, calling Abe a "friend of America."
Former president Donald Trump, who developed close ties with Abe while in office, put out a message on his social media platform hailing Abe as a "unifier" and a man who "loved and cherished" his nation.
Trump also called for swift and harsh punishment for Abe's killer.
Tokyo's relations with Moscow have become strained in recent months, as Japan imposed sanctions in response to Russia's invasion of Ukraine. However, Russia sent its sympathies.
The Kremlin "strongly condemned" the killing, Russian presidential spokesman Dmitry Peskov said. "Abe was a patriot who defended Tokyo's interests at the negotiation table."
As prime minister, Abe worked to improve relations with Russia with hopes of resolving a long-running dispute over islands near Japan that the Soviet Union seized in 1945. Russia withdrew from talks to resolve the issue in March. Ultimately, Abe tried to fix the dispute as prime minister but couldn't persuade the Kremlin to shift its position.
"Horrible news of a brutal assassination," said Ukrainian President Volodymyr Zelensky. "This heinous act of violence has no excuse.
Outgoing British Prime Minister Boris Johnson tweeted that it was "incredibly sad news" and said Abe's "global leadership through unchartered times will be remembered by many."
"We stand closely by Japan's side in these difficult hours," said German Chancellor Olaf Scholz, adding that the assassination left him "shocked and deeply saddened."
Australia, Sweden, France, Turkey and dozens of other nations also condemned the assassination.
Abe, who came from a high-profile political family and resigned as prime minister in 2020 because of illness, was shot at a campaign event Friday, Japanese officials said. Japan has among the world's strictest firearms laws, and gun violence there is rare.
The 67-year-old had been giving a speech in Nara, near Osaka, ahead of elections for Japan's upper house of parliament on Sunday. Videos showed a chaotic scene, with Abe, unmoving, lying on the ground as attendees yelled for an ambulance.
Police arrested a suspect, a man from Nara in his 40s named Tetsuya Yamagami, and seized a gun. Yamagami was a member of the Japan Maritime Self-Defense Force for three years, defense officials told Japanese media.
- - -
The Washington Post's John Hudson in Nusa Dua, Indonesia; Grace Moon, Katerina Ang and Min Joo Kim in Seoul; Regine Cabato in Manila; Robyn Dixon in Riga, Latvia; Rick Noack in Parisand Eva Dou contributed to this report.
---
---
---
---