Governor calls for base closures as Okinawans mark 77th battle anniversary
By
Matthew M. Burke and Mari Higa
Stars and Stripes
June 23, 2022
---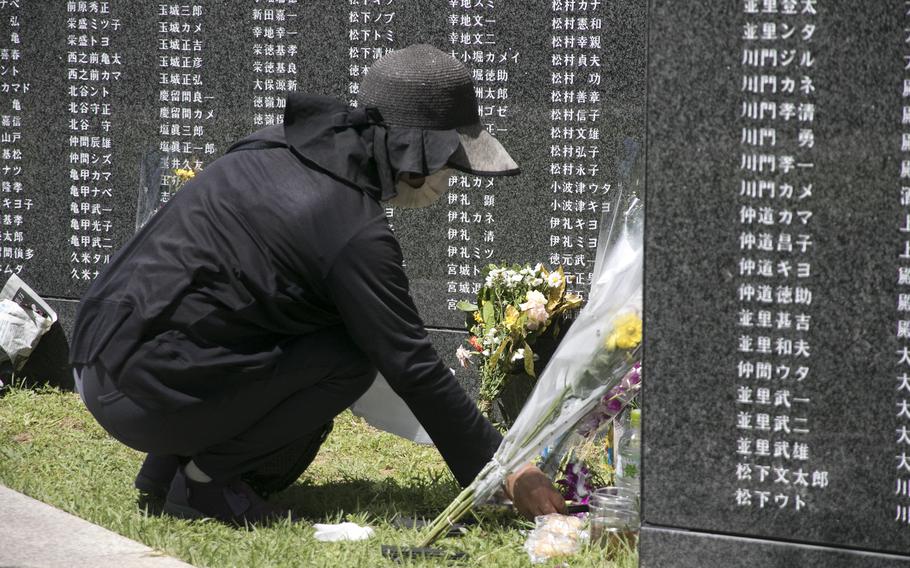 OKINAWA PEACE MEMORIAL PARK, Itoman — Matsujin Wakugawa beamed as four generations of his family huddled around him amid a sea of names carved in black granite.
The 92-year-old from Motobu town — hard of hearing, with a wry sense of humor — said he spent World War II as a teenager working on Saipan. He survived a massacre by American troops after a Japanese soldier tossed a grenade into their marching column by playing dead, he said.
When he returned to Okinawa, he found many of his relatives had perished during the Battle of Okinawa, which began on April 1, 1945, and lasted for 82 days. Their names are carved into the Cornerstone of Peace memorial at Okinawa Peace Memorial Park.
Wakugawa was one of approximately 400 attendees at Thursday's annual Irei no Hi ceremony commemorating the 77th anniversary of the Battle of Okinawa. The scaled-back ceremony was the largest in three years as the island prefecture rebounds from the COVID-19 pandemic. Only 36 people were allowed at last year's event.
Kiku Wakugawa, 90, his wife of 70 years, had stayed on the island, she said.
"I could not continue studying because of the war," she said from her wheelchair. "I hid in the mountain with my family during the battle."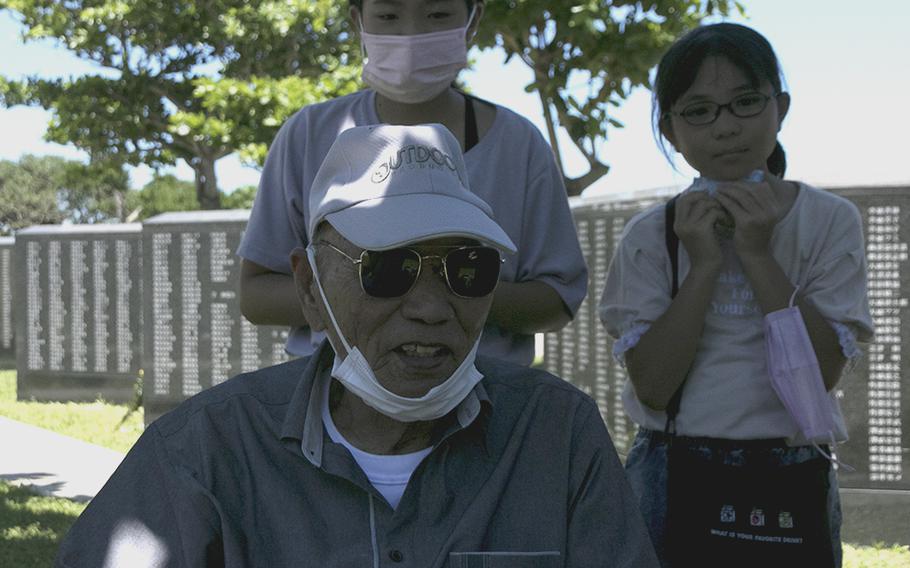 More than 14,000 Americans, about 110,000 Japanese troops and at least 140,000 Okinawans were killed during or after the fighting.
The battle, from April 1 to June 22, 1945, scorched large swaths of Okinawa. The war ended the following August with the dropping of atomic bombs on Hiroshima and Nagasaki.
Thursday's ceremony took place under an unrelenting sun.
The U.S. military sent a small contingent; Ambassador Rahm Emanuel was invited but chose instead to send a message, a spokesman for Okinawa prefecture's Public Relations Division told Stars and Stripes by phone Wednesday.
Attendees packed a large white tent for the ceremony. At 12 p.m., a moment of silence was observed.
Japanese Prime Minister Fumio Kishida was greeted with boos and people shouting "liar" and "go back." He acknowledged the heavy burden that Okinawa's population endures due to the large U.S. military presence on the island.
"The government takes this seriously and will continue to do its utmost to reduce the burden," he said.
He pledged to "make a continuous effort to realize a world where everyone can live in peace and affluence" and "never repeat the tragedy of war."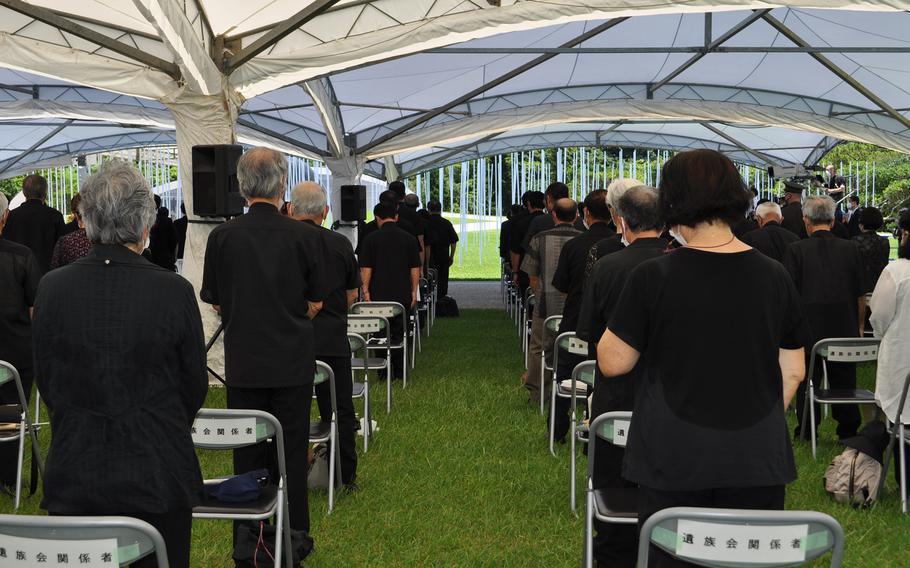 Okinawa Gov. Denny Tamaki, speaking at the ceremony, urged Tokyo to reduce the U.S. military presence on Okinawa.
"Okinawa prefecture strongly demands … consolidation and reduction of U.S. military bases in Okinawa," along with changes in the Japan-U.S. status of forces agreement, suspension of flight operations at Marine Corps Air Station Futenma and a halt to new airfield construction at Camp Schwab, Tamaki said.
The next generation of Okinawans must learn from the World War II generation before it passes on, he said. Nearby, the Wakugawas' first grandchild, Tomoe Tamashiro, 47, from Yomitan village, nodded in agreement.
"I think peace education is important," she said. "Humans are stupid. We keep repeating the same mistakes. Okinawa's history must be taught to children so that they know what is right and what is wrong."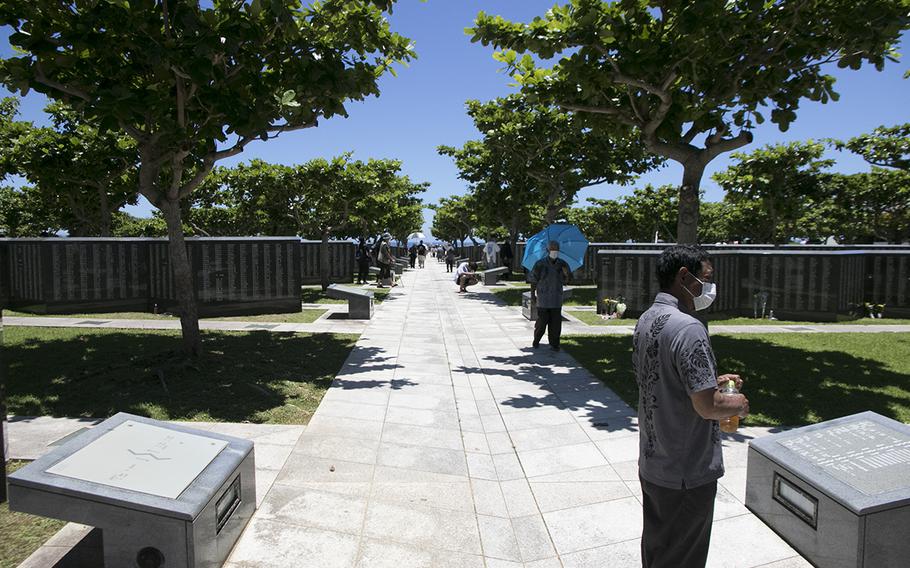 ---
---
---
---