US military on Okinawa announces end to government-funded morale leave flights
By
Stars and Stripes
June 23, 2022
---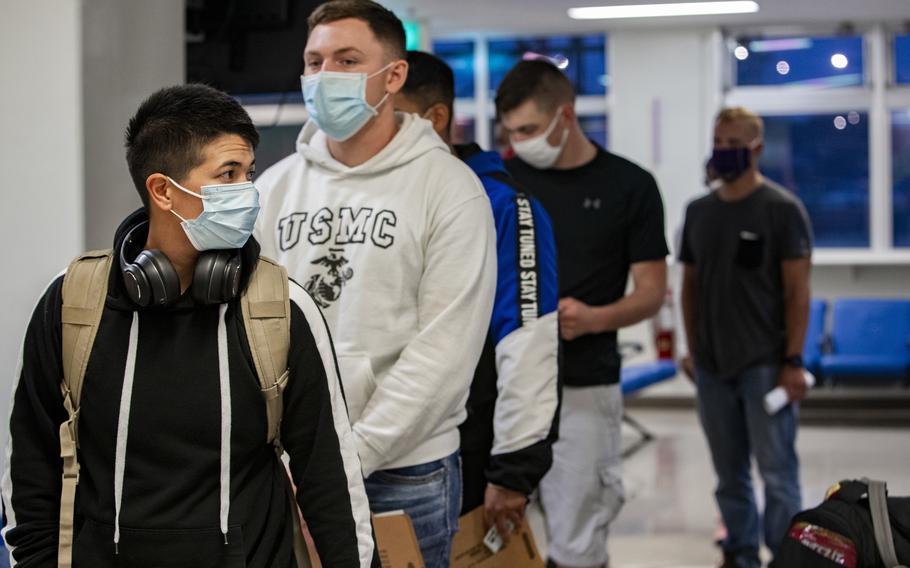 Stars and Stripes is making stories on the coronavirus pandemic available free of charge. See more stories here. Sign up for our daily coronavirus newsletter here. Please support our journalism with a subscription.
CAMP FOSTER, Okinawa — Members of the U.S. military population on Okinawa have slightly more than a month to squeeze in a government-funded morale flight to the U.S. mainland.
The Funded Environmental and Morale Leave program, or FEML, is set to expire Aug. 1, according to an announcement Tuesday by III Marine Expeditionary Force. Approved trips scheduled until July 31 are unaffected, including return travel after that date, according to the email from III MEF spokesman Capt. Gabriel Adibe.
He said eligible travelers may still apply for morale leave but individuals intending to use FEML should contact the officials approving their to make reservations and seek further guidance.
Japan ended its post-travel quarantine requirements for anyone under the status of forces agreement on June 1, according to Adibe's email. That removed the reason FEML was approved in November. Travelers entering Japan must still pass a molecular test for COVID-19, usually a PCR test, 72 hours before starting their international travel, according to III MEF.
The Pentagon approved funded morale leave from Okinawa to alleviate the cost of quarantining in Tokyo during the COVID-19 pandemic. Foreign travelers, including SOFA members, had to enter the country through Tokyo and complete 10 days quarantine in the metro area before heading to their destinations. SOFA outlines the rights and responsibilities of the U.S. military population in Japan.
The costs for quarantine lodging and for the travel leg to Okinawa added up for military travelers already coping with nearly two years of pandemic life on the island prefecture.
FEML opened up the Patriot Express for service members, Defense Department civilians and their families with flights between Seattle and Kadena Air Base on Okinawa. The Patriot Express is a regularly scheduled, government contracted flight between the U.S. and overseas military bases. Returning travelers were able to quarantine at their homes on Okinawa.
Restrictions apply to the funded leave program. Eligible travelers may take one morale leave and must be on orders to Okinawa for at least two years, including back-to-back one-year assignments.
Morale leave falls under a provision in the Pentagon's leave and liberty policy that permits government-funded travel from duty locations "that are truly isolated, austere or unhealthful …"
More than 6,000 service members and civilians used the program through May, according to Adibe's email. The flights, which are listed online, were often fully booked.
---
---
---
---