Capt. Mark Sohaney assumes command of Joint Base Pearl Harbor-Hickam
By
Stars and Stripes
June 16, 2022
---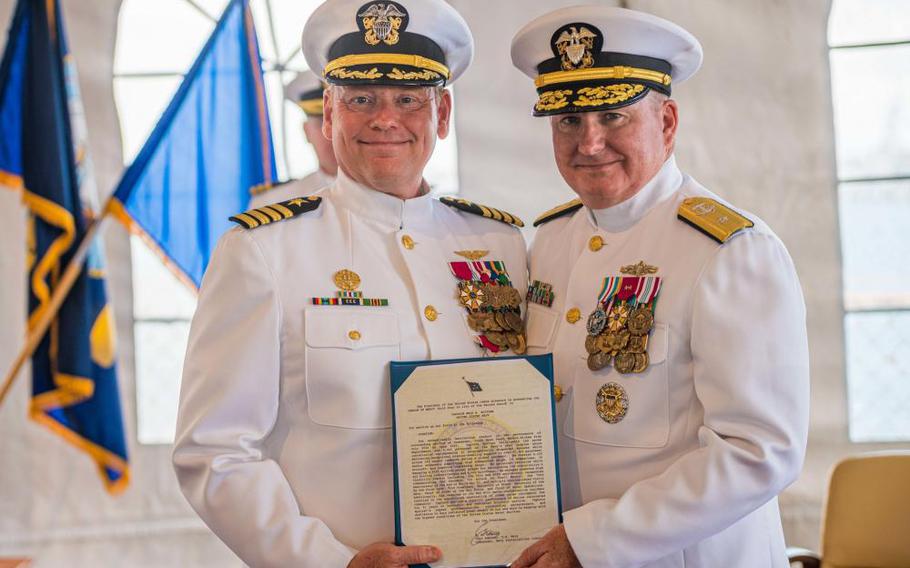 Capt. Mark Sohaney relieved Capt. Erik Spitzer as the commander of Joint Base Pearl Harbor-Hickam during a ceremony Tuesday, June 14, aboard Battleship USS Missouri Memorial.
At the ceremony, Spitzer — who has been the commander at the base since July 2020 — received the Legion of Merit Award for his service.
"I cannot thank you enough for all you do each and every day for this amazing and historical installation," Spitzer said at the ceremony. "Your commitment, resilience and teamwork here is phenomenal and what you accomplish each and every day, despite the obstacles and challenges, is truly inspirational."
Sohaney comes to the base in Hawaii after completing a tour as commanding officer at Naval Air Station Key West.
He previously served in several other capacities, including in Hawaii assigned to Patrol Squadron (VP) 47 onboard NAS Barber's Point, and as the director of Contingency Plans and executive assistant to the director of Maritime Operations at U.S. Pacific Fleet.
"My philosophy is: 'people first, mission always'. The men and women of Joint Base Pearl Harbor-Hickam are the most valuable resource," Sohaney said.
Covering 44.7 square miles, Joint Base Pearl Harbor-Hickam is home to the Air Force's preeminent flight line in the Pacific and the Navy's most strategic and historically significant installation. The base is homeport to 10 warships, 15 submarines and 47 aircraft in seven fixed wing aviation squadrons.
---
---
---
---