CDC survey finds nearly 2,000 users of tainted Navy water in Hawaii felt sick
By
Stars and Stripes
May 26, 2022
---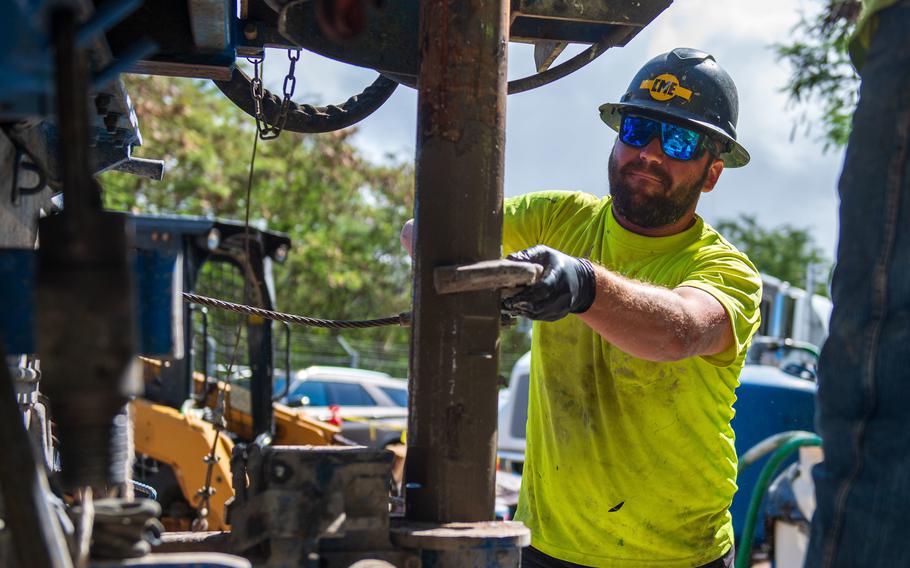 FORT SHAFTER, Hawaii – Almost 2,000 residents living in households contaminated by Navy jet fuel in Hawaii late last year experienced one or more new or worsened health symptoms, the Centers for Disease Control and Prevention said Thursday.
"Reported symptoms, such as those related to the respiratory system, gastrointestinal tract, nervous system, and mental health were consistent with previous studies of exposure to petroleum hydrocarbons," the CDC said its Morbidity and Mortality Weekly Report.
The findings are from a voluntary health assessment survey in January and February of individuals affected by petroleum contamination in the Navy's water distribution system that supplies military communities on and near Joint Base Pearl Harbor-Hickam.
Jet fuel leaking from the Red Hill Bulk Fuel Storage Facility, a collection of massive underground tanks built during World War II, contaminated tap water in an estimated 9,694 households.
A total of 2,289 affected residents took part in the survey, which represented at least one participant from 1,389 households, the CDC said.
The survey found that 37% of participants sought medical care, with 17 people reporting that they had been hospitalized overnight.
Just over 80% of the 1,980 survey participants who experienced symptoms said they felt improvement after switching to an alternative water source, the CDC said.
"This incident was unprecedented and impacted the lives and health of thousands of people," Kathleen Ho, the Hawaii Department of Health's deputy director of environmental health, said in a news release Thursday.
"This survey helps to quantify their experiences," she said. "We are committed to continuing to work with [the Agency for Toxic Substances and Disease Registry] to search for answers on how the Navy's contamination of its drinking water system impacts health and wellbeing."
The CDC noted in its report that the survey method did not "capture the full scope of health aspects."
The Hawaii Health Department began getting reports in late November of foul-smelling tap water in homes using the Navy's water system.
The Health Department issued an advisory on Nov. 30 directing households to not use the water for drinking, bathing or washing clothes and dishes. The advisory was lifted on March 18 after the Navy had isolated the contaminated well and flushed the distribution system and pipes in each home.
Thousands of households lived in area hotels for weeks or months as that work was being done.
Some residents have complained of lasting medical problems they say were caused by the tainted water.
More than 100 current and former residents of affected households have filed claims with the Navy's Office of the Judge Advocate seeking compensation for maladies they say were caused by the contamination.
Defense Secretary Lloyd Austin issued an order on March 7 that the fuel facility be permanently closed. The Navy and Hawaii Health Department are in the process of planning how the remaining fuel will be emptied.
---
---
---
---