White House honors former military child as DODEA's Teacher of the Year
By
Stars and Stripes
May 3, 2022
---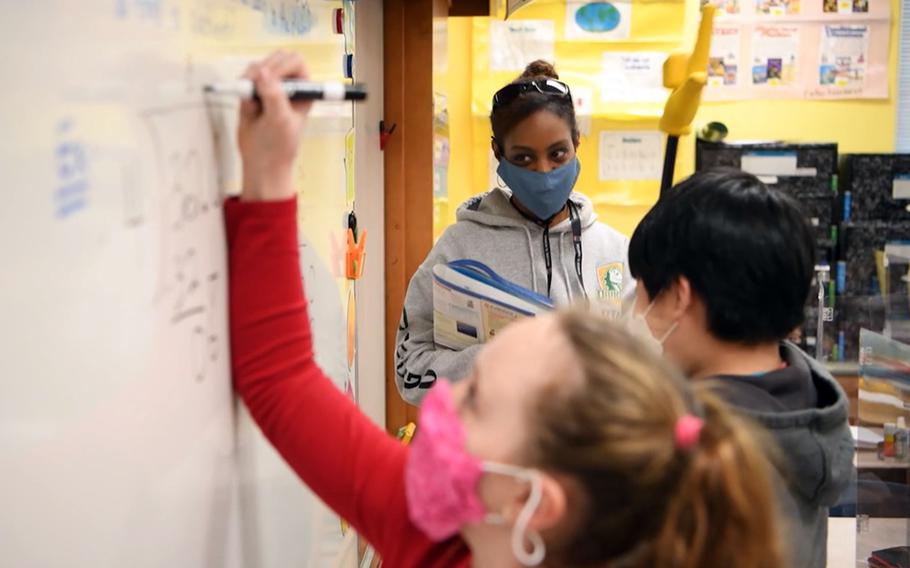 CAMP HUMPHREYS, South Korea — A fifth-grade teacher at Daegu Elementary School on Camp George, named the Department of Defense Education Activity's 2022 Teacher of the Year, was honored recently at the White House.
Rachel Guilfoyle, who has taught in South Korea for the past 12 years, was among the teachers from across the United States and its territories that President Joe Biden and first lady Jill Biden recognized on Thursday.
It was "humbling to have been nominated," Guilfoyle told Stars and Stripes by phone Friday. "I was surprised because like most teachers, you do what you do, and you enjoy what you do."
"I'm not the only one, obviously; I just happened to be the one that gets this recognition," she added. "I work with some outstanding teachers."
As the daughter of parents who immigrated from Trinidad and served in the Air Force, Guilfoyle grew up and received her education through the military's school system in Japan and Europe.
Guilfoyle cited an influential teacher as her inspiration for becoming one herself, along with her desire to "give back to the military community."
"One of my favorite, memorable teachers … really made an impression on me," she said. "She always stressed the importance of education and growing — and growing into a whole person. I just had that stuck with me."
Guilfoyle said that children raised in military households face unique challenges in their lives, including moving to new schools and parents who deploy frequently.
"I can definitely understand that," she said. "I feel like that gives me insight into understanding some of the unique challenges that military children face."
The DODEA system consists of 160 schools and serves nearly 67,000 students worldwide.
Daegu, population 2.5 million, experienced the first wave of the coronavirus in South Korea in February 2020. Army Col. Michael Tremblay, the former commander of Camp Humphreys, in 2021 described Daegu Garrison as "ground zero" for the U.S. military's coronavirus cases.
As COVID-19 cases mounted and schools transitioned to distance learning, teachers were faced with an unfamiliar challenge.
"You have to find that anchor to each child to pull them in and help them grow — that itself is a balancing act," Guilfoyle said. "When COVID-19 happened, that was another dimension that we never thought about or even considered."
Distance learning, or online classes, lacked "the same energy" as in-person schooling, but Guilfoyle and her colleagues "were able to work through it," she said.
"It wasn't always easy, but we did it," she said. "We have a rhythm now."
In a speech at the White House on Thursday, Jill Biden, who is also an educator, thanked the national and state Teachers of the Year.
"What makes your work so special is you — the love and the joy that you bring to it, the empathy and the understanding, the sheer power of your presence," she said. "You do this work because it's a part of who you are, because you have a calling."
Teacher Appreciation Week concludes Friday.
---
---
---
---