DODEA students announce post-high school plans at 'Decision Day' event in Tokyo
By
Stars and Stripes
May 2, 2022
---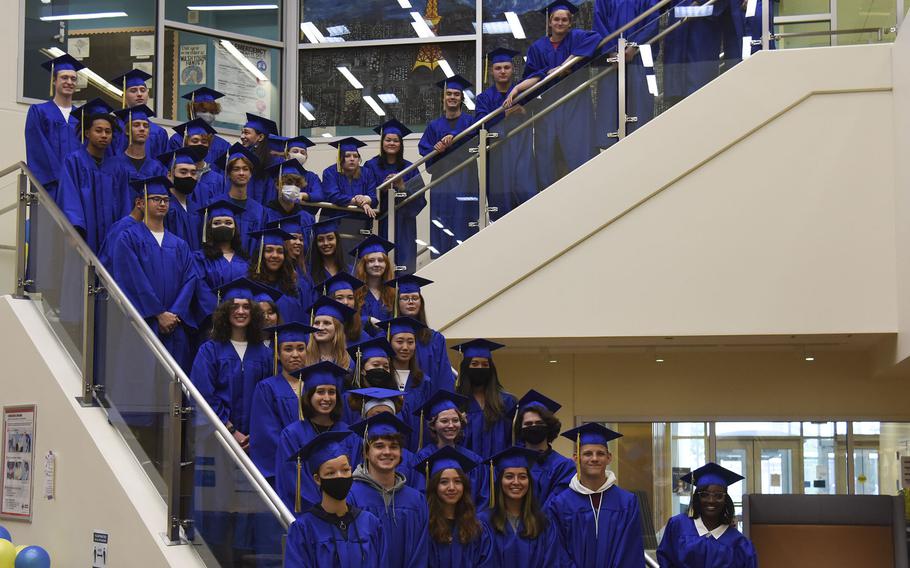 YOKOTA AIR BASE, Japan — Into every celebration rain sometimes falls but it failed Friday to dampen the celebratory spirit of Yokota High School's class of 2022.
The annual Decision Day observance marked its third year on this Air Force airlift hub in western Tokyo, not with the usual parade of poster-bedecked cars and trucks, but with a pandemic-era staple instead, a Facebook event.
The parade idea originally came out of trying to ensure seniors could signal their decisions to the community during the era of muted celebrations in the COVID-19 era, Yokota High principal Rebecca Villagomez told Stars and Stripes on Friday. Students typically drove on designated streets past assembled teachers, school staff, friends and family to advertise their post-high school intentions.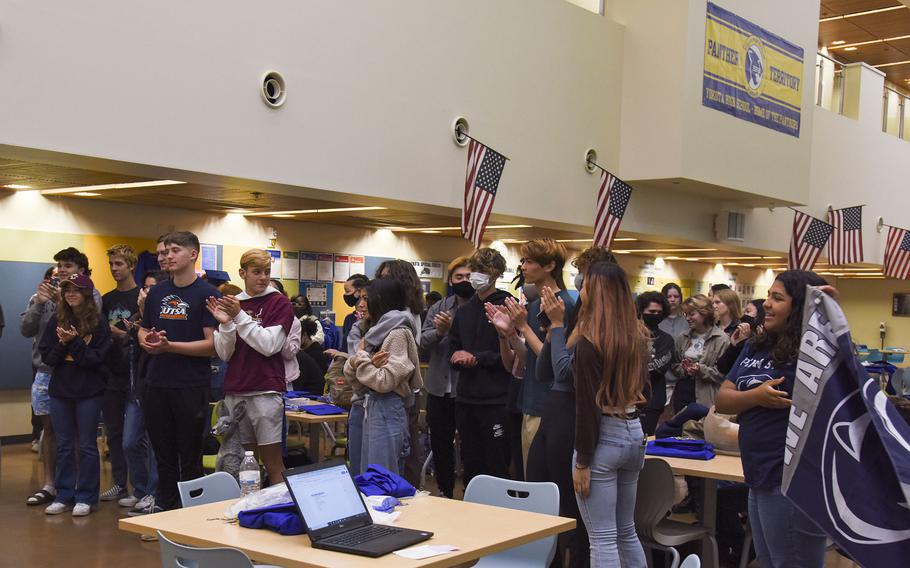 May 1 has come to be known as College Decision Day, the day when most colleges and universities expect high school seniors to either accept or decline their admission offers. It's become an opportunity for ritual that is not limited strictly to college decisions, but plans to enlist or pursue a vocation, too.
"It's to help celebrate what they're going to do and allows for a day so that students can make that decision towards whatever they want to do after high school," Villagomez said.
Afternoon rain prompted the principal to move Friday's event indoors and online.
"We decided to still celebrate it, but we decided to do it on Facebook Live instead," Villagomez said.
About 60 seniors out of the 290 students at Yokota High took part in the abbreviated ceremony in the school auditorium.
They lined up and one at a time grabbed a microphone to announce their plans during the event that parents and underclassmen could view online.
Many of the seniors are college-bound and will attend schools such as Penn State University, University of California Berkeley, University of Florida and Boston College, among others.
Other students plan to serve their country.
"We have a senior attending the Naval Academy, and we have students enlisting in the Navy and Air Force," Rene Kelley, an undergraduate counselor, told Stars and Stripes in an email Friday.
Saying their intentions out loud made the future more certain for some.
"I don't really know how I feel, it hasn't really hit me that I am going to be graduating, going to college and living on my own soon, but it does make me a little excited seeing everyone so excited about it," Micaya Boyd, 17, told Stars and Stripes on Friday. She will attend Washington State University.
Last year, Yokota High held its graduation ceremony in a hangar on the base flight line, another pandemic precautionary measure. This year, the graduation is scheduled June 2 at the Taiyo Community Center on the base.
With graduation day around the corner, another senior was also anxious to get going. Carson Brown, 18, is bound for San Diego Mesa College.
"I am excited for the next chapter, to be over with school, he said. "Made a lot of great memories, but I got a whole life ahead of me."
---
---
---
---