Ukraine lesson: 'Cheap' missiles may even odds for small nations in event of China conflict, experts say
By
Stars and Stripes
March 25, 2022
---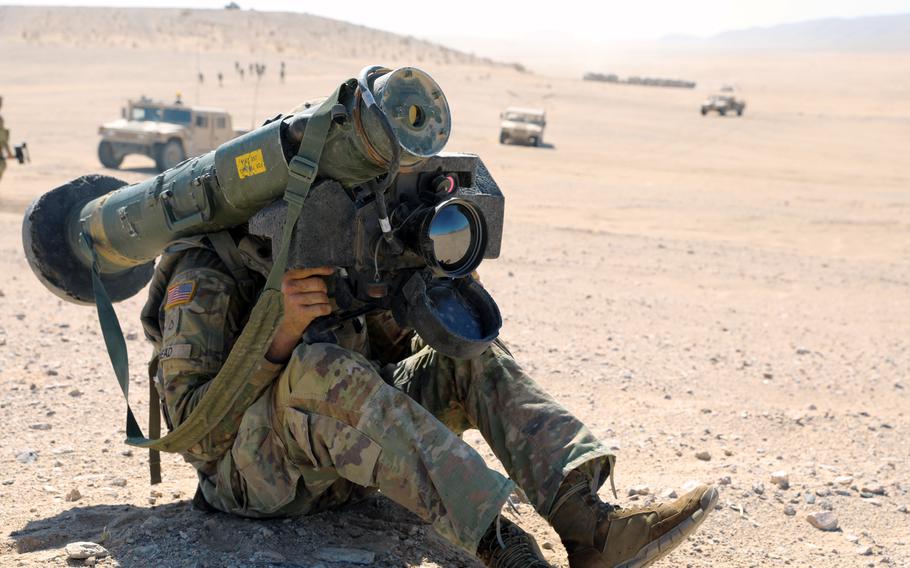 Anti-ship missiles could help smaller nations deter China if it seeks to use Russia's war in Ukraine to create a blueprint for conquering Taiwan or grabbing more territory in the South China Sea, according to security experts.
Any future conflict involving Beijing will likely be waged at sea, said Patricio Abinales, a professor at the University of Hawaii's School of Pacific and Asian Studies.
"There is a lot of chatter about how China could use what is happening to Ukraine to map a strategy of conquering Taiwan and projecting further its power in the South China Sea," he told Stars and Stripes in an email Tuesday.
Outnumbered and outgunned Ukrainian forces are using weapons such as Javelin anti-tank missiles supplied by the United States and its allies to extract a heavy toll on Russian invaders.
"I think things like the use of missiles and weapons that can easily be moved around are being factored in by both [China and its potential adversaries]," Abinales said. "It may even things up between small countries like the Philippines and Taiwan and big hegemons like China."
Missiles would be particularly useful for the Philippines, which has only a small navy consisting mainly of refurbished Vietnam-War-era coast guard cutters, he said.
"If Philippine marines could now carry Stingers or other similar handy anti-ship missiles, their odds at stalling any Chinese advance become better," he said.
'Cheap' and dispersed
Ukrainian troops' battlefield success, including rumors this week that they sank a Russian amphibious assault ship, is likely having a sobering effect on China, Lyle Goldstein, director of Asia Engagement at Defense Priorities and Visiting Professor at Brown University, told Stars and Stripes by phone Friday.
Nations bordering the South China Sea such as Taiwan, the Philippines, Vietnam and Malaysia have both shore- and sea-based anti-ship defenses, New Zealand-based security expert Paul Buchanan said in an email Wednesday.
Taiwan, for example, has the U.S.-made Harpoon anti-ship missile system. The Philippines recently signed a contract with India for a shore-based anti-ship cruise missile system worth $385 million, he said.
Anti-tank Javelins and anti-ship missiles are precision-guided weapons that are relatively inexpensive compared to their targets, said former Navy Capt. Jan van Tol, a senior fellow at the Center for Strategic and Budgetary Assessments in Washington, D.C.
"Having large numbers of relatively cheap, well-dispersed precision-guided weapons can be a highly effective deterrent and, if necessary, warfighting asset in both land and sea domains," he said in an email Wednesday. "This could be further extended to the air domain by having fairly large numbers of cheap short-range air defense weapons … like Stingers dispersed around a battle area."
Philippines training
U.S. Marines and Philippine troops will practice calling in simulated missile strikes during the annual Balikatan exercise between March 29 and April 8. The drills will involve 5,100 U.S. and 3,800 Philippines troops on the islands.
Members of the Marines' newly formed 3rd Marine Littoral Regiment will work with the Philippines' coastal defense regiment to call in the strikes from Marine Corps High Mobility Artillery Rocket Systems, or HIMARS, Marine Lt. Col. Dan Eagan said by phone March 15.
The units have complementary capabilities, said Eagan, the joint force operations officer for the U.S. side of Balikatan.
"They will be using similar sensor systems to provide eyes and ears to the joint force in that littoral terrain," he said.
However, the troops are limited by the munitions they are equipped with, he said.
"HIMARS isn't the best weapon to shoot at a moving ship," he said.
The new littoral regiment needs long-range capability, such as the Navy-Marine Corps Expeditionary Ship Interdiction System, called NMESIS, which features a naval strike missile mounted on an unmanned vehicle, assistant commandant of the Marine Corps Gen. Eric Smith said in a March 4 USNI News report.
During Balikatan, troops will go through the procedures they'd need to call in a strike from such as system, Eagan said.
"It is not exclusively U.S. forces who can provide firing data for these systems," he said. "Our partners can feed these targets to these more appropriate firing systems."
---
---
---
---