Leadership panel gives voice to minority service members at close of Black History Month
By
Stars and Stripes
March 2, 2022
---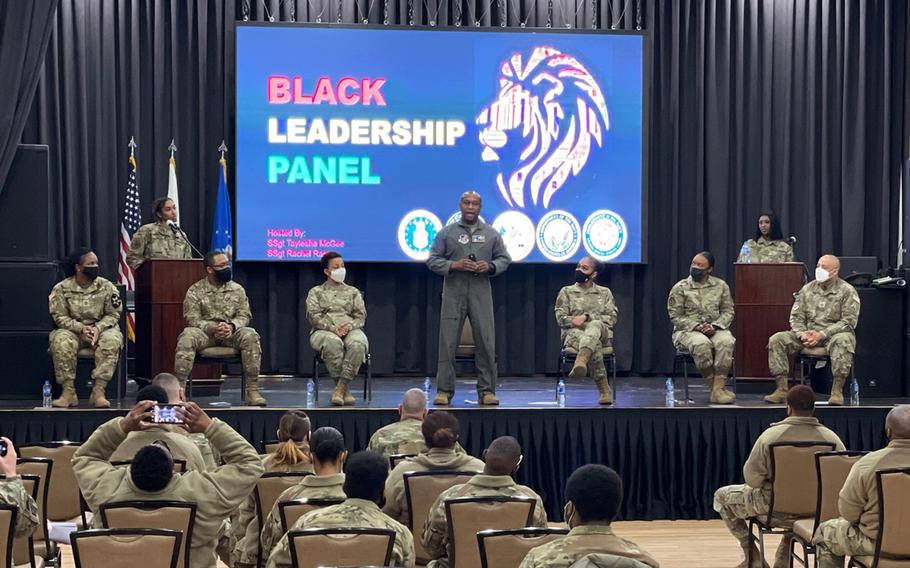 OSAN AIR BASE, South Korea — Air Force Staff Sgt. Taylesha McGee said she found encouragement in men and women of higher rank sharing their experiences during the Black Leadership Panel last week at this base south of Seoul.
"I've always had this conception in my mind that once I've reached this rank, it stops," said McGee, the panel host. "By hearing senior leaders who look like me speak today, it shows me there can be endless possibilities in the military."
About 55 people attended the 90-minute panel discussion Thursday at Osan's enlisted club. The base's African American Heritage Council sponsored the event that was broadcast to a larger, interactive audience in South Korea via Zoom.
The nine panelists, Black officers and noncommissioned officers from the Army, Air Force, Marines and Space Force fielded questions from younger service members that are familiar to people of color. Those questions are as old as their respective services. But they were raised again by the highest leaders of the Air Force following the murder of George Floyd by a white police officer in Minneapolis in May 2020.
One panelist, Master Sgt. Kori Trimble, the first Black woman in her Air Force unit to make first sergeant, said she rarely gets credit outright for her rank but feels she must first demonstrate her proficiency.
"Many times, I have been the only Black person in the room, especially Black female, at my level," Trimble said. "That's why I am where I am today; I needed to see people who look like me in this position."
Her experience echoed statements by Air Force Chief of Staff Gen. Charles Q. Brown Jr., who recalled being the only African American in his squadron, the only African American among other senior leaders and as a pilot being questioned whether he was a pilot, according to a Washington Post report in August 2020.
All the nine panelists agreed they had to prove themselves in their leadership roles to an extent that others were not expected to.
Their advice to younger service members: Do what you have to do to get where they are and change the dynamic for people of color in the military.
"Don't be afraid to stand up for what's right," said Army Sgt. 1st Class Latoya Greene, a panelist. "Don't be afraid to be that voice for your soldiers, especially the ones that look like you."
---
---
---
---