Alaska-based F-35A stealth fighters are on Okinawa to train with allies amid rising tensions
By
Stars and Stripes
February 25, 2022
---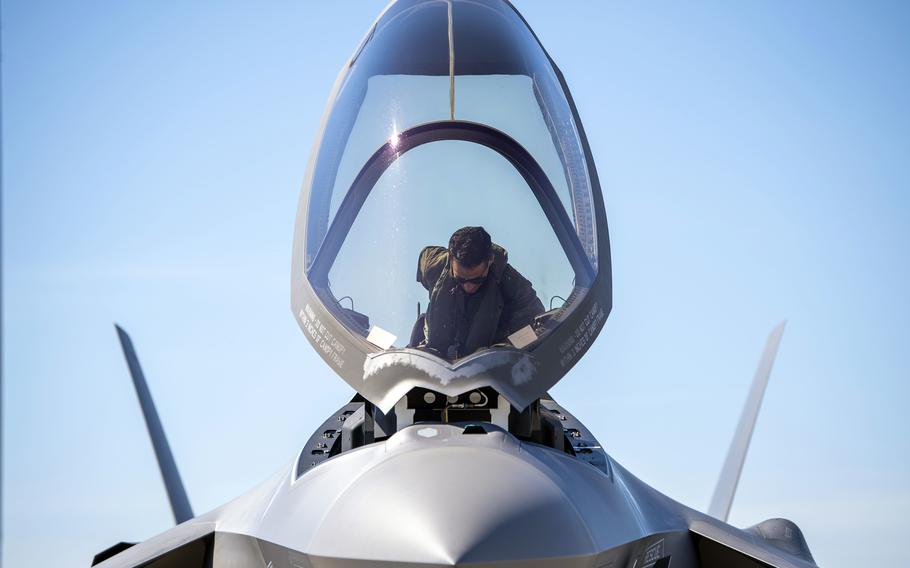 CAMP FOSTER, Okinawa — An undisclosed number of F-35A Lightning IIs from the Alaska-based 354th Fighter Wing arrived on Okinawa this month to train and support regional allies at a time when tensions are on the rise around the globe.
The fifth-generation fighters from Eielson Air Force Base arrived at Kadena Air Base on Feb. 20 to "conduct integrated air operations," Pacific Air Forces said in a news release on Wednesday.
The 18th Wing at Kadena declined to say how many aircraft arrived on the southern island prefecture or the duration of their stay, according to a wing email to Stars and Stripes on Friday.
The fighters traveled to Okinawa ahead of Russia's invasion of Ukraine early Thursday, amid fears that conflict in Europe could embolden China to act against Taiwan, which it views as a breakaway province and has threatened to retake by force.
Taiwan President Tsai Ing-wen has empathized with Ukraine's situation because of China's own "military threats and intimidation," CNN reported Wednesday. British Prime Minister Boris Johnson and U.S. Secretary of State Antony Blinken have both said that what happens in Ukraine may affect Chinese-Taiwanese relations.
However, Kadena said only that the F-35A deployment is beneficial training that allows airmen to familiarize themselves with "other theaters" while enhancing skills and relationships with allies and partners, according to the wing's email.
"Hosting transient aircraft operations to support our allies and partners are a normal part of our mission at Kadena Air Base," the statement said. "All operations are being conducted in accordance with bilateral agreements."
F-35As from Eielson arrived Dec. 3 at Marine Corps Air Station Iwakuni, Japan, for Operation Iron Dagger, Pacific Air Forces said at the time. Japanese military officials said they would remain in theater for several weeks.
Two F-35B squadrons are permanently stationed at MCAS Iwakuni with the 1st Marine Air Wing, the aviation combat element of the III Marine Expeditionary Force.
Marine Fighter Attack Squadron 121 and Marine Fighter Attack Squadron 242 fly the short-takeoff, vertical-landing version of the fighter. The Air Force F-35As are conventional aircraft that require a runway to take off and land.
Japan has about 20 F-35A stealth fighters stationed at Misawa Air Base in northeast Japan. The Japanese Defense Ministry is committed to purchasing 147 of the multirole fighters, including as many as 42 F-35Bs.
Over 700 F-35s, made by defense contractor Lockheed Martin, have been delivered to the United States and its partner nations, including Japan and Korea, Reuters reported Sept. 27.
---
---
---
---