Navy describes 'productive period' for littoral combat ship in South China Sea
By
Stars and Stripes
February 24, 2022
---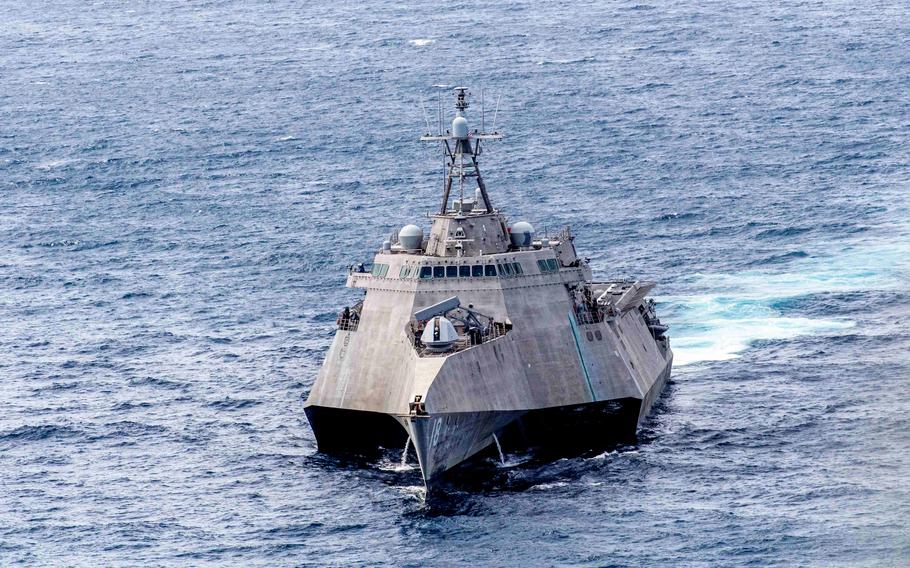 The USS Charleston, an Independence-variant littoral combat ship, arrived on Guam this month after 25 days on patrol, including 19 consecutive days in the South China Sea, the U.S. 7th Fleet said recently.
The Navy hailed the Charleston's nearly monthlong stretch at sea as an accomplishment for a vessel designed for shorter tours.
"I am very proud of this crew and the teamwork they demonstrated in completing the mission," the ship's skipper, Cmdr. Clayton Beas, said in a 7th Fleet news release Wednesday. "Each prolonged period of operations gives the Sailors an opportunity to put their training to use — and they executed flawlessly."
The Charleston, homeported in San Diego, steamed into Apra Harbor, Guam, on Feb. 14, according to the release.
Specifically designed to operate in nearshore environments, the Charleston's extended tour in the South China Sea constituted a "productive period of operations" for the ship and its crew, Task Force 76 spokeswoman Lt. Cmdr. Sherrie Flippin told Stars and Stripes by email Wednesday.
The Navy is still looking for a definitive role for littoral combat ships, according to a Jan. 12 report by DefenseNews.com. The warship class has been controversial almost since its inception in November 2001, according to a Congressional Research Service report in 2019.
Growth in costs, and questions with their design, construction and ability to survive battle damage plagued the littorals more than a decade, according to the report.
The Navy has commissioned 23 littoral combat ships of 35 contracts awarded, according to Navy.mil. Another five are under construction and four are in the pre-construction phase, as of Feb. 9. The littorals come in two variants, Independence and Freedom.
They are meant to provide joint force access close to shore and can operate on their own or in a network of larger warships in high-threat environments, according to the Navy.
Littoral combat ships are meant to stay at sea for shorter periods than other warship classes, Flippin said.
"Charleston has been on a rotational deployment to the U.S. 7th Fleet area of operations for several months in support of security and stability in the region, and to work alongside allied and partner navies to provide maritime security and stability, key pillars of a free and open Indo-Pacific," she said. "Our sailors demonstrate self-sufficiency and a relentless work ethic, which ensures that the ship is able to meet the mission."
Between Jan. 21 and Feb. 8, the Charleston and its crew worked and trained in the South China Sea, according to the release. It conducted flight operations, was resupplied at sea and practiced live-fire gunnery and damage control.
Flippin declined to further specify the Charleston's operations due to security concerns. Littoral combat ships "operate at sea and by their presence remain ready to support rapid mobilization in the event of crisis, conflict or natural disaster," she said.
Beijing claims much of the South China Sea as its maritime territory and frequently logs complaints when warships of other nations operate in the area. A 7th Fleet spokesman declined to say whether the Charleston crossed paths with the Chinese navy.
"All interactions with foreign military forces during Charleston's operations were consistent with international norms and did not impact operations," Lt. Mark Langford said in an email Wednesday to Stars and Stripes.
---
---
---
---