Deity statue, once a Marine general's war trophy, stands again on Okinawa
By
Stars and Stripes
February 17, 2022
---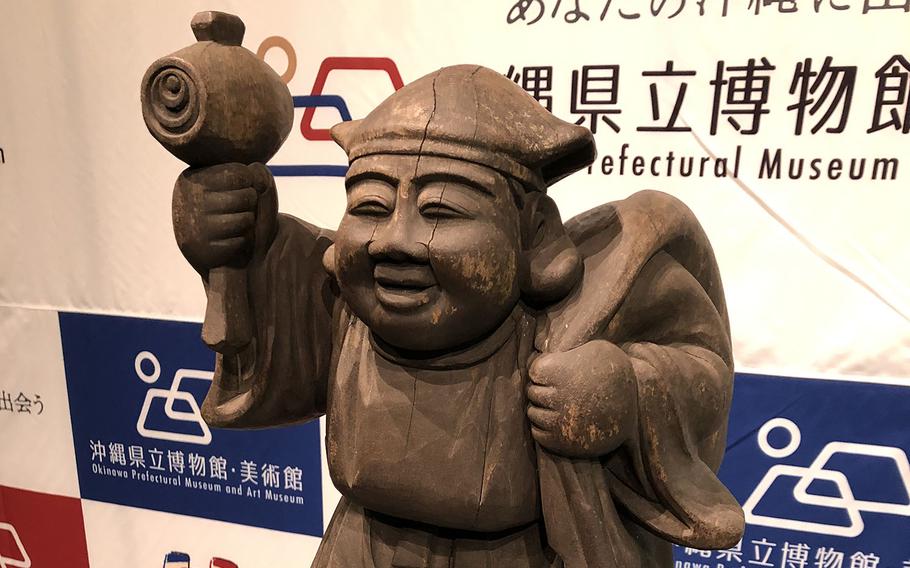 NAHA, Okinawa – A wooden carving unveiled this winter at the Okinawa Prefectural Museum & Art Museum. waited more than 40 years to tell its story again.
The 22-inch statue, a war trophy brought to the United States from the Battle of Okinawa, depicts a smiling man holding a mallet and standing on bales of rice. He is Daikokuten, a Japanese deity of wealth, one of the Seven Gods of Fortune worshipped by those who seek success in business.
But for Gen. Lemuel Shepherd Jr., his wish was not for success in business, but to remember the young Marines who died on Okinawa.
Shepherd commanded the 6th Marine Division during the Okinawa campaign in spring and summer 1945. He went on to become commandant of the Marine Corps in 1952 and died in 1990, according to the Marine Corps University website.
Shepherd was visited in 1987 by Shizuo "Alex" Kishaba, president of Ryukyu America Historical Research Society, a Japanese organization dedicated to recovering lost cultural items from United States. Shepherd showed Kishaba the statue and told his story.
Kishaba shared that story at the unveiling ceremony in November.
"When he went to Ouno-yama in Naha in June 1945, he found three young Marines' bodies near a small shrine," Kishaba explained. "He cried for them and decided to take something back to the U.S. to remember them for the rest of his life. He looked for a stone or something. Then, he found the statue."
Shepherd gave the statue to Kishaba to take back to Okinawa.
For more than three decades, Kishaba could not identify the statue's original home. He believed the statue was taken from Yomochi Shrine in Naha. However, that information is not enough to determine the rightful owner.
"Due to the Battle of Okinawa, we could not find any record about the statue. It is unknown if the Daikokuten was made for the shrine or it belonged to someone else," Masayuki Dana, director of Okinawa Prefectural Museum and Art Museum, told reporters at the unveiling.
"We decided to exhibit the statue, hoping to get information from people who know about the Ouno-yama area back then," he said.
Kishaba said he believes a lot of Okinawan cultural properties remain in the U.S. and information about them is always welcome.
The Daikokuten statue is now welcoming guests at the entrance to the museum's permanent exhibition hall, along with a temple bell returned in August by the family of Marine Gen. Roy Stanley Geiger, who commanded American forces during the Okinawa campaign.
Like the Daikokuten statue, the original home of the temple bell is still a puzzle.
---
---
---
---