Temple bell, once a Marine Corps family's heirloom, returns to Okinawa after 75 years
By
Stars and Stripes
December 3, 2021
---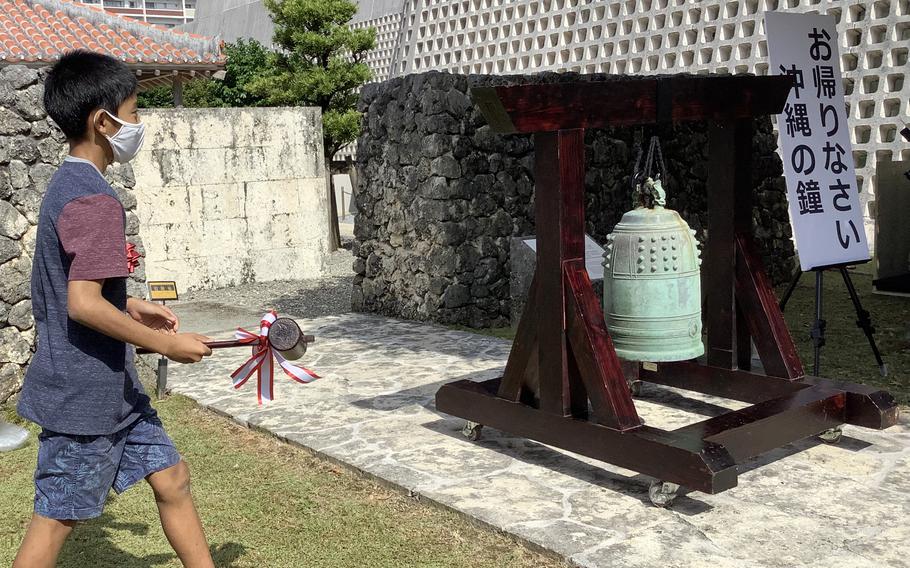 NAHA, Okinawa – A sign, "Welcome back to Okinawa," stands next to a bronze temple bell at the entrance to the Okinawa Prefectural Museum and Art Museum.
Visitors who pause to learn more about this bell come away knowing only that it spent 75 years in Florida after the end of World War II. It was one of many cultural items feared lost forever in 1945 during the Battle of Okinawa, the last major battle in the Pacific.
Its prewar story is a mystery.
"We don't know anything about the bell," said Kyoko Sakihara, a museum curator.
She welcomed the bell's return because it, like other artifacts, are the keys to uncovering Okinawa's history. Now that the bell is back, scholars and curators can study when and where it was made and where it originally hung.
"Recovering cultural items means regaining our history and culture," she said.
In August, the descendants of Marine Gen. Roy Stanley Geiger, who commanded American forces during the Okinawa campaign, sent the bell back to the island from Pensacola, Fla. It was a postwar heirloom in Geiger's family until his granddaughter, Melanie Lee Curtis, agreed to return it.
To her, it was part of her growing up in Florida.
"I can remember my grandmother, Mrs. Geiger, ringing the bell, when I was little, when I was playing on the beach," Curtis told Stars and Stripes by phone Nov. 16. "And you heard the bell from a mile away when she rang it. That meant it's time for me to come home."
Mysterious origin
The bell stands 26 inches tall, weighs 88 pounds and is decorated with Buddhist symbols. Atop the bell is a double-headed dragon handle loop. The upper third of the bell is covered with dots, giving it the appearance of the Buddha's head.
Horizontal bands run around the lower part of the bell. The striking point, where the bell is rung with a wooden beam, is in the motif of a lotus, the sacred flower in Buddhism.
Many of Okinawa's temple bells were made in the late 15th century during the Ryukyu Kingdom period, Sakihara said. This bell could be from that period, but it lacks an inscription to tell its origin.
"We have a lot of work to do to find out," she said, a sparkle in her eyes.
Geiger's heirs added a piece of their own history to the bell.
Geiger led the 1st Amphibious Corps and the 10th Army and was the first Marine to command a field army. He died in 1947, a year before Curtis was born.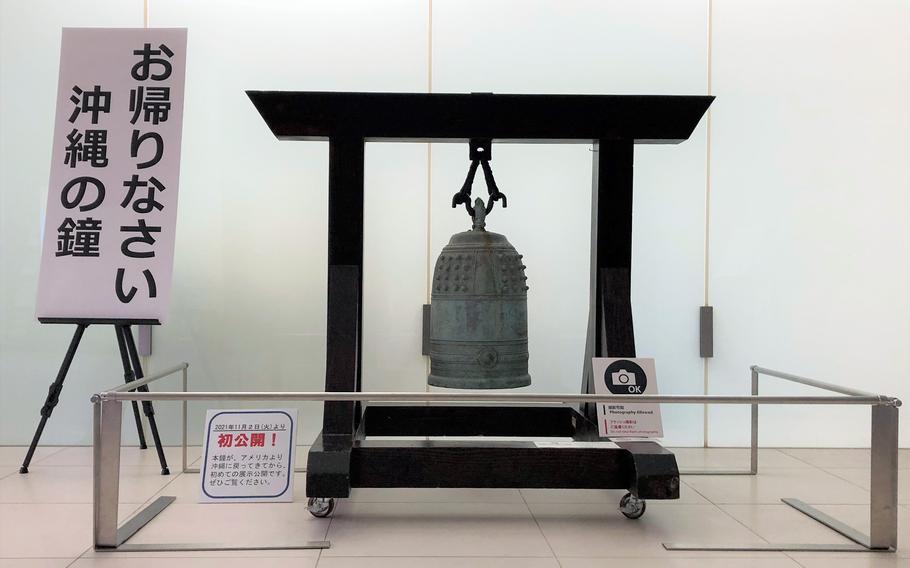 The bell was passed down to Curtis' parents, who passed it on to her when she bought her own home. She built a special place to hang the bell in her back garden. It was rung on special occasions for her children and grandchildren.
"We would ring the bell when there is a death in our family. And at birthdays when children were growing up," Curtis said. "It was here for three quarters of a century. We loved the bell."
Curtis said she grew curious about its origins but knew only that it came from a temple on Okinawa.
About 20 years ago, she asked her housekeeper, a native of Okinawa, to find out more about the bell when she returned to the island to visit her mother.
Later, Curtis was contacted by the Ryukyu America Historical Research Society, a Japanese organization that has been working for more than 35 years to recover lost cultural items from United States. The society's president, Shizuo "Alex" Kishaba, met Curtis in 2014 and expressed interest in getting the bell back to Okinawa, he told Stars and Stripes on Nov. 12.
'It needed to go back home'
At the time, Curtis and her family were not ready to give up the artifact. But two years ago, when Shuri Castle, the symbol of Okinawa, was destroyed by fire along with many important artifacts, Curtis decided the time had come to return the bell.
"I've enjoyed the bell and my family enjoyed the bell," she said. "It needed to go back home."
Curtis partnered with Kishaba and former U.S. Navy pilot Jeff Schneider to repatriate the bell, according to a June report in the News Journal of Pensacola, Fla.
"Okinawa lost a lot of its cultural heritage during the Battle of Okinawa," he said. "Unless we bring them back, we are missing links to our history."
His passion to recover Okinawa's lost cultural items comes from his passion to nurture the future generation of the island, he said.
"Imagine growing up with no cultural heritage, with no history," he said. "How sad is that for our children? We need to get cultural items back for our children."
The bell was formally unveiled on Okinawa at a ceremony Nov. 2. Local children rang the bell, just like Curtis' grandmother did for her and Curtis did for her children and grandchildren.
From Florida, she watched news covering the ceremony and said she found it "heartwarming" that Okinawan children enjoy the bell.
"I am so glad that it has a new home. It can be enjoyed by many people. And that is wonderful," she said. "Children have a piece of their history. And that is the most important thing."
---
---
---
---