Japan recovers bodies of F-15 crew members whose fighter crashed into the sea last month
By
Stars and Stripes
February 15, 2022
---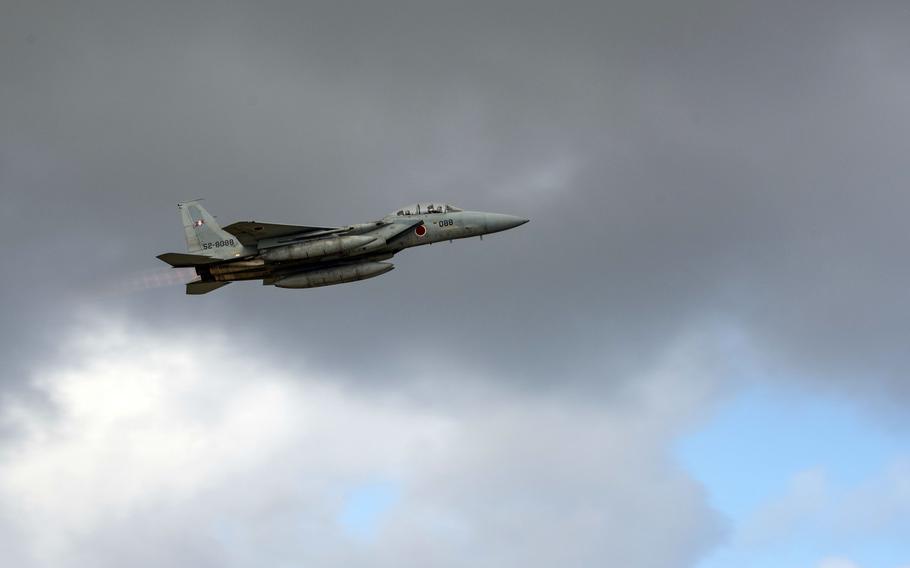 TOKYO — The bodies of two Japanese F-15 Eagle crew members whose fighter went missing two weeks ago have been recovered from waters off western Japan, according to the Japan Air Self-Defense Force.
The body of one crew member was found on Friday and the other was found on Sunday near where the jet went missing, the Air Self-Defense Force said in a news release this week.
Missing were Col. Koji Tanaka, 52, the pilot, and Capt. Ryusei Ueta, 33, according to the release. Both were with the Air Tactics Development Wing, Tactical Fighter Training Group at Komatsu Air Base.
An Air Self-Defense Force spokesman did not identify who was found on which date since the accident is under investigation. An accident investigation committee is looking for the cause of the aircraft's loss.
The F-15 disappeared from radar shortly after takeoff around 5:30 p.m. Jan. 31, just 3 miles from Komatsu, its home station on the coast of west-central Japan.
A rescue team found part of what appeared to be the jet's outer panel and life-saving equipment later that night. The spokesman didn't say whether the wreck has been discovered.
However, Ishikawa TV reported Tuesday that parts of the jet, including a piece of the tail, were found near where the jet went missing. The Japan Maritime Self-Defense Force contracted with a salvage ship to recover the aircraft, the local broadcaster reported.
The fighter and its two crew members were heading for a regular combat drill over the Sea of Japan, also known as the East Sea, according to an Air Self-Defense Force spokesman.
The Tactical Fighter Training Group, which acts as "aggressors" during such exercises, is charged with training related units and contributing to anti-fighter combat strategies, according to the Komatsu website.
---
---
---
---