Japanese officials believe missing F-15 fighter crashed into the sea
By
Stars and Stripes
February 1, 2022
---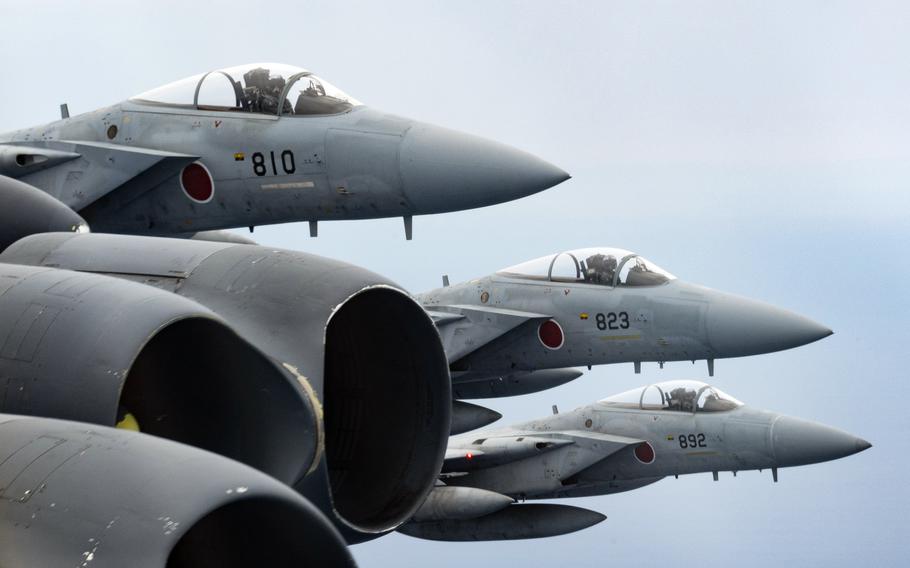 TOKYO – A Japanese F-15 Eagle fighter jet went missing Monday over waters between Japan and the Korean Peninsula, according to the Japan Air Self-Defense Force.
"It is believed that the aircraft had crashed," chief cabinet secretary Hirokazu Matsuno told reporters at a news conference Tuesday morning.
A rescue team found part of what seems to be an outer panel and life-saving equipment around 8 p.m. Monday near the area where the jet was lost, an Air Self-Defense Force spokesman told Stars and Stripes by phone Tuesday. Japanese government officials typically speak to the media on condition of anonymity.
The jet disappeared from radar shortly after takeoff around 5.30 p.m. after traveling 3 miles from its home station at Komatsu Air Base in western Japan, the JASDF spokesman said.
The fighter and its two crewmembers were heading for a regular combat drill over the Sea of Japan, also known as the East Sea, according to the spokesman.
The jet was not bound for this week's Cope North exercise involving U.S., Japanese and Australian air forces in Guam, the spokesman added.
Japanese U-125A jets, UH-60J and SH-60K helicopters, five warships and five Japan Coast Guard patrol boats were searching for the missing crewmembers on Tuesday, the spokesman said.
The cause of the incident is under investigation, he said.
---
---
---
---