Danish pop star Zindy feels the love from long lost Vietnam War veteran father
By
Stars and Stripes
February 11, 2022
---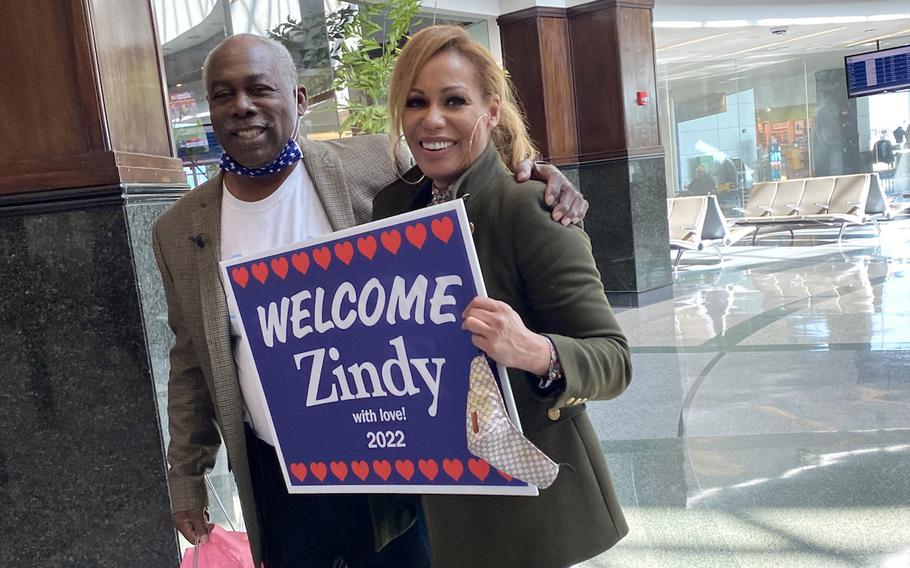 Danish pop star Zindy Laursen's new release, "The Two of Us," coming this month, is the coda, she said, to a decade-long search for the father she never knew, an American veteran of the Vietnam War.
Laursen, 50, known simply as Zindy back in Denmark, wrote the song for her father, Bill Johnson, 72, of Baker, La., after a DNA test in November revealed that the Army veteran was, in fact, her dad.
Johnson, a retired police captain, met Zindy's mother, Viviann, on 10-day's rest and recuperation in Sydney in October 1970. He served with the Army's 282nd Assault Helicopter Company, based at Danang, Vietnam, he told Stars and Stripes by phone on Wednesday.
He headed back to the United States after his yearlong tour, never knowing he had fathered a daughter in Australia.
"It's a story about never giving up and never giving up hope," Zindy told Stars and Stripes by phone on Wednesday. The pair met face to face for the first time last month when Zindy traveled to Baker for Johnson's birthday.
"It was the best birthday gift a person could receive when she hugged her dad for the first time," Johnson said. "She kept calling me daddy and that was very exciting. I could feel the love coming from her and my love going out to her. It's just been a good 2022 for me."
Zindy is Johnson's only biological child, he said.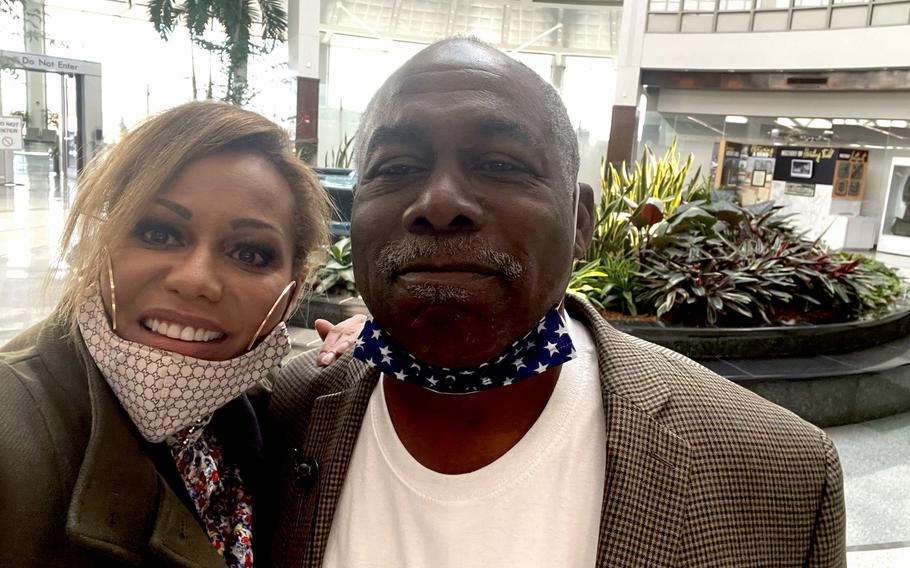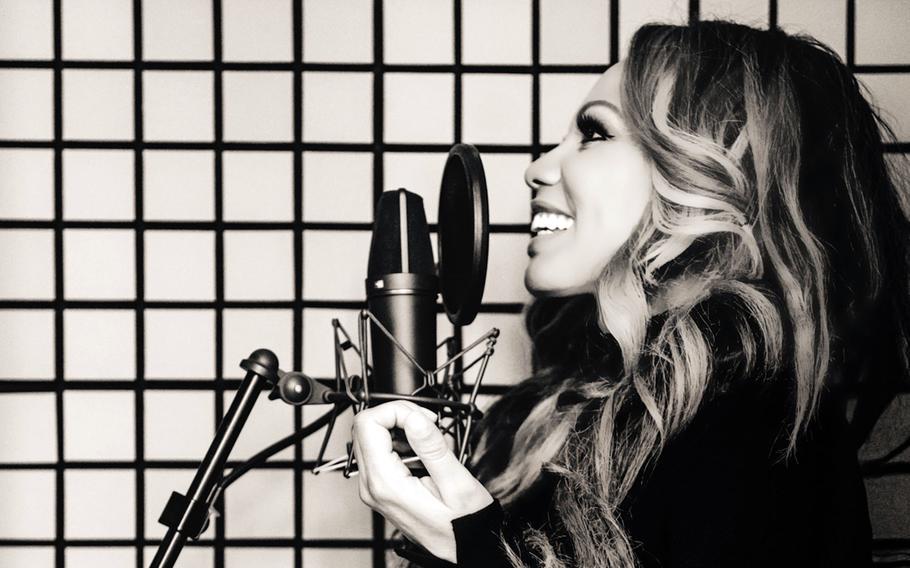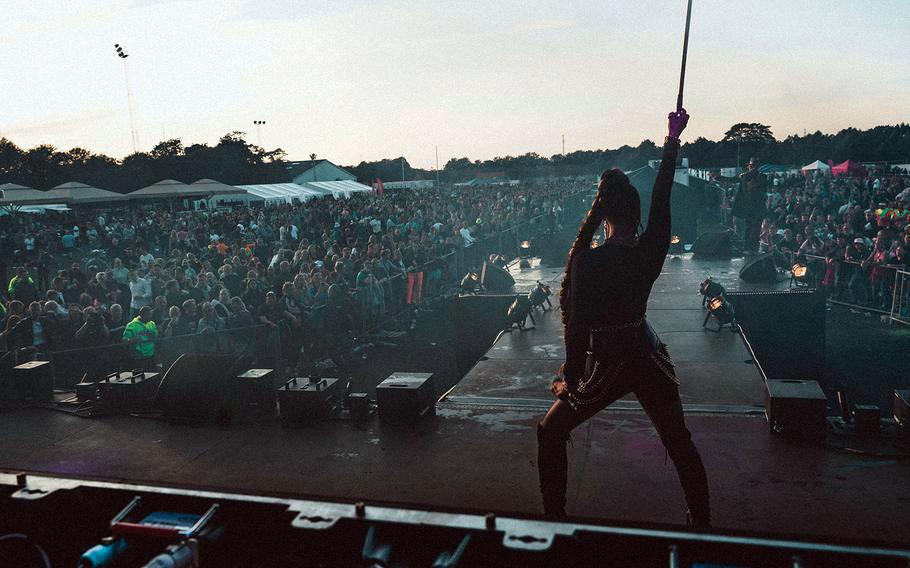 Zindy grew up in the small fishing town of Esbjerg, Denmark, she said. Her mother was a go-go dancer in Australia during the war and would often befriend American service members on leave. Zindy grew up imagining this mysterious American GI that her mother had met dancing.
In her formative years, Zindy, being mixed-race, struggled with her racial identity, she recalled. She was called the N-word and bullied and teased by kids in school. Inspired by Prince, she began playing music, she said, and wrote her first song at 15.
In 1992, Zindy was the runner-up for the chance to represent Denmark in the Eurovision Song Contest. She was subsequently scouted by record labels. She has toured the world ever since, starred on stage and screen and has sold over 2 million records, according to her website.
Despite her success, she never stopped looking for her father. She had all but given up hope when last year she met Brian Hjort waiting in line for a coronavirus test at a Copenhagen gym. Hjort started Father Founded, a reunification group, after a trip to Vietnam in 1992. He recognized Zindy and offered to help.
Zindy submitted a DNA sample to Ancestry.com because of its access to a storehouse of military records, she said. Hjort dropped by Zindy's house in November with news.
He asked Zindy to cover her eyes, she recalled. When she opened them, she was face to face with a photo of her father.
"I cried," she said with a laugh. "I thought, 'Is this my dad? After all these years, can this really be happening to me?'"
Zindy's next thought was to call Johnson right away, she said. Hjort suggested that his organization make first contact; learning that they conceived a child so long ago can come as a shock to someone, he said.
"At first, I thought this was a scam," Johnson said.
But then he saw Zindy on a video call. The resemblance was uncanny. And the DNA test he submitted was a 99.9% match.
"I said, 'Oh my God, she is my daughter!'" Johnson said.
Zindy was impressed to learn that Johnson, too, had risen from poverty to become the first African-American police officer in Zachary, La., a city of about 20,000 just outside Baton Rouge. He coached youth sports and led anti-drug programs.
The pair hit it off immediately, singing and laughing together. The two look alike, sound alike and show similar personality traits.
Johnson held a barbeque for Zindy's visit in January. She met her large, extended family and brought Johnson to tears singing "Happy Birthday." Now, they talk by phone nearly every day.
Johnson next plans to visit Zindy in Denmark to see where she grew up.
"It's a miracle from God that Zindy came into my life and my family's life," Johnson said. "I plan to continue to share my love for the rest of my life for her."
"I will always love my Dad, that's for sure," Zindy replied. "It was a dream come true."
---
---
---
---