No brakes on COVID-19's spread in Japan as US troops anticipate end to lockdown
By
Stars and Stripes
January 28, 2022
---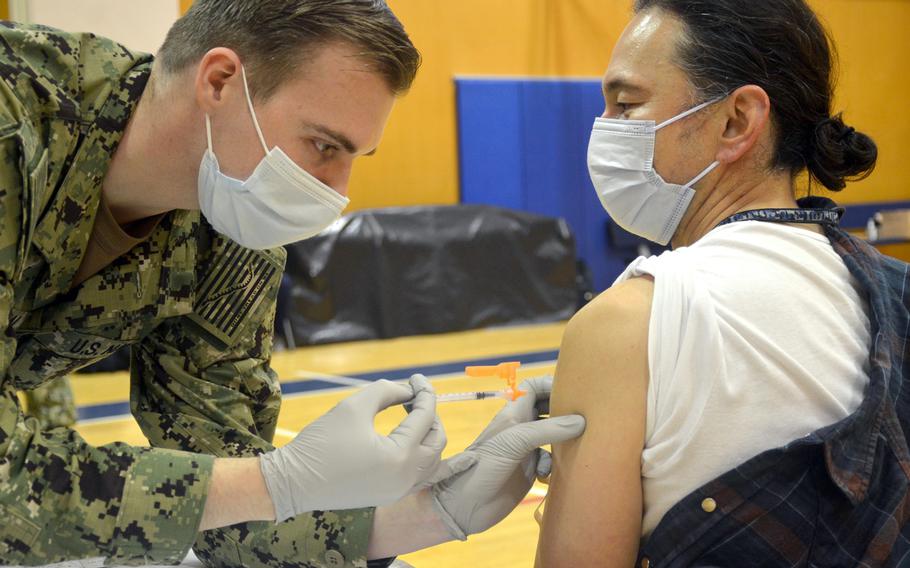 Stars and Stripes is making stories on the coronavirus pandemic available free of charge. See more stories here. Sign up for our daily coronavirus newsletter here. Please support our journalism with a subscription.
TOKYO – COVID-19 continued to hold sway in Japan's capital city on Friday, posting a one-day record of new coronavirus infections for a fourth day in a row.
Tokyo confirmed 17,631 new cases, nearly 1,100 more than the previous day, according to public broadcaster NHK. Nearly half, 44.4%, of hospital beds set aside for COVID-19 patients in the city were filled Thursday, slightly more than the previous day.
The number of seriously ill patients, 20, increased by two, NHK reported. Only 5.5% of the beds designated for those patients were occupied Thursday, according to metro government data.
Tokyo, the surrounding three prefectures and nine others are under a public health emergency until Feb. 13 that essentially calls on restaurants and bars to close early and curtail alcohol sales. An emergency in 21 other prefectures, including Kyoto, Osaka and Okinawa, is scheduled to end Feb. 20.
Japan on Thursday also set a new one-day record of 78,736 cases, according to the Johns Hopkins Coronavirus Resource Center. Another 47 people died, still far below the one-day record of 217 coronavirus-related fatalities set May 16.
Meanwhile, U.S. service members, civilian employees and their families headed into their third and possibly final weekend under a stringent set of restrictions aimed at reducing their contact with their Japanese neighbors. A stay-at-home order that started Jan. 10 and extended one week is scheduled to end Monday.
U.S. Forces Japan on Friday reported another 271 COVID-19 cases at 15 U.S. installations across Japan and 13 pending confirmation. That's 56 fewer cases than the previous day's report.
The Marine Corps' Camp Hansen had the top spot Friday with 57 infections, followed by Kadena Air Base with 49. Both are on Okinawa. Yokosuka Naval Base, the 7th Fleet's homeport south of Tokyo, came in third with 43.
Yokosuka has 678 active cases, 27 more than a week ago, although no one is hospitalized, said a Friday post on the base Facebook page.
Kadena reported 283 active cases as of Thursday, down from 314 the day before, according to updates on the base website.
Okinawa prefecture said it confirmed another 1,073 infections Friday, along with 135 from the U.S. military community, according to the prefectural Department of Public Health and Medical Care.
Sasebo Naval Base on Kyushu Island announced via its Facebook page 17 new COVID-19 cases Friday and 208 active infections. None are hospitalized.
Marine Corps Air Station Iwakuni on Friday reported six new cases since its last report the previous day, according to a base news release.
The stay-at-home order is keeping the U.S. military population on their installations or in their off-base homes, except for essential services like doctor's visits and grocery shopping. A separate curfew keeps them off the streets between 10 p.m. and 6 a.m.
"Fingers crossed the restrictions don't get extended," Steven Holt, 53, a contractor for University of Maryland Global Campus at Yokota Air Base in western Tokyo, said Friday on the Yokota Community Facebook page.
Holt, a retired Air Force master sergeant from Rochelle Park, N.J., wrote in a message to Stars and Stripes that he just wants to get out and do some traveling with his family.
"I would also understand if it has to be extended for everyone's safety," he wrote. "I have been here 18 years and will never leave. So, I have time. I feel bad for those who arrived when this all started and may leave without being able to really explore this beautiful country."
Yokota spouse Heather Nason answered Holt's Facebook post with: "I'm over being grounded."
The whole situation is unfair, she wrote in a message to Stars and Stripes. "I used to work in healthcare before we moved to Japan so I understand how dangerous this virus can be, but this virus is also here to stay, much like the flu. For people to risk so much to protect our freedom, we sure have lost our freedom."
Stars and Stripes reporter Mari Higa contributed to this report.
---
---
---
---