Analysis
Why is Kazakhstan claiming foreign links to the unrest? Here's what we know.
by
Claire Parker and Mary Ilyushina
The Washington Post
January 8, 2022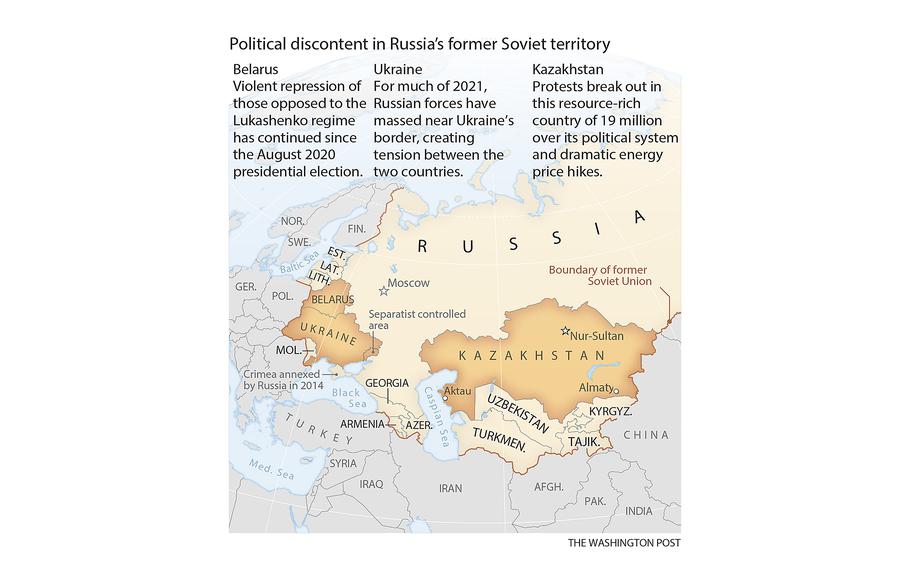 As protests spread in Kazakhstan, the focus shifted as well: beginning with outrage over price hikes for fuel and later taking aim at the country's autocratic political system directed by Nursultan Nazarbayev, who has ruled the nation for three decades and now holds the official title of "leader of the nation."
The government narrative changed, too. Nazarbayev's handpicked president, Kassym-Jomart Tokayev, began pointing the finger at domestic and foreign "bandits and terrorists" and an internal plot to foment chaos.
Here's what to know about Kazakhstan's claims:
Q: What has Kazakhstan claimed about foreign involvement in the protests?
A: Tokayev initially took steps to try to placate protesters. The government rescinded fuel price hikes, and Tokayev dismissed his cabinet and removed Nazarbayev from a powerful security post.
After protesters in Almaty, Kazakhstan's largest city, stormed government buildings on Wednesday and briefly took control of the Almaty airport, Tokayev took a more uncompromising tone. He claimed "international terrorist groups" had seized parts of the city and requested help from the Collective Security Treaty Organization, a Russia-led security alliance of former Soviet countries.
Russian troops began arriving in Kazakhstan on Thursday.
Tokayev has reiterated assertions that local and foreign "bandits and terrorists" who received "extensive training abroad" were behind the violence and vowed to "eliminate" them. On Friday, Tokayev said he had ordered troops to shoot to kill protesters.
Also on Friday, Tokayev alleged that 20,000 "bandits" were involved in the events in Almaty and said he had created a special group to track down violent protesters.
Police officials said that dozens of people were killed as a result of "security operations" aimed at regaining control. Russia and China have also blamed unnamed foreign groups for fanning the turmoil.
Q: Is there any evidence of foreign links to unrest?
A: No. Direct and verifiable information about demonstrations and participants is scant. The Internet in Kazakhstan remains largely blocked and foreign journalists have been stopped from entering. Kazakhstan authorities, despite their claims, have not furnished any concrete evidence of foreign involvement.
"These claims are beyond thin. These claims are ludicrous," said Melinda Haring, deputy director of the Atlantic Council's Eurasia Center.
Pointing to a "foreign boogeyman" is a "textbook" move in former Soviet states to deflect domestic discontent, Haring said.
Many experts in Kazakhstan affairs dismissed Tokayev's claim that 20,000 "terrorists" or criminals could have been involved in the Almaty protests as implausible.
Q: Why might Kazakhstan and regional allies be advancing that narrative?
A: Tokayev, Russia and other members of the Russian-led CSTO military alliance have pointed to alleged external instigation of the demonstrations to justify the bloc's first-ever deployment of "peacekeeping" troops.
Formed in 1992 following the collapse of the Soviet Union, the security alliance also includes Armenia, Belarus, Kyrgyzstan and Tajikistan. The group is only supposed to deploy forces to assist a member state faced with an external threat.
For Tokayev, the regional reinforcements may serve a domestic political purpose. The president appears to be using the unrest to sideline Nazarbayev and do away with the country's dual-power system, Arkady Dubnov, a Central Asia expert, said. The CSTO's intervention demonstrated that regional allies have Tokayev's back, Haring said.
Kazakhstan has traditionally balanced ties between Russia, China and the West. For Russia, the operation provided an opportunity to expand its influence in Kazakhstan and the region, Haring added. The operation has also strengthened Russia's hand going into talks with the United States on Ukraine, she said.
Q: Who else has been blamed for the unrest?
A: Much about the circumstances surrounding the start of the violence remains opaque. But "looters" appear to have taken advantage of initially peaceful protests, Haring said.
Some analysts have suggested the driving force behind violent attacks and looting were out-of-town young people, known as "mambets," who may have been brought in from poor rural areas of Kazakhstan into cities and incentivized to hijack the demonstrations.
"This could very well be the case, it's as if they have jumped out of an incubator where they were well fed . . . and then they just went [for it]," Dubnov said in an interview with a YouTube channel Redaktsiya.
The government's narrative took on a new dimension Saturday when authorities announced the arrest of Karim Massimov, a recently removed member of the country's National Security Committee, on suspicion of treason. Several other officials were also detained.
Massimov's detention came a day after a former adviser to Nazarbayev gave a television interview accusing security leaders of concealing information about "militant training camps" allegedly preparing fighters to unseat Tokayev.
Alexander Gabuev, a senior fellow at the Carnegie Moscow Center, said Massimov provided a convenient scapegoat for the government. Massimov is seen as a staunch Nazarbayev ally, and his arrest could help Tokayev consolidate control of the country's security apparatus.
But for Tokayev, the apparent power play may come at a cost to Kazakh sovereignty as Russia gains influence in the country.
---
---
---
---