Top security official is detained as protest-roiled Kazakhstan settles into edgy calm
by
Mary Ilyushina and Amy Cheng
The Washington Post
January 8, 2022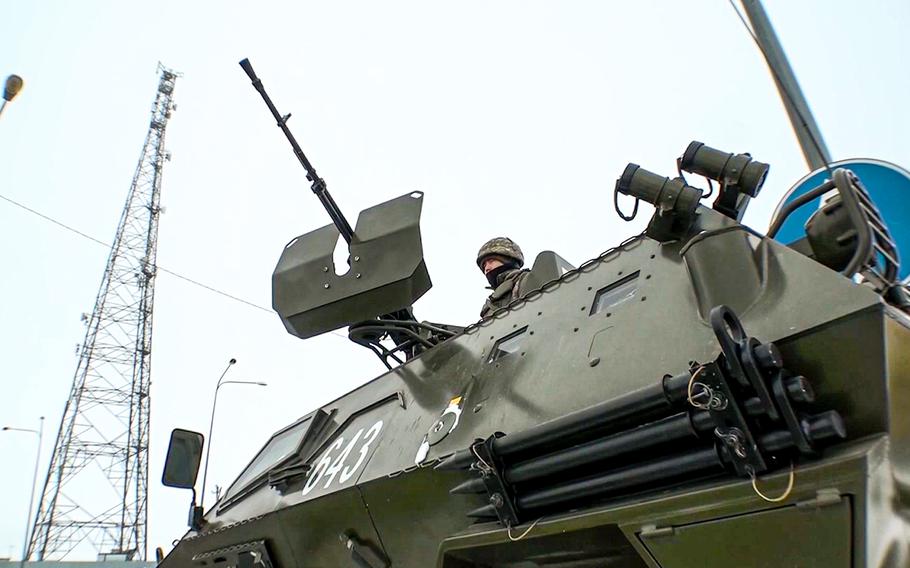 MOSCOW — Kazakhstan has detained a former top security official on suspicion of treason, authorities said Saturday, as the Central Asian country settled into an uneasy calm after days of violent clashes between protesters and security forces.
Signs also emerged of a divide between Kazakhstan's two most powerful men, with experts suggesting the rift was partly behind the chaos that led to dozens of deaths since demonstrations broke out last weekend, initially against a drastic fuel-price hike.
Rage on the streets was directed in part at the country's political system and at former president Nursultan Nazarbayev, who has continued to exert significant influence under the official title of "father of the nation." At rallies across the country, people chanted "Old man, out" in an apparent reference to the 81-year-old Nazarbayev.
Bloody clashes between anti-government protesters and security forces appeared to have largely subsided overnight Friday, although the streets of Almaty, Kazakhstan's largest city, remain littered with debris and burned cars that serve as a reminder of the deadly unrest that has embroiled Central Asia's largest economy for the past week.
On Saturday, Kazakh authorities said they had detained Karim Massimov, a recently removed member of the National Security Committee, on suspicion of high treason. Massimov, who headed the presidential administration under Nazarbayev, was arrested along with several other officials, according to a government statement.
State television aired accusations that the NSC's former leaders conspired to train "bandits" who were behind the recent chaos. The protests prompted President Kassym-Jomart Tokayev to invite a Russian-led military alliance to intervene in Kazakhstan, while also ordering his troops to "shoot to kill without warning" in an effort to crush the demonstrations.
After days of speculation about his whereabouts, Nazarbayev's spokesman said Saturday that the autocrat was still in Kazakhstan and wanted citizens to unite around his handpicked successor. But Tokayev's recent bold moves - he also fired Nazarbayev from a powerful security post - were seen by analysts as an attempt to break out of his predecessor's influence.
"Tokayev had to end this schizophrenic dual power in the country," said Arkady Dubnov, a Central Asia expert at the Carnegie Moscow Center. "He never became a fully empowered president . . . because his hands were tied . . . [and] it was clear that two centers of power are in place."
The president has solidified his hold on power at significant cost. Almaty Airport, Kazakhstan's busiest and now under the control of Russian and Kazakh forces, was still closed to civilian aircraft Saturday, while checkpoints set up during the nationwide state of emergency hindered domestic travel via rail and road. There were long lines at gas stations and worries of food shortages in Kazakhstan's economic hub, with many markets closed or only taking cash, according to the BBC.
There were reports of bodies - only slowly being removed - on the streets of Almaty on Friday. About 4,000 people had been detained.
Tokayev on Wednesday called on the Moscow-led Collective Security Treaty Organization to intervene in Kazakhstan, marking the first time that the group of six former Soviet states has dispatched military forces in response to domestic unrest. Tokayev and CSTO allies, such as Belarusian leader Alexander Lukashenko, have sought to portray protesters as foreign-funded "terrorists," though there is no substantive evidence to back the claim.
The beleaguered Kazakh leader wrote on Twitter on Friday - in posts that were apparently later deleted - that about 20,000 people were involved in the upheaval and that they were responsible for "at least six waves of attacks of terrorists" in Almaty.
His claims bemused many Central Asian experts. "There are a lot of things that don't add up right now," said Jennifer Brick Murtazashvili, a specialist on the politics of the former Soviet Union at the University of Pittsburgh. "No one has ever heard of these terrorists in Kazakhstan before, and now there are 20,000 of them in a well-coordinated attack? It just sounds implausible."
The future of resource-rich Kazakhstan was also being discussed in Washington, Moscow and Beijing. China has invested billions in its neighbor's energy sector over the past decade, and Chinese President Xi Jinping called his Kazakh counterpart to say that Beijing firmly supports the country's stability and rejects any attempts by "external forces" to provoke unrest or "color revolutions" in the country.
The turmoil within Kazakhstan could present an opportunity for China and Russia, Murtazashvili said. "We do see this sort of division of labor emerging in the region where Russia . . . handles the security and China handles infrastructure."
With its abundant and inexpensive energy resources, Kazakhstan has emerged as a hub for cryptocurrency mining, particularly after Beijing cracked down on the sector last year. The upheaval has affected the price of bitcoin, which traded at about $41,866 early Saturday, down about 9 percent from Jan. 1.
The United States and Kazakhstan also have a long history of cooperation in fields such as energy and security. Washington was the first to recognize Kazakhstan's independence from the Soviet Union, and Muslim-majority Kazakhstan supported the U.S.-helmed interventions in Iraq and Afghanistan.
Another unknown is the fate of Kazakh sovereignty now that Russian troops are in the country, which President Vladimir Putin sees as part of Moscow's traditional sphere of influence. Over the past year, Putin has tightened ties with Belarus, which he hopes to see in federation with Russia, while militarily threatening Ukraine, which the Kremlin does not treat as a truly sovereign state.
Kazakh opposition figure Mukhtar Ablyazov, a former energy minister now in exile in France, said in an interview with Reuters that his country was now occupied by Russia. (A top CSTO official has played down talk of an occupation and suggested that the alliance's troops would be there only temporarily.)
"The West should tear Kazakhstan away from Russia," Ablyazov said, adding that the country faced being subsumed into a structure like the Russia-dominated Soviet Union.
U.S. Secretary of State Antony Blinken told reporters Friday that the Kazakh government appeared to be able to "deal appropriately" with the protests, which raised questions as to why assistance from Moscow was needed.
"I think one lesson in recent history is that once Russians are in your house, it's sometimes very difficult to get them to leave," he said.
___
Cheng reported from Seoul, South Korea.
---
---
---
---