UN Command is investigating whether civilians wore military attire inside Korean DMZ
by
David Choi
Stars and Stripes
December 23, 2021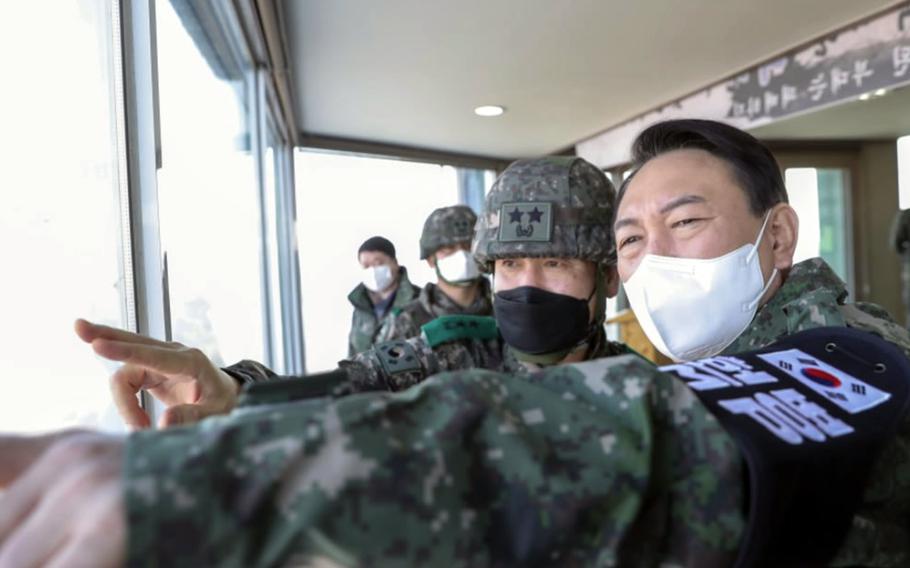 CAMP HUMPHREYS, South Korea — The United Nations Command launched an investigation after civilians visiting the Demilitarized Zone between North and South Korea wore military uniforms and were erroneously marked as combatants Monday.
An unnamed frontline division did not comply with directives in the armistice agreement, which includes a provision requiring service members to wear "distinctive markings" for identification purposes, according to a U.N. Command news release Tuesday.
The command said service members are required to wear camouflage uniforms and armbands with a "Military Police" insignia to distinguish themselves from civilians.
The U.N. Command did not name the civilians errantly marked as combatants, but the incident's timing coincides with a South Korean politician's visit to a DMZ observation post.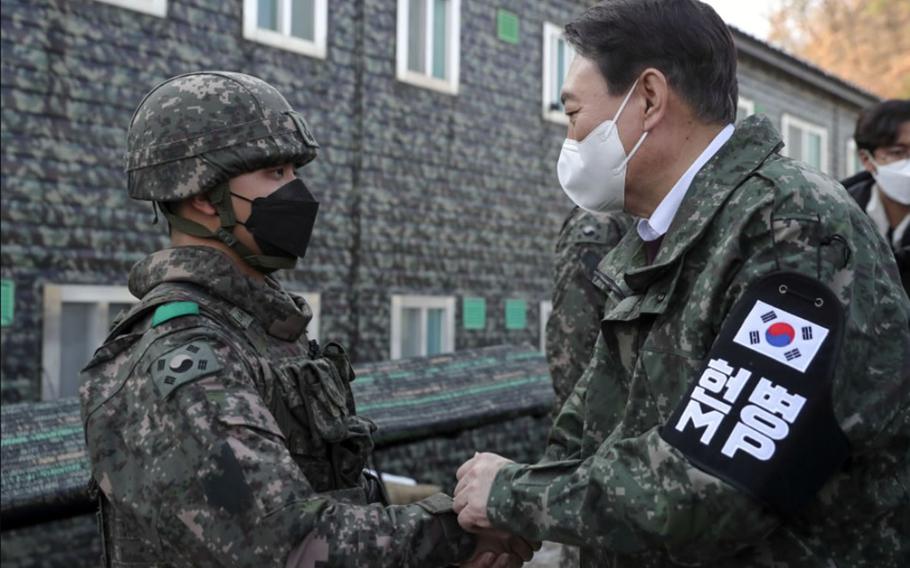 Yoon Seok-youl, the former prosecutor general of South Korea and a presidential candidate in the March 2022 election, was pictured at the DMZ with his staff on Monday wearing camouflage jackets and armbands that said "military police" in Korean and "MP" in English.
Yoon, the conservative People Power Party's nominee, was pictured shaking hands with South Korean troops at the border and observing his surroundings through binoculars.
Yoon's campaign also released a statement Monday saying he would meet with South Korean soldiers who had been "enduring" at the DMZ the same day.
In addition to the uniform infraction, the frontline division responsible for the incident also allowed individuals "outside of specially designated and controlled areas" and into the DMZ without approval from U.N. Command, according to the release.
Army Gen. Paul LaCamera, the commander of U.N. Command and U.S. Forces Korea, ordered an investigation "to determine the root cause of failure and ensure there is neither a repetition of actions that undermine compliance with the terms of the Korean Armistice Agreement nor actions that put civilians under greater risk than is absolutely necessary," according to the release.
The armistice agreement was signed July 27, 1953, to end wartime hostilities between the U.S., South Korea, China and North Korea. Since its signing, the agreement has been updated by North Korea and the U.N. Command to "prevent the resumption of hostilities and to protect the civilian visitors to the greatest extent possible."
A spokesperson for U.N. Command told Stars and Stripes by phone Thursday that an investigation is ongoing and declined to provide further information Thursday.
South Korean politicians have previously visited observation posts at the DMZ wearing military attire. Former Presidents Lee Myung-bak and Kim Dae-jung both wore camouflage jackets in separate trips during their tenures. Before taking office as president, party leader Park Geun-hye wore a camouflage jacket and a military police armband during a visit in 2012.
---
---
---
---