Japanese wrestling captivates Air Force major with 'flair for the dramatic'
by
Erica Earl
Stars and Stripes
December 16, 2021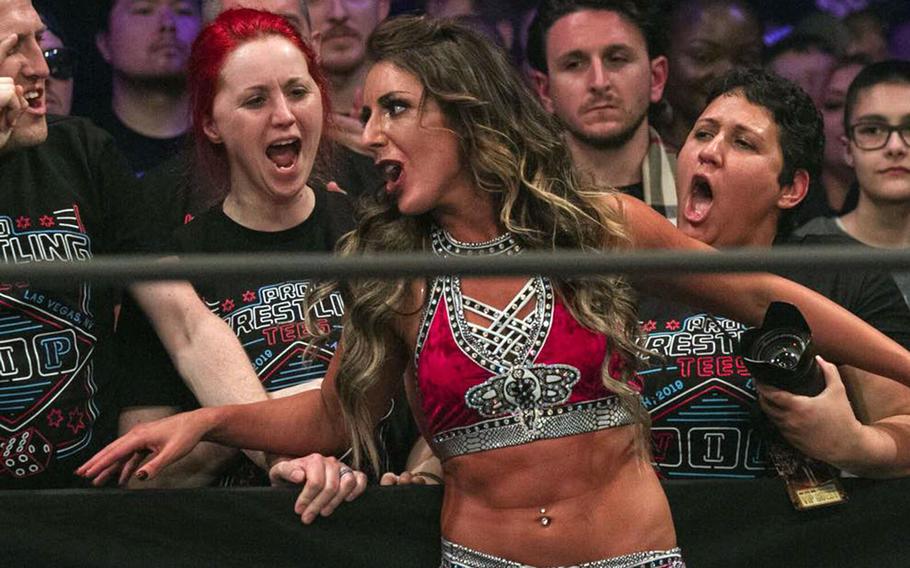 YOKOTA AIR BASE, Japan – For one Air Force officer at this airlift hub in western Tokyo, off-time in Japan isn't just about taking in the natural and architectural beauty, it's about being ringside for Japanese professional wrestling.
The day Maj. Issa Alvarez, a manpower, personnel and services support deputy with 5th Air Force, found out she was being assigned to Japan, she began planning her schedule around professional wrestling matches, or puroresu, as they're called here.
"It's like an ongoing Broadway soap opera show with all the acts in the ring," she recently told Stars and Stripes.
Alvarez, 39, who was born and raised in the Dominican Republic, said she's had a "flair for the dramatic" since childhood. She was hooked from the first wrestling matches she watched on her uncle's TV. When she attended her first live match in her home country, she knew she'd found her hobby.
"It was the one thing that completely spoke to me," she said.
Alvarez, who's spent three years in the Air Force after 16 in the Army, has made wrestling an integral part of her military experience. She has traveled to matches wherever she has been stationed.
She traveled most for her hobby between 2018 and 2019, attending events in Singapore, Canada, Germany and Japan. She also went on a wrestling cruise to the Bahamas.
Wrestling's draw is multifaceted, from the characters' storylines to the drama in the ring and among the fans, Alvarez said. Each country stages the matches in their own, culturally nuanced way.
"It's captivating," she said, "and it crosses cultural boundaries."
In Japan, the style is strong and stoic, with a clear sumo influence. Unlike rowdy Americans, Japanese fans tend to be quieter, as if they're watching a theater performance.
Like American wrestling, pros in the Japanese Wrestlers Association belong to factions, or bands of wrestlers that team together as part of a story line.
Japanese wrestlers also take on the role of the "face," the "good guy," or the "heel," a villain or a rebel. The heel factions tend to be more popular in Japan, Alvarez said.
Alvarez visited Japan for tournaments before moving here and became an avid fan of the Japanese wrestling scene.
"I remember for one show here in Japan, I was in the ninth row, and I was disappointed because I thought I wouldn't be able to see much from my seat, but I learned that Japanese fans are very different from American ones in their passion for the shows," she said. "They still react with audible gasps and other expressions, but they listen to what happens in the ring like watching a play."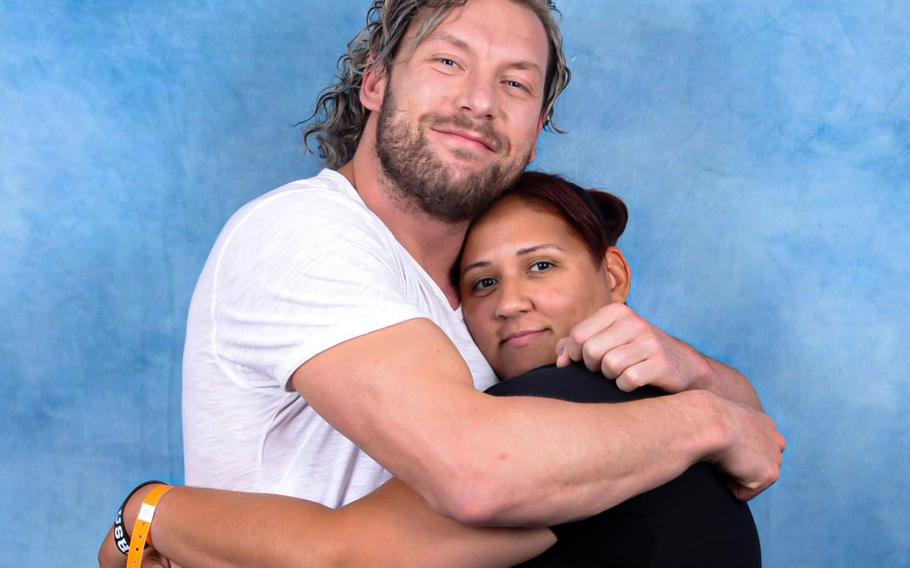 Women represented
Many Japanese wrestling fans are women, Alvarez said, based on her own observations. Fumi Saito, a writer and editor for Monthly Puroresu, a Japanese wrestling fan magazine based in Los Angeles, agreed that it draws a diverse crowd, to include women.
"Puroresu always had male fans, female fans, children, grandpa and grandma," Saito said in an email Dec. 9. "It's always been a family entertainment."
The number of female fans has grown over the past decade, but the reason is left unanalyzed, Saito said. It is "probably because wrestling has become more young-audience oriented, more so than what it was in the past."
Alvarez said she noticed in college that the American women's wrestling scene was more about selling a fantasy of models fighting each other than showcasing a group of strong, diverse, women.
"Representation matters, especially since I didn't go to college with a lot of people who look like me," said Alvarez, a short, muscular woman with a shaved head. "It's so important to give a wide range of characters the equal amount of portrayal, character development and time on stage."
Women in Japanese wrestling have stronger roles and more audience support compared to women wrestlers in the U.S., she said.
Women's wrestling, or joshi puroresu, is prominent in Japan, Thom Fain, the founder and editor-in-chief of Monthly Puroresu, said in an email Dec. 9.
Female-driven wrestling campaigns in Japan feature some of the best women's wrestling in the world, Fain said. The style offers a "beautiful transition offense" that draws from Mexican lucha libre and traditional Japanese strong style, he said.
"I expect a more character-driven marketing to evolve with Joshi Puroresu," he said.
Fain said female wrestlers in Japan are given story lines as strong as those of their male counterparts, although the marketing for their campaigns are still often flirtatious and designed for the male gaze.
"Treating women's bodies as an object of shock and awe, they hate that here in the Japan wrestling scene," Alvarez said, "especially since so many fans are women."
Japanese wrestling promotions also include genderless and gender non-binary characters, which Alvarez said reflects wrestling's fans.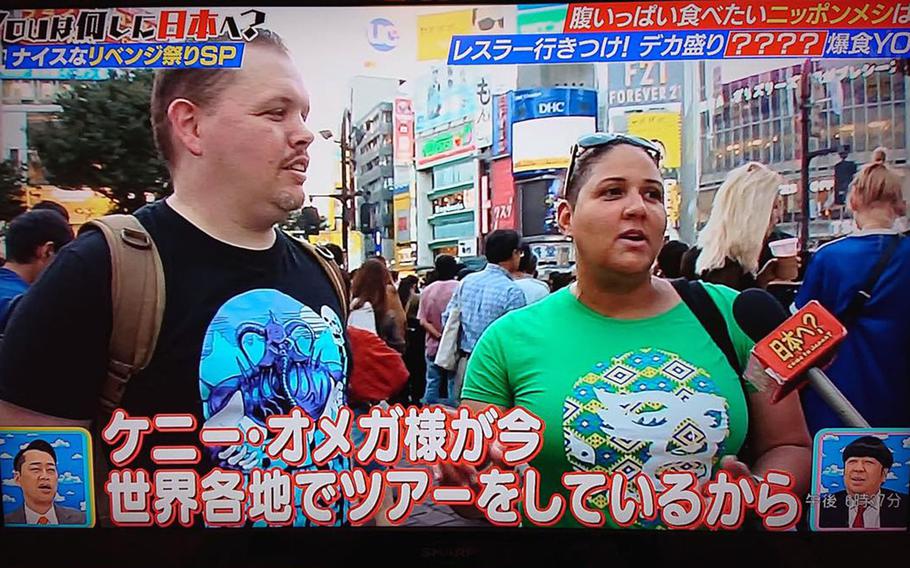 Fan moments
One of Alvarez's favorite parts of professional wrestling is interacting with fellow fans and the wrestlers at meet and greets.
She has met several of her favorites, spoke in Spanish with a Japanese wrestler who trained in Mexico and compared military life with Tama Tonga, an Air Force veteran and a New Japan Pro Wrestling fighter.
"People always try to tell me how fake it is, but so are shows like 'Game of Thrones,' " Alvarez said. "I just get to see it live."
Coronavirus restrictions in Japan meant no wrestling exhibitions for Alvarez for seven months between her arrival in December 2020 and July.
"As soon as the restrictions to travel into Tokyo lifted the first time, I was signing up from my car to see shows as soon as they announced dates," she said.
Alvarez encourages service members to find a hobby outside of the military that brings them joy, especially if it helps them connect deeper to the culture of the country in which they're living.
"If you love something, don't be shy about it or hide it," she said. "When the day is over and you take off your uniform, doing the things you love is healthy, and it's motivating."
---
---
---
---