US wing commander in Japan becomes Santa for yet another Operation Christmas Drop mission
by
Seth Robson
Stars and Stripes
December 10, 2021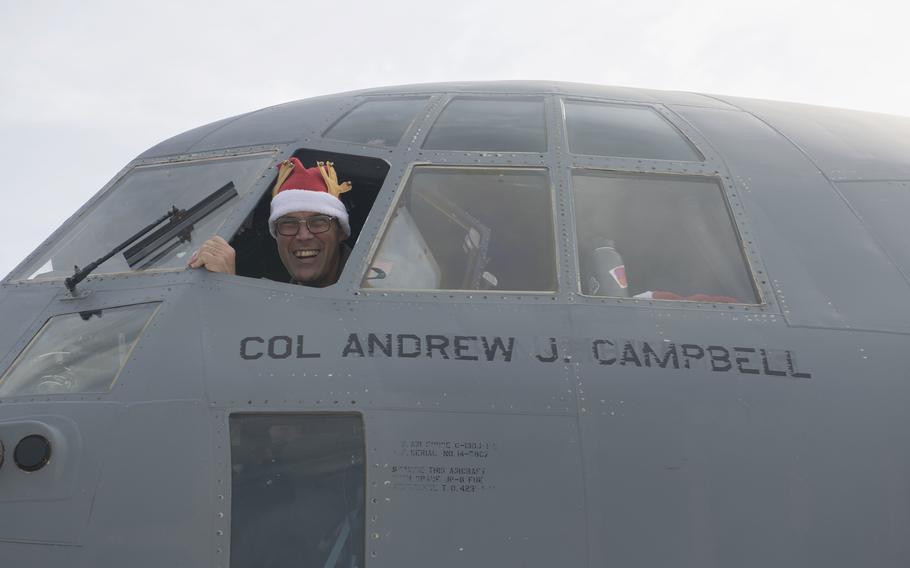 YOKOTA AIR BASE, Japan — Clad in a familiar Santa hat, Col. Andrew Campbell relishes the fact that few airlift pilots have flown as many missions for Operation Christmas Drop as he has over the years.
As commander of Yokota's 374th Airlift Wing, Campbell added two flights this year in C-130J Super Hercules airlifters to drop bundles of aid onto remote Pacific islands. He's made about 20 flights for Operation Christmas Drop over several years.
"For the children on these little islands, the only aircraft most of them have seen is a C-130," he told Stars and Stripes by phone Thursday.
Campbell said he gets a kick out of wearing a Santa hat and seeing airmen with America's allies getting into the Christmas spirit. He was back at Yokota on Tuesday after his fifth trip to Guam for the operation.
Airlifters from Japan, South Korea and the U.S. work as one team to deliver the aid, he said.
During the operation — now in its 70th year — cargo planes parachute large bundles of donated food, clothing, tools, toiletries, toys and other supplies to thousands of people living on more than 55 tiny South Pacific islands. Most of the beneficiaries live in the Federated States of Micronesia – Yap, Chuuk, Pohnpei and Kosrae – and in the Republic of Palau.
The primary participants are the 36th Wing at Andersen Air Force Base, Guam; the 374th Airlift Wing out of Yokota; and the 515th Air Mobility Operations Wing from Joint Base Pearl Harbor-Hickam, Hawaii, according to Pacific Air Forces.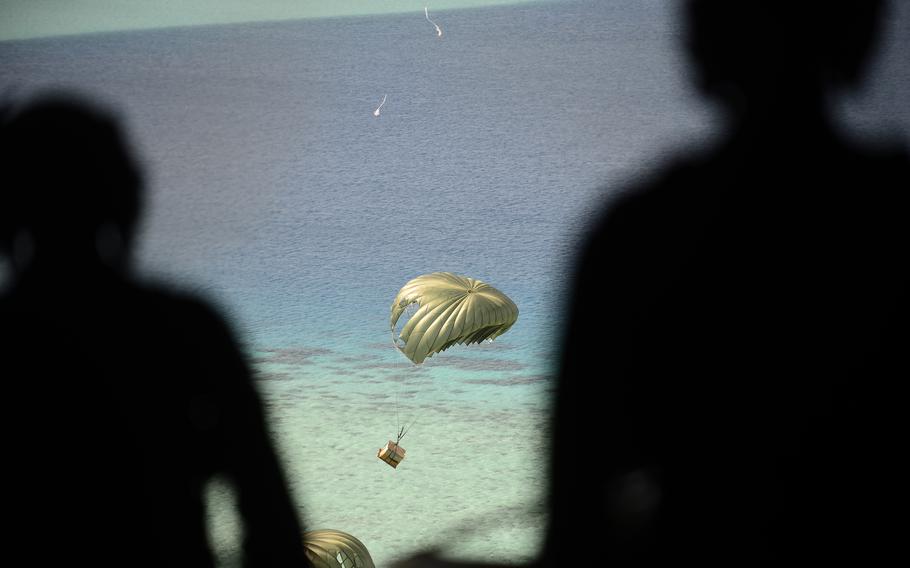 From 2012-2015, Campbell, originally from Pennsylvania, flew Christmas Drop missions as commander of Yokota's 36th Airlift Squadron. As base commander in 2020, he missed the event, which was scaled back with fewer drops and limited personnel to mitigate further spread of the coronavirus, he said.
The final sorties of this year's Christmas Drop, which began Dec. 6, were scheduled for Friday, he said.
This year was the first time South Korea's air force participated. Japan has been part of the operation since 2015. Both countries operate C-130H Hercules aircraft, the predecessor to the C-130J Super Hercules flown by the 374th.
Airmen from the three countries stayed at the same hotel, drove the same vehicles and planned operations from the same headquarters during the drill, Campbell said.
"It's a real team effort," he said.
Operation Christmas Drop began unofficially during yuletide season in 1951 when the crew of a WB-29 Superfortress bomber noticed people waving at them from Kapingamarangi in Micronesia. They parachuted a bundle of supplies to the denizens of the isolated island, and a tradition was born.
The 374th has been involved in Christmas Drop for 35 years, exactly half of the time it's been running, Campbell said.
The experience sets up the airlifters to work together in an emergency, such as responding to a typhoon, earthquake or tsunami where they must get aid to people in dire straits in a region that spans vast distances across a vast ocean, Campbell said.
"Most of the air drop training we do is on ranges with carefully surveyed drop zones," he said. "For Christmas Drop we are flying to remote islands and analyzing winds and water currents. Our crews are making real-time decisions about how and where they want to put the bundles based on a whole host of conditions."
---
---
---
---