Russia deploys Bastion anti-ship missile system to island north of Japan
by
Seth Robson
Stars and Stripes
December 7, 2021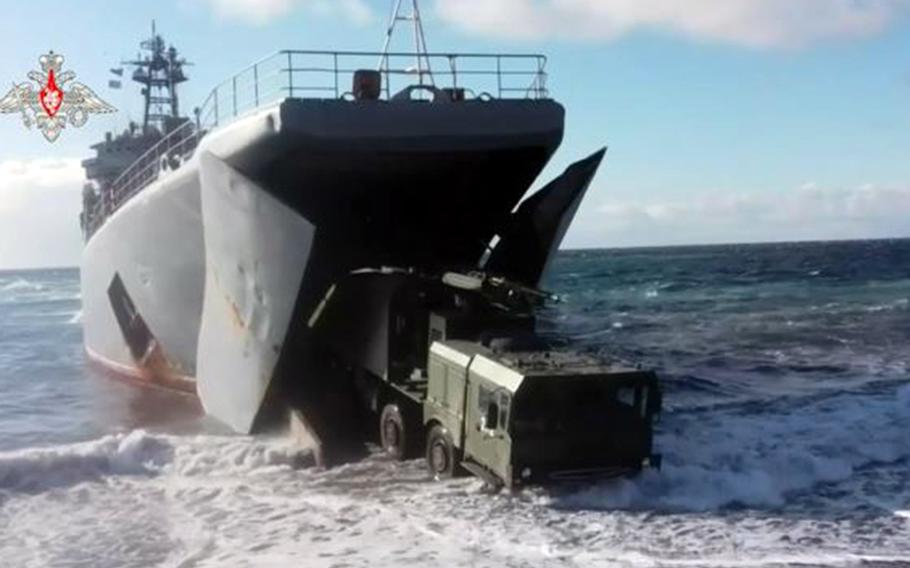 Russia's military has deployed a coastal defense missile system able to target carrier battle groups, navy convoys and landing craft near disputed islands north of Japan, according to the Russian Ministry of Defense.
"The crews of Bastion coastal missile system of the Pacific Fleet were deployed for the first time and took on duty on the island of Matua," the ministry announced Thursday on its website.
Matua is a volcanic island nearly 7 miles long in the Kurile chain, north of Japan's Hokkaido prefecture, but not one of four Russian-occupied islands in the group claimed by Japan.
"On this remote island in the central part of the Kuril Ridge, servicemen will be on a 24-hour watch to monitor the adjacent water area and straits," the defense ministry said.
Equipment, personnel and materiel were delivered to Matua by amphibious ships from the Primorsk Flotilla, according to the ministry's statement.
"The personnel began to be on duty and to carry out planned combat training activities," it said.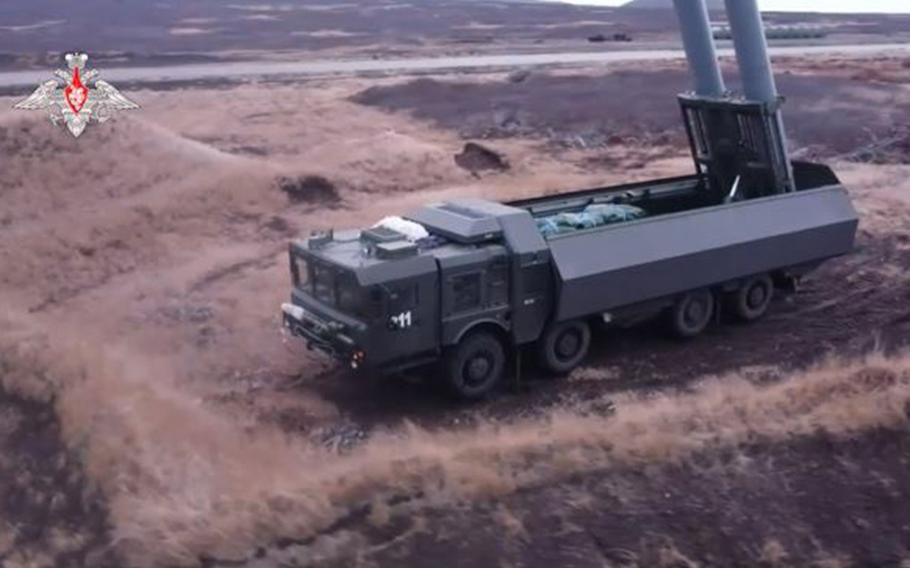 The announcement didn't state how many anti-ship missile systems were deployed to Matua, but a video posted on the ministry's website shows multiple missile carriers disembarking from amphibious landing ships.
Russia deployed a different Bastion system, with a range of 310 miles to the Southern Kurils in 2016, according to a Thursday report in The Guardian newspaper.
The following year, Russian President Vladimir Putin said his country's military buildup in the Far East was a necessary response to the United States' missile defense shield. The U.S. deployed a Terminal High Altitude Area Defense system, also known as THAAD, to South Korea in March 2017.
Russia has been talking for some years about developing military facilities on Matua, the site of an old Japanese airstrip, according to James Brown, an international affairs expert at Temple University's Japan campus.
"It now seems to be pushing forward with these plans," he said in an email Thursday.
The aim appears to be to strengthen Russia's position at the starting point of the Northern Sea Route, Brown said.
The Arctic shipping route, only open briefly each summer, has the potential to save time, fuel and money for shippers involved in the multibillion-dollar trade between Asia and Europe.
"Russia is also eager to maintain its control over the Sea of Okhotsk, which is important for its nuclear subs," Brown said. Russian submarines are believed to lurk in the sea in relative safety from potential adversaries.
---
---
---
---