Conflict with Russia over Ukraine not 'inevitable,' Pentagon says in push for diplomacy
by
Caitlin Doornbos
Stars and Stripes
December 6, 2021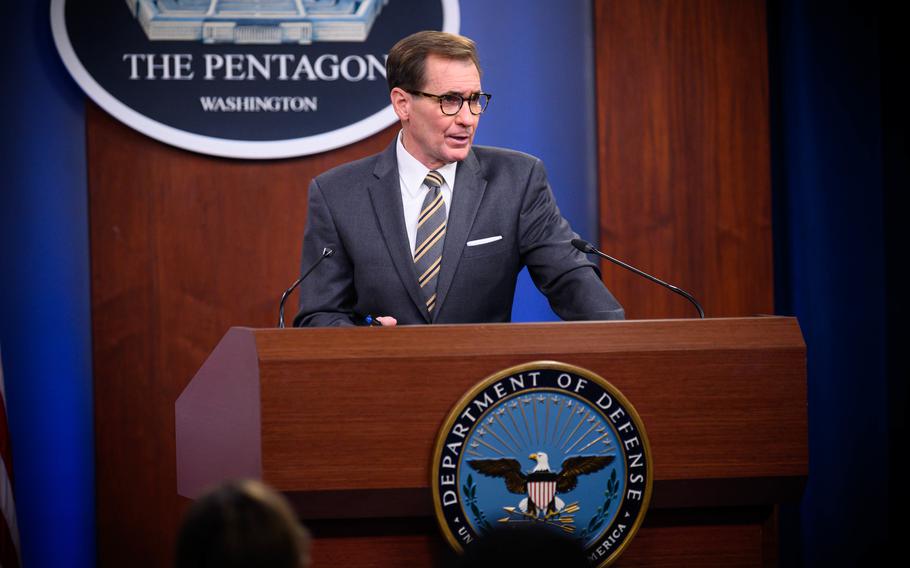 WASHINGTON — There's still time for diplomacy to tamp down tensions along the Russia-Ukraine border as Russian President Vladimir Putin continues to surge troop numbers in the region, chief Pentagon spokesman John Kirby said Monday.
"There's room here for leadership," Kirby told reporters at the Pentagon. "There's no reason that this has to end up in some sort of conflict or incursion."
The tensions come as U.S. intelligence indicated Putin is poised to deploy as many as 175,000 Russian troops to the Ukrainian border by early next, according to news reports.
So far, Russia has massed about 70,000 troops near its border with Ukraine, The Associated Press reported Monday.
Kirby would not comment on the reports, though he said recent military buildup in western Russia "is concerning to us."
"We continue to see a buildup of Russian military forces in the areas around northeastern and eastern Ukraine," he said. "It is still not entirely clear what Mr. Putin's intentions are."
President Joe Biden is expected to address the military buildup during a planned call with Putin on Tuesday, a senior defense official told reporters on a call Monday.
"We do not know whether President Putin has made a decision about further military escalation in Ukraine, but we do know that he is putting in place the capacity to engage in such escalation should he decide to do so," the official said. "[Biden] will make clear that there will be very real costs should Russia choose to proceed, but he will also make clear that there is an effective way forward with respect to diplomacy."
The Defense Department is keeping its regional partners abreast of the developments, Kirby said, noting the U.S. "commitment to NATO alliance priorities is simply not going to change."
"We continue to consult with our allies and partners, particularly our NATO allies about what we're seeing and about what our concerns are," he said. "But each of those allies is a sovereign nation and they have to make decisions for themselves about their assessments of what we're seeing, and whether and to what degree they want to help hold Russia accountable."
While a diplomatic resolution is the goal, the defense official said the U.S. is considering the range of actions that it could take if Russia invades the Ukraine.
"President Biden has been consistent all along in his basic message to the Russian president and the Russian federation: The United States does not seek conflict," the official said. "We can work together on issues like strategic stability and arms control, but whenever necessary, the United States has and will continue to impose meaningful consequences for harmful and destabilizing actions."
However, neither the official nor Kirby would say whether the U.S. would take military action in response to a potential Russian invasion.
"Should Russia try to make an incursion into Ukraine, another incursion into Ukraine, I can't speak to that," Kirby said. "All I can tell you is that we're deeply concerned about it. We're watching it closely. We are consulting with allies and partners."
---
---
---
---