Quarantine shortcuts for US military travelers in Japan still an option under entry ban, for now
by
Joseph Ditzler
Stars and Stripes
November 29, 2021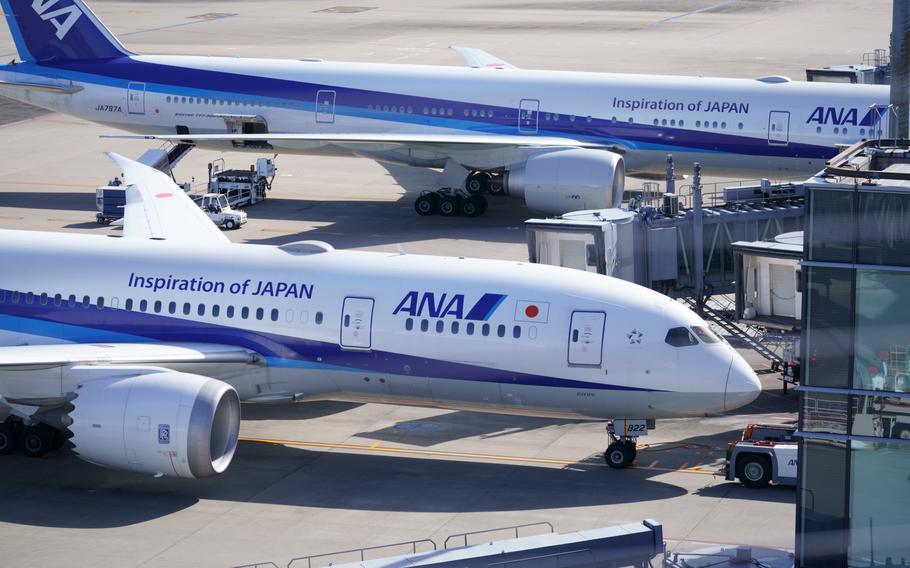 TOKYO — A program to get American travelers affiliated with the U.S. military back to Okinawa without a long pause for a coronavirus quarantine is a hit among the people it's designed to serve, according to the Marine who runs it.
The Okinawa Domestic Connection Program is booked into mid-February, Maj. Denver Edick told Stars and Stripes by phone Monday. That means its airline seats after the Christmas and New Year's holidays are also booked, he said.
"From 29 December all the way through 10 January every seat is booked and there is standby," Edick said.
The program, which puts U.S. travelers onto flights from Haneda International Airport in Tokyo to Naha, Okinawa, was expanded after it started as a 30-day trial Nov. 12, according to email Monday from Lt. Col. Brooke Brander, spokeswoman for U.S. Forces Japan at Yokota Air Base in western Tokyo.
The Okinawa program and two others created recently allow travelers associated with the U.S. military to return to Japan without incurring costly delays due to quarantining in hotels or other lodging. A 10-day stay at a hotel or base lodging can exceed $1,000.
Those programs are, so far, not affected by the travel ban that took effect Tuesday in Japan that bars entry by most foreign visitors to the country. Prime Minister Fumio Kishida announced the ban Monday as an "emergency precaution" to curb the spread of the omicron variant of the coronavirus. Americans under the status of forces of agreement with Japan are exempt from the ban.
The number of flights under the Okinawa Domestic Connection Program went from one to two daily, Monday through Friday. The number of seats available rose from five to 15 daily, Edick said. Only vaccinated adults and unvaccinated minor family members are eligible.
The program allows U.S. travelers covered by SOFA and returning from the States to board a commercial flight for Naha eight hours or more after arriving at Haneda. SOFA governs the relationship between the United States and host countries in regard to passports, visa regulations and other matters.
Some restrictions apply. Travelers must have a negative pre-travel test for COVD-19 within 24 hours of domestic travel in Japan. They must stay in lodging approved by the government of Japan or on a U.S. military until their flight to Naha. Travel to their lodging by public transportation is prohibited, but privately owned or government vehicles are acceptable.
SOFA travelers must complete their 10-day quarantine, or restriction of movement, at their home station, according to the program.
Okinawa connection flights are first come, first served, and are booked by the program on All Nippon Airways, according to the program description. Travelers must apply through the program.
The Okinawa Domestic Connection is available to any service branch, Edick said. He said he expects the program to be extended beyond its 30-day trial period. Feedback on the program has been its own reward.
One woman needed to get to the States to visit a sister whose child was born prematurely. But the ROM delay on the return leg meant missing her husband's deployment, Edick said. The domestic connection program provided relief.
"She was in tears," he said. "She was excited about this."
The Okinawa connection is one of three options available to SOFA travelers returning to Japan that permit shortened ROM periods. The other two were announced Wednesday by USFJ.
SOFA travelers returning to Japan are instructed by USFJ to work through their or their sponsors' chains of command to sign up for each option.
Under one option, Funded Environmental Morale Leave, the Pentagon on Nov. 19 eased its travel restrictions to permit SOFA travelers to fly aboard the Patriot Express from Seattle to Naha.
The Patriot Express is a U.S. government-contracted military passenger service that flies between the United States, Japan and South Korea.
The third option allows incoming SOFA travelers to quarantine a minimum three days before continuing on to their U.S. military destinations in Japan, where they finish their ROM requirement. USFJ commander Lt. Gen. Ricky Rupp approved this exception to travel policy with the Japanese government's cooperation, Brander said Wednesday.
The individual traveler's exception to policy must be approved prior to travel, she said.
---
---
---
---