Japan exempts US military from ban on foreign travelers as new coronavirus variant spreads
by
Joseph Ditzler and Hana Kusumoto
Stars and Stripes
November 29, 2021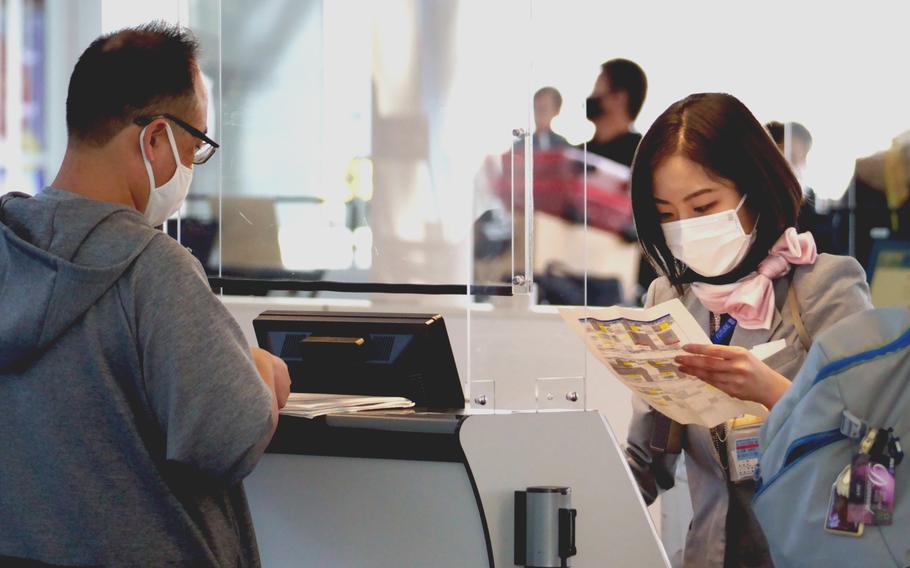 TOKYO — The government of Japan closed its borders again Tuesday to nearly all international travelers as a precaution against the spreading omicron variant of the coronavirus.
The new ban on foreign travelers does not affect the U.S. military population covered by the status of forces agreement, said Lt. Col. Brooke Brander, spokeswoman for U.S. Forces Japan at Yokota Air Base in western Tokyo. SOFA defines the legal status of U.S. armed forces, including military families and civilian employees, stationed in host countries.
"Japan's recent suspension of entry of overseas travelers will not affect SOFA members' ability to enter Japan," Brander wrote by email Monday to Stars and Stripes.
Prime Minister Fumio Kishida announced the ban on visiting foreigners Monday. "We are taking the step as an emergency precaution to prevent a worst-case scenario in Japan," Kishida said.
The border closure does not, so far, affect any of the three measures recently approved to help traveling SOFA members returning to Japan reduce the time they spend in quarantine before reaching their destinations, Brander said by email. She said USFJ "will continue to coordinate closely" with the government of Japan on any changes to quarantine requirements, also called restriction of movement, that may result in response to the omicron variant.
The ban on all foreign visitors to Japan comes after the government over the weekend imposed tighter entry restrictions on travelers from nine African nations, according to public broadcaster NHK. The new prohibition rolls back a measure in effect since Nov. 8 that allowed some short-term business travelers, international students and workers to enter the country after a shortened quarantine period.
Japanese citizens returning from areas where the omicron variant has surfaced will be treated carefully, Kishida said Monday on NHK.
"For Japanese who are returning from 14 countries and areas where infected cases have been confirmed, in addition to the nine countries, including South Africa, they will be strictly quarantined at designated facilities depending on their risks," he said.
The omicron variant was first identified in South Africa on Nov. 24, according to the World Health Organization. New cases associated with it have sprung up from Great Britain to Hong Kong.
"This variant has a large number of mutations, some of which are concerning," according to a WHO statement Friday. "Preliminary evidence suggests an increased risk of reinfection with this variant, as compared to other" variants.
However, the omicron variant's risks are not well known even as countries lock their borders against it.
The data is so far not clear that the omicron variant is any more severe than other variants, including delta, according to a WHO statement Sunday. "There is currently no information to suggest that symptoms associated with Omicron are different from those from other variants," according to the statement.
The first infections were reported among university students, "younger individuals who tend to have more mild disease," according to WHO. A better understanding of the new variant's threat "will take days to several weeks," the organization said.
"All variants of COVID-19, including the Delta variant that is dominant worldwide, can cause severe disease or death, in particular for the most vulnerable people," according to WHO, "and thus prevention is always key."
Japan in September emerged from its most extreme phase of the pandemic, which began in late July and peaked at a pandemic high in the country of 26,050 new cases on Aug. 27, according to WHO. Most of those cases were attributed to the delta variant.
However, business closures, the near-universal wearing of masks and a relatively high proportion of its people getting vaccinated helped bring the fifth coronavirus wave to an end in Japan. More than 76% of its population, or about 97 million people, are fully vaccinated, according to the Johns Hopkins Coronavirus Resource Center on Sunday.
The number of confirmed new coronavirus cases in Tokyo, a city of nearly 14 million, on Sunday was nine, according to the metropolitan government's online data. On Aug. 13, the daily case number reached 5,908, the city pandemic record.
Japan is the latest country to close its borders. Israel also barred entry to foreigners, and Morocco planned to suspend all incoming flights for two weeks starting Monday, according to the AP.
---
---
---
---