US airman suspected in DUI crash refused a breath test, South Korean police say
by
David Choi
Stars and Stripes
November 24, 2021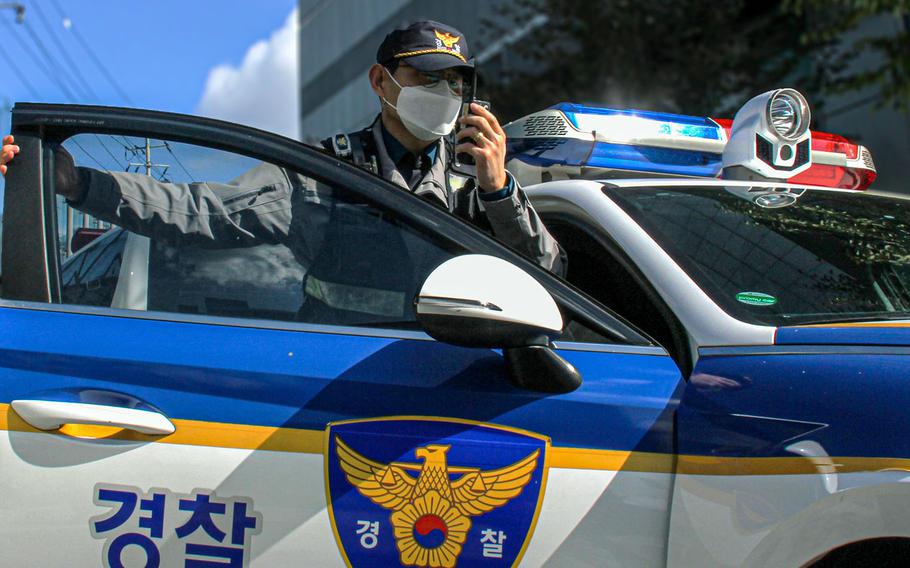 CAMP HUMPHREYS, South Korea — An American airman stationed in South Korea is under suspicion of driving under the influence after crashing into a parked car and attempting to flee the scene, local police said.
A 42-year-old technical sergeant assigned to Osan Air Base is under investigation from the Gangnam Police Station in Seoul, a senior police officer told Stars and Stripes by phone Tuesday. The officer declined to provide the service member's name due to the country's identity protection laws.
Police said the airman is suspected of hitting a parked car in a backstreet of a neighborhood shopping area frequented by foreigners and young adults at around 8:55 p.m. Friday. The owner of the parked car, an unnamed Korean man, drove after the service member while calling the police.
"I am chasing a hit-and-run foreigner," the caller said, according to the senior police officer.
Authorities apprehended the airman roughly 10 minutes after the crash, the police officer said, adding that the service member was compliant but had "much alcohol on his breath."
When law enforcement officials attempted to administer a sobriety test, the airman refused, according to the police. U.S. Forces Korea military police took custody of him shortly after his arrest and the command "has been cooperating well with us," the police officer said.
The police department will forward its investigation to the prosecutor's office, according to the police officer. The airman is under suspicion of violating the country's Road Traffic Act, which requires drivers to take a sobriety test from a police officer "in order to determine whether that person is intoxicated."
USFK, which oversees roughly 28,500 troops on the Korean Peninsula, requires its personnel to abide by local laws outside of a military base. Driving privileges will be revoked for one year if a suspect "was lawfully apprehended for drunk driving and refused to submit to or complete a test to determine blood alcohol content," according to the command's safe driving manual published in August.
The 7th Air Force, headquartered at Osan, in a statement Wednesday said it was conducting an investigation and "will not provide any comments or statements" until the investigation is complete.
"We remain committed to being good neighbors with our host nation and maintaining a strong [South Korea-U.S.] alliance," the public affairs office said in the statement.