Airmen in South Korea come up with ideas for phone apps to combat DUI, handle stress
---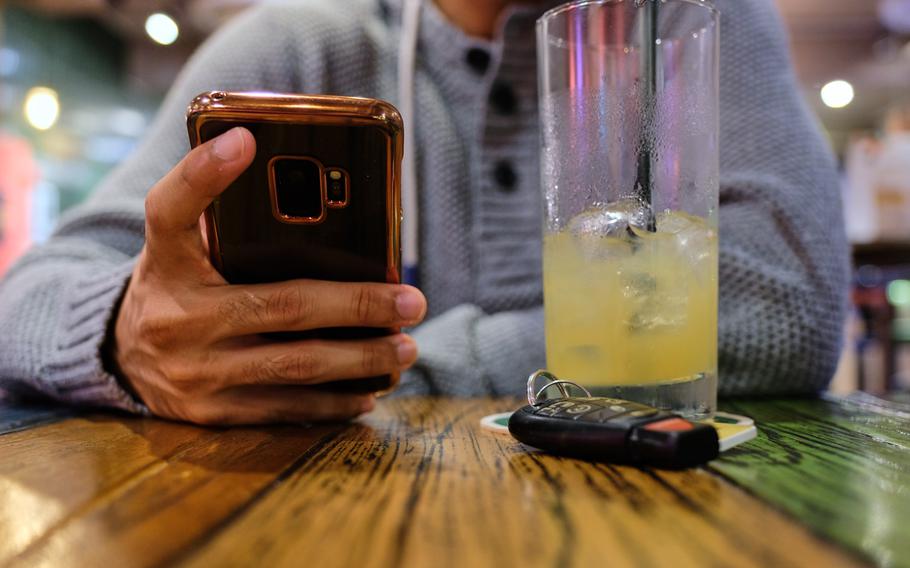 OSAN AIR BASE, South Korea — Airmen in South Korea have been hard at work in their free time developing concepts for phone applications that could reduce the number of DUIs in the force and provide airmen a means to deal anonymously with daily stressors.
Members of Osan's 51st Fighter Wing worked with the organization's Innovation Engine Room, led by Master Sgt. Courtney Christiansen, to prepare their ideas, perfect their pitch and build video presentations in preparation for the Air Force Spark Tank 2020 competition. The room was created to give innovative airmen the resources and connections needed to turn their ideas into reality.
Spark Tank is an annual competition in which airmen pitch innovative ideas to top Air Force leadership. The goal of the competition is to find new ways of maintaining Air Force readiness, cost effectively modernize its operation and drive innovation within its ranks, Christiansen said.
Senior Airman Emma Poveromo, an emergency room medical technician with the 51st Medical Operations Squadron, is developing a phone app that would streamline the Airmen Against Drunk Driving program for its volunteers and its inebriated users.
The program is a volunteer-based transportation service that provides a ride home for airmen who have been drinking.
Poveromo successfully ran the volunteer service while stationed at Ramstein Air Base, Germany.
"Within two months of my team taking over and revamping the program we had already saved 65 people," she told Stars and Stripes. "We actually lowered DUIs at Ramstein by 38% within six months."
Poveromo realized at the time how much of the work involved could be automated using a ride-sharing application.
"The current system requires calling volunteers, hoping they answer the phone in the middle of the night and are willing to go help an airman," she said. "Now it will be a quick notification to the volunteers who are signed into the app, and they can confirm or decline the pickup request."
Seeking $60,000, Poveromo intends to hire a professional team to create the program. The app will feature an interface like the one used by paid services Uber and Lyft, only free. Using GPS features and a preset home address, intoxicated users can request a ride with a single click.
"A dollar value can't be placed on the lives and careers this app could save," she stated in her pitch.
Wing commander Col. John Gonzales on Friday announced that Poveromo's design would be advancing to the Pacific Air Forces competition, along with another app designed to help airmen cope with daily stressors.
First Lt. George Cooksey, a bioenvironmental engineer for the wing, has designed a social interaction application for airmen who are reluctant to talk with co-workers, leadership or mental health professionals for fear of damaging their careers.
"We have created an app to connect two anonymous airmen, either through text or voice chat, to speak open and honestly, and have a genuine human interaction without having that fear of my career will be impacted," Cooksey said.
"Because people have that fear they choose to not talk to anyone, and that causes those stressors and issues to build up until it reaches a point that is now at an impactful level," he said. "We seek to tackle that far before it reaches an issue by providing a safe space for individuals to connect."
Airmen will be required to sign up using their official email so no military users will be filtered out. That also provides a means to permanently ban abusers, or "trolls," who are reported for negative interactions.
Capt. Felicia Keith, a clinical psychologist at Osan, encouraged Cooksey to add a texting feature based on her experience in the clinical field.
"In some of my patients I've noticed a fear of reaching out to others, and especially voice seems to be much more difficult," she said. "Texting provides an extra layer of anonymity and usually feels a bit safer to some folks, especially those experiencing social anxiety."
After the 78th Air Force suicide this year, Air Force Chief of Staff Gen. David Goldfein ordered a daylong halt in operations, a Resilience Tactical Pause, for leaders to engage with airmen to better understand what is causing the rise in suicides.
"It's not the outreach programs that are going to necessarily help airmen," Keith said. "It's about really connecting to another human being. If this is a way we can reach airmen where they are and help them connect, as a mental health professional, I think this is a great way we can do that."
Only one airman can claim the winning title in February at the Air Force Association's Air Warfare Symposium in Orlando, Fla. However, other Spark Tank ideas received senior leader support last year to advance in development.
---
---
---
---