Navy orders submarine crews to review navigation safety following undersea collision
by
Alex Wilson
Stars and Stripes
November 18, 2021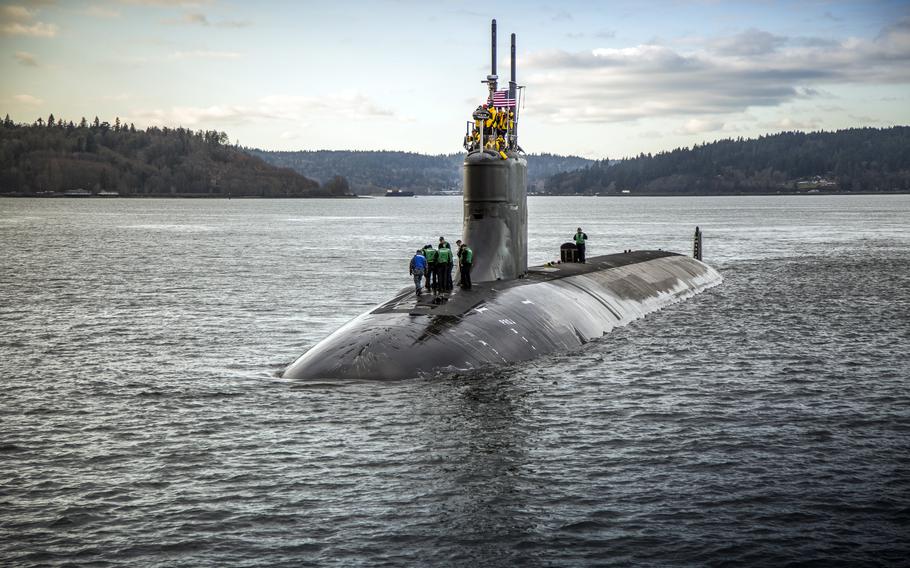 Submarine crews have been ordered to review navigation safety as the U.S. Navy continues to investigate a nuclear-powered vessel's undersea collision last month.
The commanders of U.S. Submarine Forces and Submarine Forces Pacific – Vice Adm. William Houston and Rear Adm. Jeffrey Jablon – sent a joint message to the Navy's submarine crews on Wednesday declaring a "navigation stand-down," Submarine Forces spokesman Cmdr. Paul Macapagal told Stars and Stripes in an email Thursday.
Unlike stand-downs issued to aviation crews, the order doesn't mean submariners will cease operations. Instead, the crews are slated to review navigational training and safety procedures, Macapagal said.
The message comes as the Navy continues to grapple with fast-attack submarine USS Connecticut's collision with a seamount, or undersea mountain, on Oct. 2.
"Submarine crews will be reviewing the lessons learned from USS Connecticut and governing doctrine to reinforce sound navigation practices," Macapagal said. "Submarine crews will review required procedures in navigation planning, operations, risk management and best practices as part of this training."
Macapagal said he couldn't release the original message to Stars and Stripes because portions of it contain classified information. He also couldn't specify a timetable for the stand-down, but he did say it's a "near-term" situation rather than a long-term one.
Details on the Connecticut's collision have remained sparse, but Navy investigators revealed on Nov. 2 that the Seawolf-class submarine struck an "uncharted seamount" in international waters in the Indo-Pacific region.
The exact location of the incident was not publicly disclosed, but an unnamed defense official said it occurred in the South China Sea, according to an Oct. 8 report from U.S. Naval Institute News.
The collision, which resulted in minor injuries to about a dozen sailors, also led to the removal of the Connecticut's commander, executive officer and enlisted chief. Vice Adm. Karl Thomas, commander of 7th Fleet, relieved the three on Nov. 4, citing a "loss of confidence" in their leadership.
---
---
---