'Very relieved': COVID-19 vaccines for children ages 5-11 roll out at two US bases in Japan
by
Joseph Ditzler and Alex Wilson
Stars and Stripes
November 16, 2021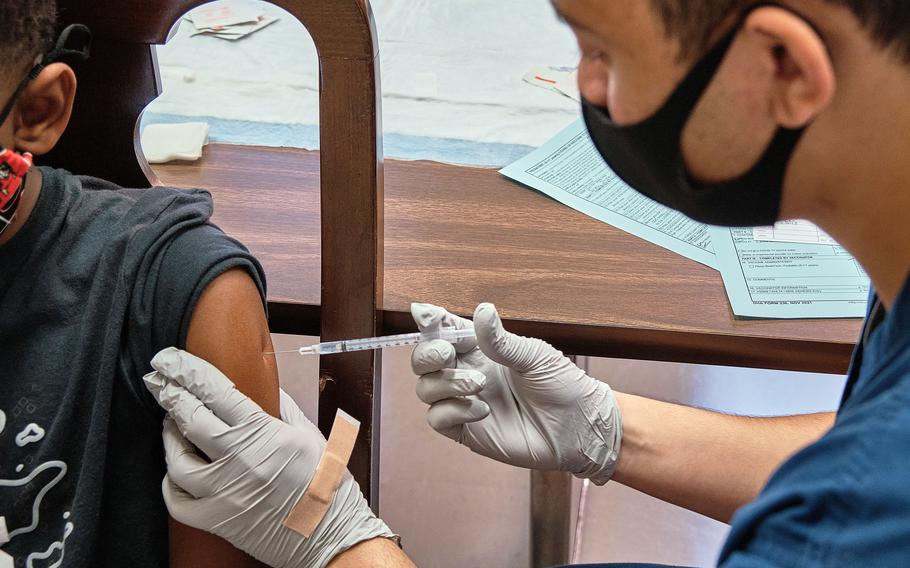 YOKOSUKA NAVAL BASE, Japan – Two U.S. military bases near Japan's capital city are the first in the country to offer coronavirus vaccines to the young children of military parents.
Yokosuka Naval Base, homeport of the 7th Fleet 35 miles south of Tokyo, started vaccinating children ages 5 to 11 on Tuesday, with further shots available by appointment through Friday.
"I've been waiting for the vaccine for kids to come out, and it's finally here," said Michael Perez, a civilian Defense Department employee from Guam and father to Luke, 5, and Adriana, 10. "I'm very relieved."
Yokosuka had 300 doses available Tuesday and 2,000 for the week, according to Lt. Cmdr. Jamal Phillips, Yokosuka's COVID-19 vaccine task force coordinator.
"I'm excited to get these kids taken care of and get them one step closer to 'normal,'" he told Stars and Stripes during Tuesday's shot clinic.
Yokota Air Base, home of U.S. Forces Japan in western Tokyo, has scheduled an appointment-only shot line for Thursday, with a promise of more to come.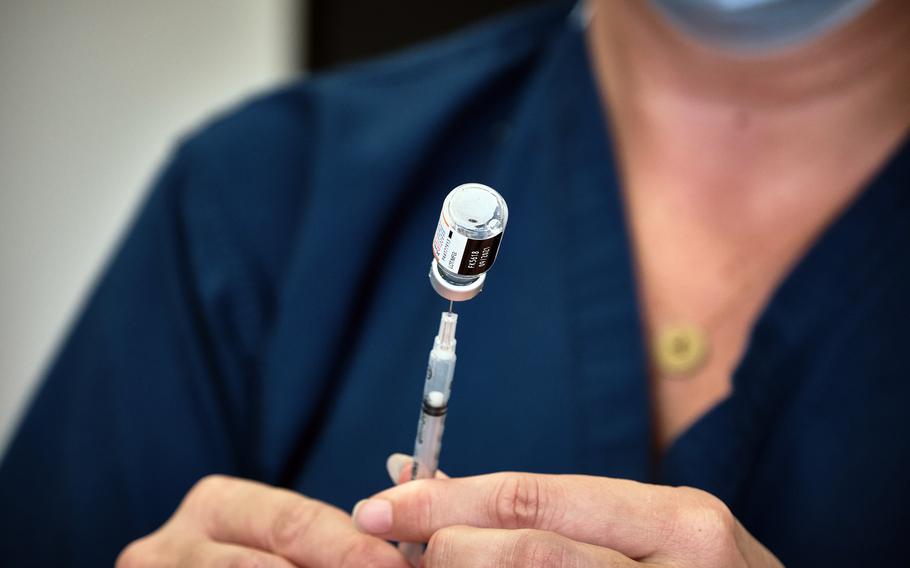 Neither base has any confirmed active cases of COVID-19, the coronavirus respiratory disease.
At Yokosuka, shots of the Pfizer BioNTech pediatric vaccine were scheduled at The Sullivans Elementary from 2-7 p.m. Wednesday and Thursday and at Ikego Elementary School from 2-6 p.m. Friday. Vaccines are not mandated for children in U.S. military families as they are for service members.
"I think it's definitely going to change our decision to go back to the States when we can," said military spouse Jennifer Lee of San Diego with daughter Ana, 7. "We didn't feel comfortable going back to the States until she could be vaccinated. So, we're just overall more comfortable."
The Food and Drug Administration on Oct. 29 approved the Pfizer vaccine for emergency use for children ages 5 to 11 in two doses, three weeks apart. Their 10-microgram dose is half that for children ages 12 and older, according to the FDA.
Yokosuka, where the number of confirmed new and active cases has shrunk to zero this month, moved into health protection condition Alpha at 1 p.m. Monday. Condition Alpha means the virus may be spreading, but only basic precautions are required, such as maintaining good hygiene, keeping surfaces clean and disinfected and getting vaccinated, among other measures.
However, all public health measures at Yokosuka remain in place, including mandatory mask wear while inside schools, health care facilities, while interacting with Japanese personnel, and at all times while off the base, according to the Naval Forces Japan mask policy published in August.
The move from condition Bravo to Alpha represents a significant milestone on the return to normal, base commander Capt. Rich Jarrett told Stars and Stripes via email Tuesday. But the pandemic is not over.
"We do expect a winter outbreak of COVID-19 and will need continued efforts from the community to ensure that we are able to maintain our current health protection condition," Jarrett said. "With a high immunization rate and some simple community health protection measures, maintaining HPCON ALPHA is an achievable goal."
Yokosuka confirmed 65 new coronavirus cases in September and 119 in August, during the most extreme phase of the pandemic in Japan thus far. The base reported 293 cases in January, more than it publicly acknowledged in all of 2020, though like many installations in Japan the naval base withheld case numbers in spring and summer that year.
At Yokota, which moved to condition Alpha in early October, the medical group scheduled an appointment-only shot line for eligible children from 8 a.m. to 5 p.m. Thursday at the dental clinic. Information about Yokota's upcoming shot lines will be posted on the 374th Medical Group Facebook page, according to an announcement online from the group.
Links for appointment sites are available on the official Facebook pages for both bases.