Sailor uses scuba skills to save Marine from Okinawa rip current
by
Frank Andrews
Stars and Stripes
November 12, 2021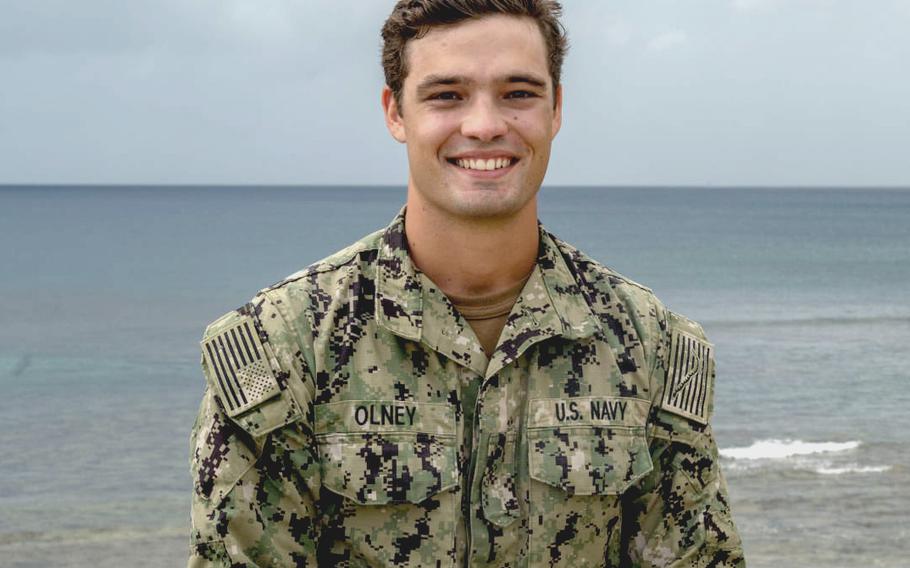 CAMP FOSTER, Okinawa — A Navy sailor, an experienced scuba diver, dragged a drowning Marine to safety through a strong rip current at a popular Okinawa beach in September.
It's at least the fourth rescue involving a rip current and U.S. service members in Okinawa since October 2020. Rip current encounters often end tragically; they have killed five service members this year in the waters surrounding Okinawa, Shawn Curtis, director of the Marine Corps Installations Pacific Safety Office, told Stars and Stripes by phone Nov. 3.
In this case, Aviation Electrician's Mate Airman Ian Olney earned praise Nov. 1 for "saving a fellow service member's life," according to the official Facebook page for the Navy command on Okinawa.
Olney, a certified dive instructor, was in the right place at the right time.
Staff Sgt. Marshall King, of 3rd Intelligence Battalion at Camp Hansen, was snorkeling midafternoon Sept. 21 in shallow water about 50 yards from Akuna Beach, he told Stars and Stripes during an interview Wednesday. He realized a current had carried him farther from shore.
"I tried to stand up and get out of it, but the current was too strong," King, 35, of Phoenix, said. "It was a strong rip current, and it took me out quick."
Rip currents are powerful, fast-moving, narrow channels of water that move directly away from the shore. The usual advice for escaping a rip current is to ride it out to calmer water, then swim parallel to shore and beyond the current's grasp.
This current, however, refused to yield, King said. He said he followed that advice but after a half-hour found himself alone, about 200 yards from shore and moving farther into open water.
"That's when I started really panicking," King said. "I started screaming and that's when airman Olney, he heard me, thank God!"
Olney, 21, from North Captiva Island, Fla., was spearfishing nearby with his Japanese dive buddy Yuuki Watanabe when he heard King calling. That call for help began a 45-minute-long endurance test for both men against a stubborn current.
A P-8 Poseidon battery technician at Kadena Air Base, Olney grew up in the Caribbean Islands and on Hawaii, he said Tuesday. As a dive instructor, he's trained to deal with distressed swimmers. He said he yelled to an exhausted King to swim toward him.
"It was not going to happen," King said. "My fins fell off a long time ago."
Instead, Olney dove to the ocean bottom and rode the current out to King, whom he found sinking and swallowing water.
"He was in full-blown panic," Olney said, "but he was the type of guy to snap out of it."
He grasped King by his torso, instructed him to relax, stay on his back and backstroke toward shore. He pulled the Marine for a half-hour to calmer water, where King rested on a rock.
Olney rolled King on his back, grasped the coral reef hand-over-hand and pulled closer to shore. Olney and Watanabe then each took an arm and swam King to the beach.
King joined the Marines in 2014 and has completed two, six-month deployments on Okinawa. He returned to Okinawa in May 2019 and is stationed at Camp Hansen.
"A friend of mine died in a rip current in 2016 out here in Okinawa so I was familiar with the dangers of what the waters out here can do," he said.
Since 2000, 40 U.S. service members have died from drowning in the waters around Okinawa, Curtis said.
King had no doubt that Olney saved his life.  
"If he was not there, I am 100% certain it would have been a different outcome," King said. "I would have drowned."
---
---
---