South Korean police prepare Halloween crackdown on COVID-19 violations
by
David Choi
Stars and Stripes
October 28, 2021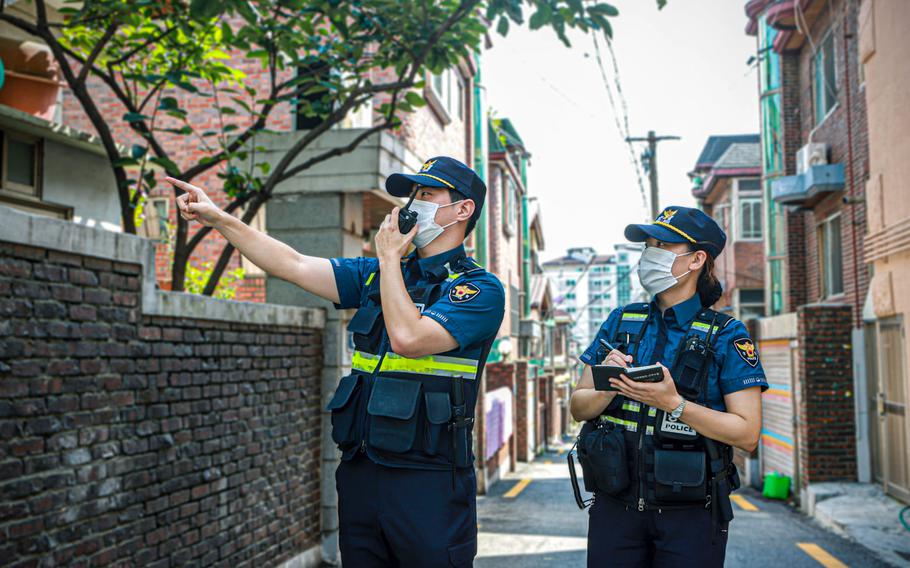 CAMP HUMPHREYS, South Korea — South Korean police in metropolitan districts will be cracking down on COVID-19 violations over Halloween weekend, particularly in areas frequented by foreigners and young adults.
Roughly 200 additional police officers and city workers from Yongsan, Hongdae, Itaewon and other popular districts in Seoul will conduct joint patrols between Thursday and Sunday, a senior law enforcement official told Stars and Stripes on the customary condition of anonymity.
"Patrollers, including city council officers and cops, will check whether folks are keeping a safe distance from others, wearing masks and avoiding large gatherings," the senior law enforcement official said Wednesday. "We'll visit businesses and guide folks to follow disinfection guidance as well."
Although Halloween is not officially observed in the country, the holiday prompts parties and other events catered toward younger crowds and foreigners. Districts like Itaewon and Hongdae in Seoul are known for their foreigner-friendly businesses and are home to numerous bars and nightclubs.
The official said authorities will "break up the crowd" if it was violating COVID-19 mitigation protocols.
Violators can face a fine of 100,000 won, or roughly $85, and a notice of reprimand will be sent to their residence or sponsor, the official added.
A separate notice from the Ministry of Health and Welfare warned that social-distancing violations may result in deportation.
"Of course, there would be cultural differences," the official said. "But we wish [people] could restrain themselves from doing anything extreme … because we're still in the COVID-19 situation."
U.S. Forces Korea, the military command responsible for roughly 28,500 troops on the peninsula, said it expects personnel to be "good ambassadors" and for them to "conduct themselves appropriately, both on and off duty."
"Additionally, the USFK community must continue to follow all South Korean laws, rules and directives — including [South Korean] social-distancing levels and mask-wear when off USFK installations," Army Col. Lee Peters, the command's spokesman, said in a statement Wednesday.
Partygoers observing U.S. holidays in South Korea have concerned city officials in the past. Following Fourth of July celebrations at the southern city of Busan last year, several soldiers were detained after setting off fireworks, fleeing the scene of a crime and allegedly driving while intoxicated.
The command at the time described the actions as "deeply troubling" and apologized for the incidents.
Last year, USFK banned its personnel from visiting Itaewon during Halloween and conducted joint patrols with local law enforcement due to coronavirus concerns.
Ten districts in South Korea, four of them in Seoul, are currently off-limits to USFK personnel. The command prohibits troops from visiting districts with 50 or more confirmed COVID-19 patients per 100,000 people over a seven-day period.
The Korea Disease Control Prevention Agency reported 2,111 new cases Thursday, down from a record-high of 3,273 daily cases in September.
Stars and Stripes reporter Yoo Kyong Chang contributed to this report.