US military loosens coronavirus quarantine rules for vaccinated new arrivals to South Korea
by
Joseph Ditzler
Stars and Stripes
October 19, 2021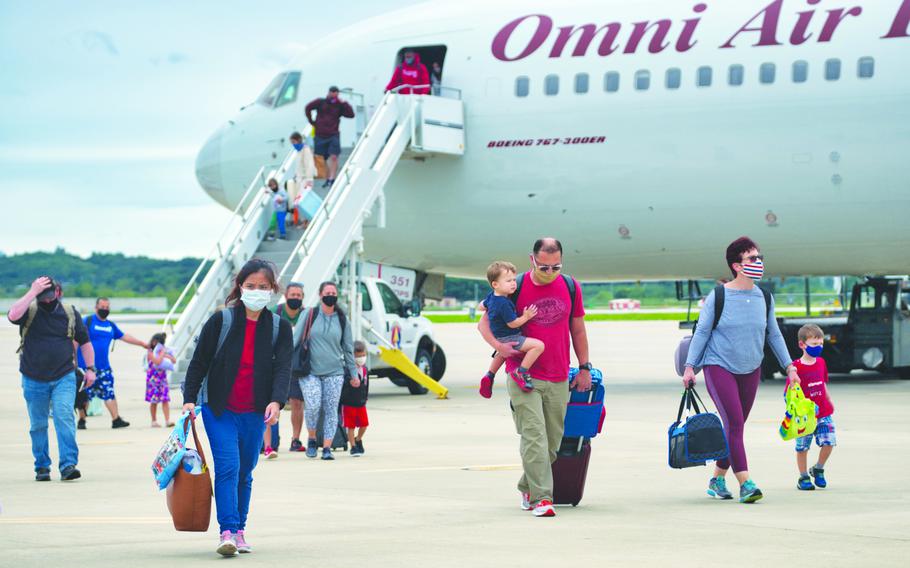 U.S. Forces Korea has trimmed its coronavirus quarantine period and reduced movement restrictions for vaccinated new arrivals to the peninsula.
The command cited increasing vaccination rates among its population and that of South Korea.
Vaccinated individuals must quarantine until the mandatory test required upon arrival comes back negative, USFK announced Monday on its official Facebook page. Anyone living with that person must also restrict their movements until the result is available.
However, the rules for "working quarantine," restricted movement while in quarantine, have changed for vaccinated individuals. For example, food and clothing purchases, public transportation, dining-in and outdoor physical activity are authorized if South Korean laws and directives are followed, according to the announcement.
Other conditions apply: Day one and day six or seven PCR tests for COVID-19, the coronavirus respiratory disease, are still mandatory and wearing a mask is also required until the day six or seven result is negative.
For unvaccinated new arrivals, the full 14-day quarantine protocol still applies, according to USFK.
Individuals arriving on orders to USKF commands continue to test positive upon arrival in South Korea.
On Monday, the command reported another 23 new arrivals tested positive for COVID-19 during the three weeks ending Thursday.
Seven service members and eight family members arrived at Osan Air Base on the Patriot Express, a government-chartered air service, between Sept. 22 and Oct. 11, according to a USFK news release Monday.
Six service members, a Defense Department civilian employee and a family member arrived on commercial flights at Incheon International Airport between Oct. 1 and Thursday.
Seven tested positive on the test required upon arrival; three came up positive while in quarantine and 13 tested positive on the test required before exiting quarantine. All were quarantined at either Osan or Camp Humphreys, according to USFK.
South Korea reported 1,030 new COVID-19 cases on Sunday, according to the Korea Center for Disease Control and Prevention Agency's Monday update. Of those, Seoul accounted for 352 and Gyeonggi province, where Osan and Humphreys are located, reported 358.
South Korea has fully vaccinated nearly 65% of its population; another 79% has received the first of a two-shot regimen.
Stars and Stripes reporter Yoo Kyong Chang contributed to this report.
---
---
---