Roaming monkey prompts warnings, social media following at US base in Tokyo
by
Erica Earl
Stars and Stripes
October 21, 2021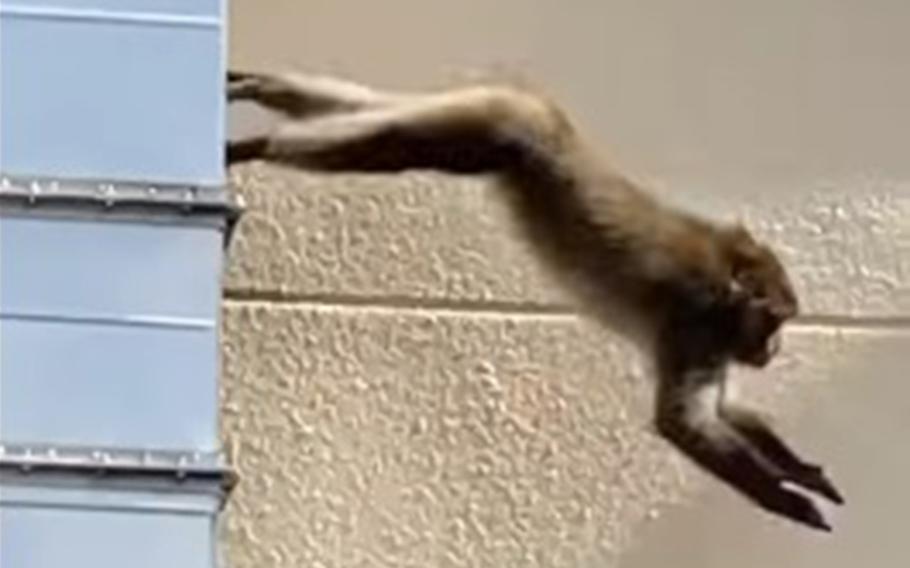 YOKOTA AIR BASE, Japan — A Japanese macaque gained dual status as a celebrity and a fugitive over two days at this airlift hub in western Tokyo.
Spotted Wednesday atop the roof of the base dental clinic, the monkey was soon a star of social media as residents of Yokota's eastside housing area posted photos and videos of their macaque sightings.
The monkey was seen and photographed along Yokota streets, in trees and on buildings.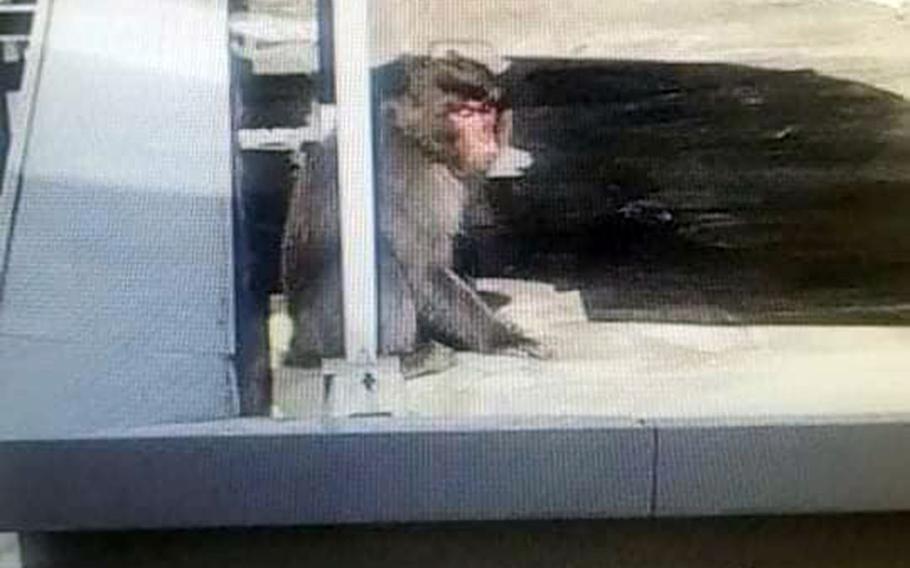 Several commenters singled out the monkey as a likely but circumstantial suspect behind vandalized Halloween decorations outside one family's home.
By Thursday morning, the monkey business had subsided, according to information attributed to the base public affairs office and posted on the Yokota Community Facebook page. A local city hall notified the 374th Civil Engineer Squadron pest management unit that the macaque, also known as a snow monkey, had left base property around 10 a.m.
The 374th Airlift Wing public affairs office had provided no further information on the sightings by 6 p.m. Thursday in response to a request from Stars and Stripes. An annual, basewide readiness exercise is underway at Yokota.
However, the base warned its residents the monkey may return and anyone who sights it should contact the pest management unit.
"If the monkey is spotted, please do not feed or approach the monkey," according to the post on the Yokota Community page. "If the wild animal feels threatened, it may attack."
The Japanese macaque is common in the forested areas in and around Tokyo.
In September, Camp Zama, the headquarters of U.S. Army Japan in nearby Kanagawa prefecture, issued an alert after base residents spotted a group of macaques at Sagamihara Housing Area.
"This is not the first time that wild monkeys have been spotted on or near Camp Zama, but fortunately we have not had any incidents involving property damage or injury in the past," U.S. Army Garrison Japan spokesman Timothy Flack said at the time. "Our communication with the community is key to avoiding incidents."
The monkeys seldom attack humans, according to JapanVisitor.com, but staring at them eye to eye can provoke an aggressive response, such as baring their teeth. Further unwanted attention could result in a bite. They travel in troops, are active during the day and sleep in trees at night.
---
---
---