Commissaries prepare to roll out online shopping, curbside pickup service at bases in Japan
by
Erica Earl
Stars and Stripes
September 24, 2021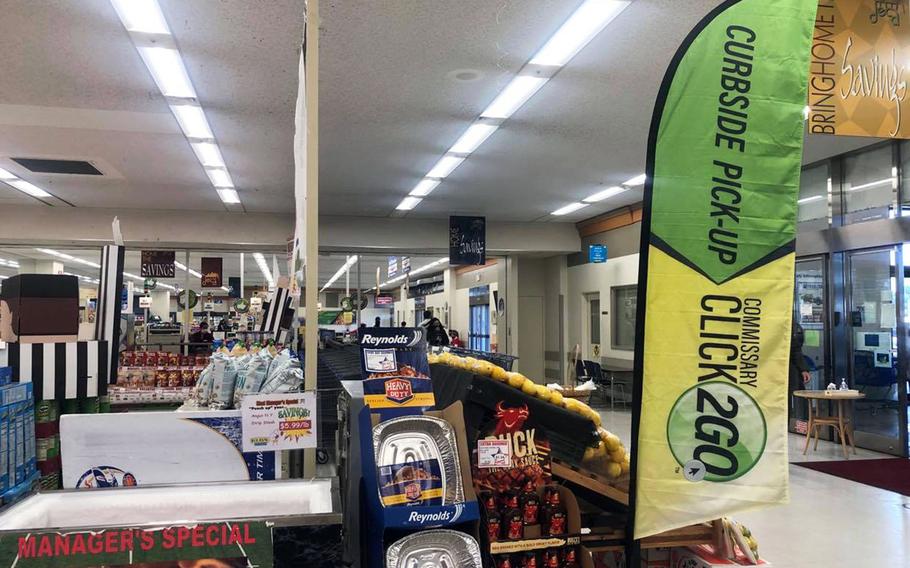 The Defense Commissary Agency is rolling out online grocery shopping and scheduled pickup at 11 military bases in Japan starting Monday.
The CLICK2GO program will be available at Naval Air Facility Atsugi, Camp Zama, Sasebo Naval Base, Misawa Air Base, Yokosuka Naval Base, Marine Corps Air Station Iwakuni, Yokota Air Base and, on Okinawa, Kadena Air Base and Camps Kinser, Foster and Courtney.
While DeCA said in a news release Thursday it also expects to release the program in South Korea and Guam, it did not list bases or dates.
The program has one shortcoming, a commissary manager at Yokota Air Base in western Tokyo told Stars and Stripes on Friday. Shoppers will not be able to pay online ahead of time, Gene Davis said. Instead, they must go inside the store to pay at a designated register.
"It still saves time, because you reserve a designated pickup time and families can skip going up and down 12 aisles with small children in tow," Davis said. "We are trying to emulate what other stores are doing, especially for overseas families who may not be able to use Amazon or other grocery delivery services."
Davis said DeCA plans to roll out the full online pay system for CLICK2GO at commissaries worldwide by spring.
A designated register will manage all CLICK2GO orders and ensure no one with a pickup time will have to wait, he said.
Pickup times will be set by each installation's commissary, according DeCA's news release. At Yokota, pickup times will be available 11 a.m. to 5 p.m. Monday through Friday, Davis said.
DeCA launched CLICK2GO through the New York-based e-commerce company Freshop at stateside commissaries earlier this summer, and on installations in Europe on Sept. 20.
Over 200 stores have the program, according to the news release. A $4.95 service fee is being indefinitely waived as a program incentive.
Another drawback is that the CLICK2GO website does not list every item in the store, Davis said, although this will depend on each commissary's shipments. It does list a wide variety items, including 40 produce and 60 deli and bakery selections.
Also, until customers at Pacific commissaries can pay online, they may see a price change in items they reserve in their cart by the time they pick them up and pay for them, Davis said.
The site goes live on Saturday, but customers cannot begin picking up their orders until Monday.
CLICK2GO also features recipe ideas, a kosher section and dropdown menus for dietary needs, such as dairy alternatives, although stock may be limited, Davis said. Customers may choose a substitute if their preferred items become unavailable.
"DeCA's e-commerce growth comes at a time when consumers around the world are navigating the uncertainties of the COVID pandemic by turning more and more to the safety and convenience of internet shopping for food and other daily necessities," DeCA director and CEO Bill Moore said in the release.