South Korea's president revives his call for formal end to Korean War
by
David Choi
Stars and Stripes
September 22, 2021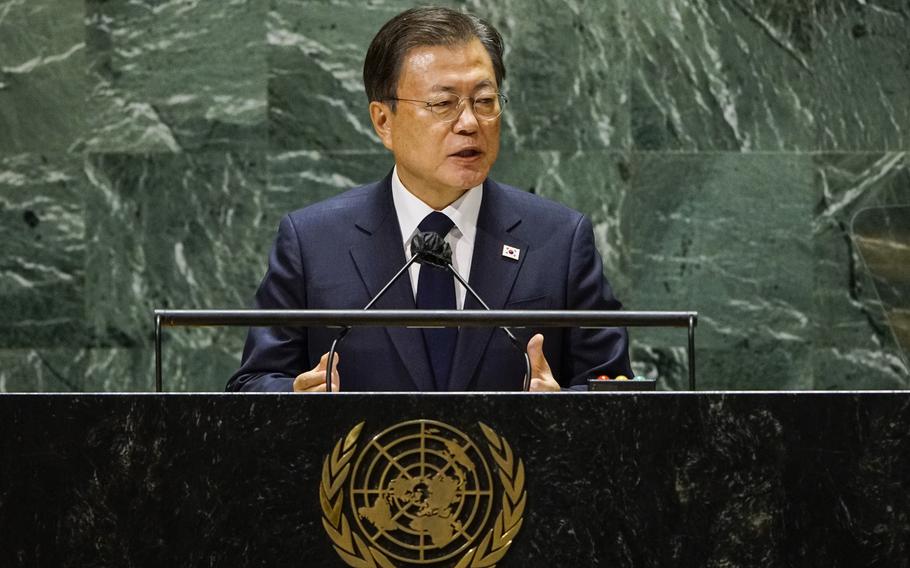 South Korean President Moon Jae-in in a speech to the United Nations General Assembly on Tuesday urged his country, the United States, North Korea and possibly China to formally end the decades-long Korean War.
The two Koreas formally remain at war after their 1950-53 conflict ended in an armistice instead of a peace treaty. The U.N. Command and China were also signatories in the armistice agreement, which was originally intended to facilitate a "final peaceful settlement."
Moon, who proposed the idea of ending the Korean War during a speech before the General Assembly in 2019, renewed his calls for the signatories to "come together and declare that the war on the Korean Peninsula is over."
"More than anything, an end-of-war declaration will mark a pivotal point of departure in creating a new order of reconciliation and cooperation on the Korean Peninsula," Moon said Tuesday.
The president suggested three-party talks with the U.S., South Korea and North Korea; or a four-party system that included China.
"When the parties involved in the Korean War stand together and proclaim an end to the war, I believe we can make irreversible progress in denuclearization and usher in an era of complete peace," Moon said.
President Joe Biden in his own U.N. speech Tuesday said the U.S. sought "serious and sustained diplomacy to pursue the complete denuclearization of the Korean Peninsula" in order to "increase stability" in the region.
Proposals to formally end the Korean War have been made for decades by lawmakers in Seoul, as well as congressional leaders in Washington, D.C.
Rep. Brad Sherman, D-Calif., introduced the Peace on the Korean Peninsula Act in May, which called for the formal end to the war and requires the secretary of state to review and narrowly define the travel restrictions to North Korea.
"The current restrictions barring United States nationals from traveling to North Korea have had profound effects on Americans with relatives living in North Korea," Sherman said in a press release. "A comprehensive review of our restrictions on travel to North Korea is necessary so that Korean Americans can attend major family events, such as funerals, burials, or other religious and family commemorations in North Korea."
Diplomatic relations between the allies and North Korea have stalled, particularly after Pyongyang recently test-fired long-range cruise missiles and ballistic missiles. Evidence that the North restarted its nuclear reactor has also mounted following a report by the United Nations' nuclear watchdog in late August.
Despite the chilled relations, the U.S. continued to express an interest in holding talks without preconditions. Sung Kim, the U.S. envoy for North Korea, has told reporters he is willing to meet his counterpart "anywhere and at any time."