New superintendent to take over at USS Arizona Memorial in October
by
William Cole
The Honolulu Star-Advertiser
August 11, 2021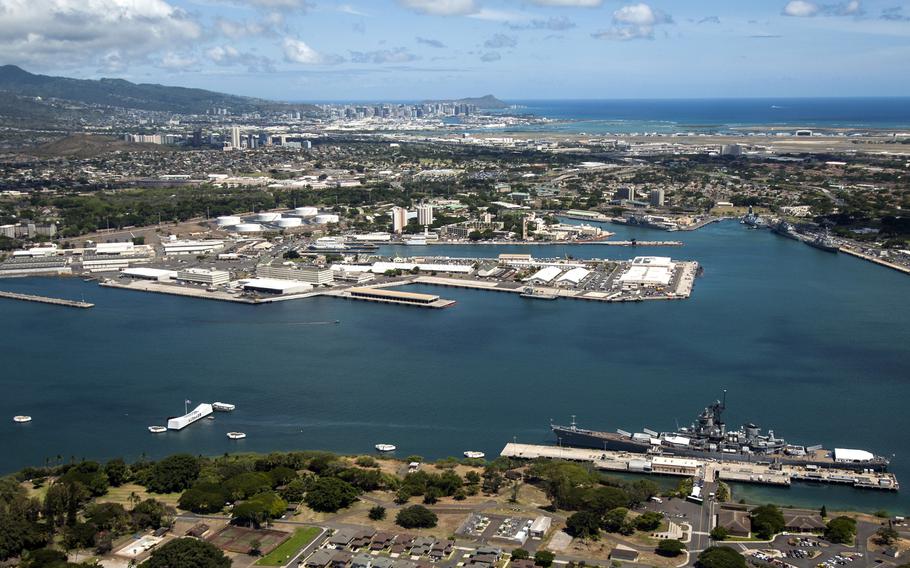 (Tribune News Service) — The USS Arizona Memorial, overseen by the National Park Service at the site of Japan's surprise attack on Pearl Harbor on Dec. 7, 1941, and one of the state's most visited attractions, has its fifth superintendent in less than 1½ years' time.
The park service announced Tuesday out of San Francisco that Tom Leatherman has been selected to serve as superintendent of the Pearl Harbor National Memorial starting in October.
Leatherman is superintendent of four park sites in the Oakland area, including the Eugene O'Neil National Historic Site, John Muir National Historic Site, Port Chicago Naval Magazine National Memorial and Rosie the Riveter /World War II Home Front National Historical Park.
"With more than 30 years of experience, Tom is a seasoned and experienced leader," Acting NPS Regional Director Cindy Orlando said in a release. "He is perfect for this position because he has a proven track record of cultivating and fostering successful relationships with partners, including the military and diverse communities."
"I am humbled to serve as the superintendent at Pearl Harbor National Memorial," Leatherman said in the release. "I look forward to working with the staff and the park's partners to honor those whose lives were lost and to keep the site relevant for future generations in the years to come."
The San Francisco-based park service Interior Regions 8, 9, 10, 12 — which include parks in Hawaii, California, Washington, Oregon, Idaho, Nevada and parts of Montana — were asked Tuesday about the high superintendent turnover rate at the USS Arizona Memorial.
Regional spokeswoman Denise Adamic did not address that churn, but did provide a breakdown of the leadership changes at the Pearl Harbor park site.
Jacqueline Ashwell, who served in the role for about five years, left on May 24, 2020, for an assignment with the National Park Service Office of Legislative and Congressional Affairs.
Kathi Palacio was the interim acting superintendent before Scott Burch accepted the acting assignment in August 2020. He was there for nine months and then was replaced June 20 by Jon Burpee, Adamic said in an email.
"Jon Burpee will remain in this acting role until October when Tom Leatherman takes over as the permanent superintendent. Jon will return to his permanent role as the superintendent at Lewis and Clark National Historical Park" in Oregon, Adamic said.
Within the park service, the Arizona Memorial has never been seen as a pinnacle job for a superintendent and, rather, is a steppingstone to bigger parks and assignments.
There have been plenty of personnel conflicts and budget issues over the years at the park, which sees a tremendous amount of people traffic in a confined area with a relatively small staff. The nonprofit Pacific Historic Parks, which helps at the USS Arizona Memorial visitor center, was financially hard-hit by COVID-19.
The budget request for the National Park Service for fiscal 2022 is $3.5 billion, an increase of $381 million from the 2021 enacted level. Recreation fee revenue and other mandatory funding sources provide another $1.1 billion.
The National Park Service said last month it was proposing a $7 parking fee starting in 2023 at the Pearl Harbor National Memorial to support "deferred maintenance and upkeep " on the Arizona Memorial as well as on Ford Island at the USS Utah and USS Oklahoma memorials.
(c)2021 The Honolulu Star-Advertiser
Visit The Honolulu Star-Advertiser at www.staradvertiser.com
Distributed by Tribune Content Agency, LLC.
---
---
---