Tokyo exceeds 3,000 COVID-19 patients, a new record; US military in Japan reports 15
by
Joseph Ditzler
Stars and Stripes
July 28, 2021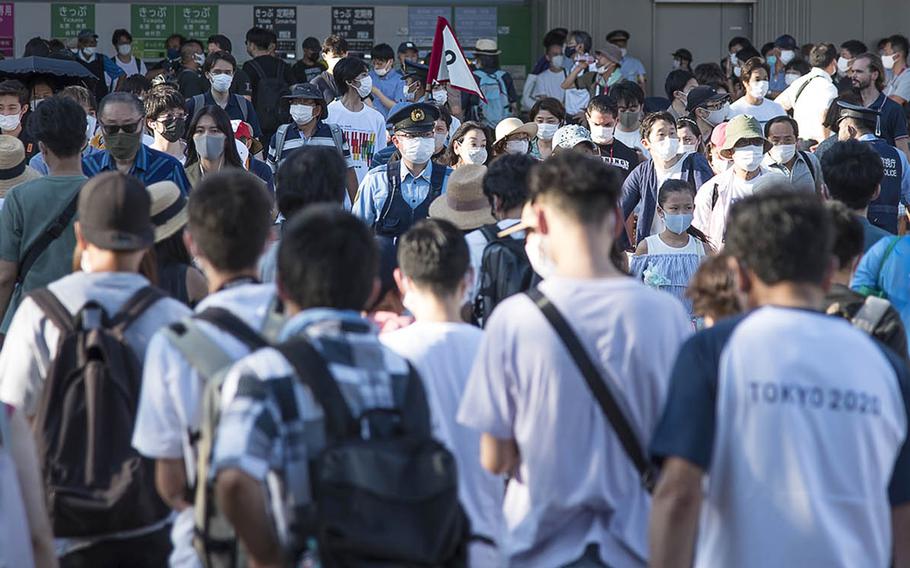 TOKYO – Japan's capital city, nearly midstream in its Olympic Games, announced Wednesday that 3,177 people had contracted the coronavirus, a new, one-day pandemic record.
That tally exceeds the benchmark set Tuesday by 329 cases, according to public broadcaster NHK and metro government data. This fifth wave of coronavirus by numbers alone is the most extreme the metro area has experienced during the 1 ½-year-long pandemic.
Kanagawa, a nearby prefecture that's home to several U.S. military installations, also reported its highest one-day caseload of the pandemic: 1,051 new COVID-19 patients, NHK reported.
The spike in new cases comes as more than 11,000 Olympic athletes, their entourages, Olympic officials and foreign media are in Tokyo for the games, scheduled for another 11 days.
NHK, citing Olympic organizers, reported 16 new COVID-19 patients among Olympic staff and media Wednesday for a total 169 since July 1. No new athletes tested positive, according to the broadcaster.
The games, delayed one year, take place largely devoid of spectators; athletes are expected to avoid contact with people outside their venues and the Olympic Village.
Meanwhile, the U.S. military in Japan had reported 15 new patients at four installations as of 6 p.m. Wednesday.
U.S. Army Japan, headquartered at Camp Zama, 26 miles from central Tokyo, had nine people test positive in the past week, according to a news release.
The new patients include one person with symptoms of COVID-19, two people preparing to travel outside of Japan and six in restricted movement after arriving in Japan, according to the Army.
The Marine Corps had four people test positive at its bases on Okinawa, but did not specify the installations, according to a Facebook post by Marine Corps Installations Pacific.
Marine Corps Air Station Iwakuni and Sasebo Naval Base each reported one new COVID-19 patient in the previous day, according to a news release and social media from the bases.
Japan has reported about 884,000 cases during the pandemic and just over 15,000 deaths, according to the Johns Hopkins Coronavirus Resource Center. Tokyo accounts for about 2,280 deaths, about 15% of the nation's total, thus far, according to metro government data.
Just over 1% of the COVID-19 patients in Tokyo have died, according to the metro government.
Tokyo Gov. Yuriko Koike on Wednesday urged younger people to get vaccinated and to adhere to emergency measures in place to curb the virus, The Associated Press reported. Restaurants and bars are encouraged to close by 8 p.m. and to refrain from selling alcohol altogether. Residents are asked to avoid unnecessary travel.
Similar measures are in place in Kanagawa and on Okinawa.
In Tokyo, most elderly residents have been fully vaccinated and infections among them have largely decreased, while the mostly unvaccinated younger people are the majority of new cases, the AP reported.
Japan has fared better than most other countries in controlling the virus' spread. Russia, by contrast, has confirmed more than 6 million cases and close to 153,000 deaths, according to Johns Hopkins.
Japan has fully vaccinated about a quarter of its population; Russia about 17%.